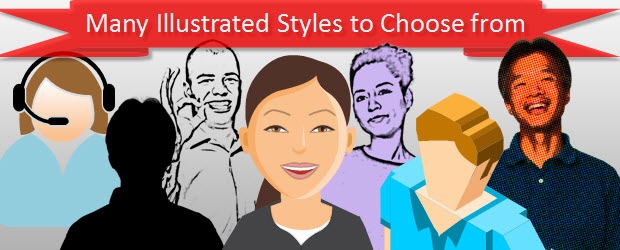 Illustrated Characters
We have thousands of illustrated character images for your elearning courses or presentations. Find a style that that you like, such as comic, cartoon, silhouette, halo and more. Some of the highlights include:
Many styles to choose fromEvery character has dozens of poses
Backgrounds removed so you can put on top of a background of your choice
Mix and match characters to tell a visual story
Scroll through the categories below to find the style you like, then choose the character to see the poses available.
Browse newest products from this category
Showing 1–12 of 54 results
Showing 1–12 of 54 results
When you're creating an eLearning course or presentation, two of the most important things are to create visual interest and to maintain visual consistency. Our illustrated characters allow you to accomplish both of these elements. Find a style that you like, select a character, then use that character and style throughout your course or presentation.

Additionally the characters are all set up as "character packs" which means that there are multiple poses per character. That allows you to tell a visual story. For example, take our comic book style characters and create a comic themed course or presentation. The characters are facing the screen for reaction shots or storytelling, and away from the screen to interact with other characters.