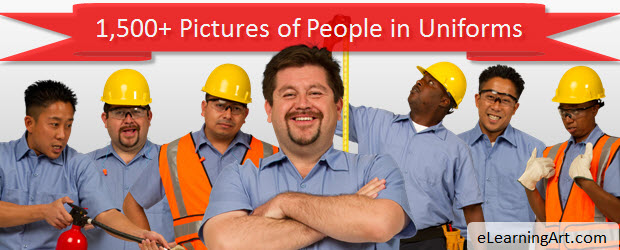 People in Uniform Images
Looking for pictures of people in uniforms performing a variety of tasks? We went all out in these photo shoots with the combinations of safety equipment. And then we make your life easy by removing the backgrounds from every image so that you can drop them onto any background to create your own scene. Each character is grouped into 6 categories:
These characters are great for field workers, truck drivers, food service workers, postal workers, maintenance workers, construction workers, PPE training, OSHA training, and more. Click on any of the characters below to see thumbnails of the images included in that character pack.
Browse newest products from this category
Showing 1–12 of 58 results
Showing 1–12 of 58 results
What format are your uniform people pictures in?
All of the photos in these character packs are in PNG format with the transparency preserved so that you can drop them onto any background.

Are these images good for safety training, PPE training, or OSHA training?
Yes. One of the things that is so great about these characters is that you get sets of the same character with the background removed. That means that you can easily put these images on top of a background photos of your facility and make the training specific to your workplace.

How many safety images are in each pack?
It depends on the pack, but each character was shot in over 200 poses and the individual packs have from 15 pictures to over 100 photos. You can preview the images included in each pack by clicking on the character you're interested in and clicking on the thumbnails.