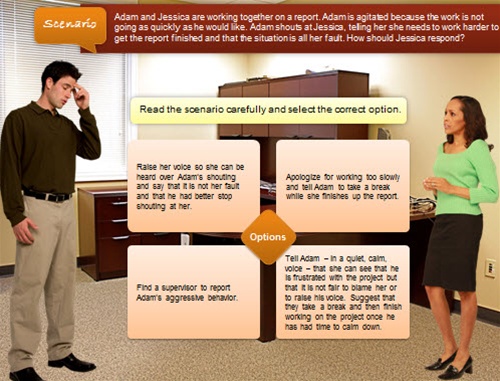 Articulate Quizmaker Template 2-character
If you're trying to build an eLearning scenario that involves two people, this Articulate Quizmaker template will really help you cut your development time and create a great looking course. You can easily insert your own text into the scenario box, edit the choices, and then provide custom feedback to the learner based on their choice.
The Quizmaker template you see above is built the right way. That means that you're not looking at a single finished image; it's actually built with a number of separate elements, such as characters with the backgrounds cut out, background images, and Quizmaker native shapes.
This Articulate Quizmaker template works really well with some of our other products, such as our people images and background images. With these products, you can easily swap out the characters or the background to create a new scenario. Or, have some fun and change the character expressions based on the choices the characters make.