Scenario-based eLearning Example Using Custom Graphics
Custom eLearning Graphics Make Scenarios Great
You don't need to be a trained illustrator to create graphics to support your stories. To help unleash your potential and create engaging eLearning, we sat down with Allison Kim to show you how she created a scenario-based course when there were no stock photos to meet her needs.
"eLearningArt images empower you to build the characters and scenes your program requires. There aren't images like this anywhere else."
Allison Rocks Custom eLearningArt Characters
Allison was kind enough to record a live video tutorial with us to demonstrate the custom illustration modifications she made for her course. We recreate five of the slides she built and show techniques for bending an SVG character's' limbs at the joints, manipulating backgrounds, tweaking expressions, adding wounds, and animating characters.
Scenarios Provide Context, Choice, and Feedback
Allison had a vision for a scenario-based course to help Behavior Analysts improve the lives of families with autistic children. Allison is a pro in the Skill Based Treatment (SBT) procedure, so she structured scenarios that put parents in the middle of common challenges and had the Behavior Analyst make recommendations applying the techniques to resolve the conflicts. Well done!
Good Graphics Enhance Your Stories
Allison had unique image requirements. And since she struggled to find them elsewhere, she was skeptical we could help. But when she told us she needed "an Asian autistic teenager throwing a tantrum, smashing his glasses, then punching himself in the head," we thought we could help. We replied with this video showing how our fully poseable illustration system would allow her to create what she needed!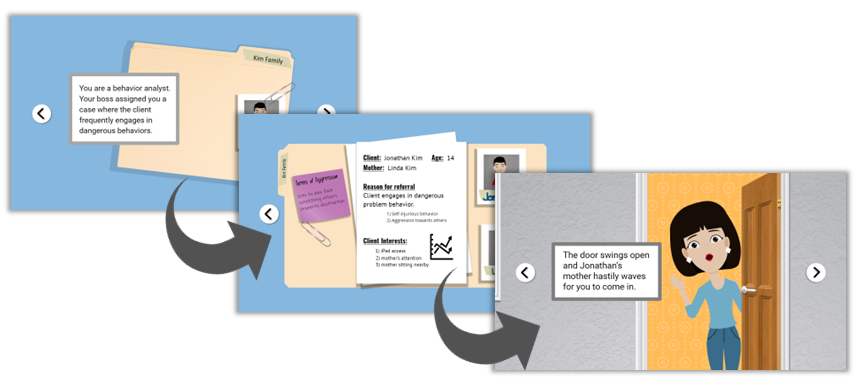 Throw Your Learners in Deep End
One of our favorite aspects of Allison's scenario is that she doesn't start with a bunch of information-dump slides. Instead, she provides a brief setup, then throws the Behavior Analyst into a live house call with a struggling family.
You Can Create Custom Graphics Too!
Finding the story-supporting graphics you need for producing engaging elearning with scenarios and stories can take you into an endless and fruitless search. Many times, the images you need are unique and don't exist anywhere – they have to be custom produced. So you need the flexibility to modify them to meet your needs. If you're curious whether eLearningArt has what your project requires, just reach out. We're always happy to help!
About This Project
Allison Kim is an Instructional Designer and Board Certified Behavior Analyst. We're impressed at Allison's engaging, scenario-based approach to this course. She also did a fantastic job customizing the graphics to support the stories she told. Her course flipped the content around from what could be a dry and boring information-dump, to a contextual scenario that pulled the content lessons in through choice and outcomes. Nice work Allison! If you're interested in working with Allison, reach out to her on LinkedIn. 
Allison's samples feature eLearningArt Designer Illustrated Characters Mark (from the Youth collection) and Dara (from the Business collection, office objects (from our Objects collection), as well as our Designer Illustrated Backgrounds.