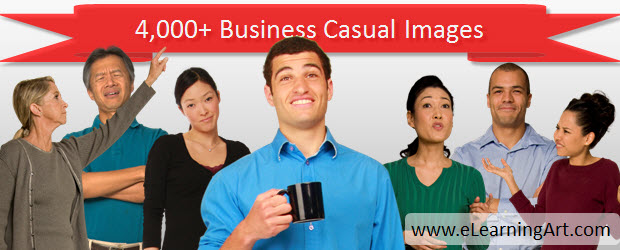 Business Casual Images
We have thousands of images of business people dressed in business casual attire. Some of the highlights include:
Backgrounds already removed from the images
Dozens of poses for every model, so focus on finding the right person first, then the right pose
Diversity in age, ethnicity and gender
Normal looking people, not models
If you're building an eLearning course, you want people that look like the people you work with. That means that they're dressed in business casual and don't look like a fashion model! Also, we offer all of our images of people as sets, or "character packs," that have many poses per model. That lets you focus first on finding the model you like, then you can find the right pose. Additionally, with dozens of poses for each model, that means that you can tell a visual story with the images you select. Scroll down below to see all of our business casual characters.
Browse newest products from this category
Showing 1–12 of 70 results
Showing 1–12 of 70 results
How many poses are in your sets of business casual images?
Each pack has at least 75 images and some have over 150 images.

What angles are models facing?
All of the business casual models face at least three angles: facing the camera, facing 45 degrees away from the camera to interact with other characters, and facing away from the camera for first person perspective.

What format are the images in?
All of the images are PNG files with the backgrounds removed. That means that you can put the characters onto any background to build your own scene.

How do you define business casual attire?
For the most part, we have men in dress shirts or polo shirts and khakis or slacks. The women are in either skirts or pants, and nice dress shirts or sweaters.