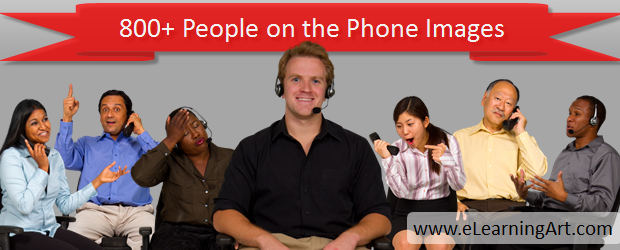 People on the Phone Images
We have hundreds of pictures of people on the phone in dozens of poses. These images are great for building sales or customer service training. Some of the highlights include:
Dozens of pictures of every model in multiple poses
Backgrounds removed so you can put on a background of your choice
One of the great things about having multiple poses of the same character is that you can tell a visual story in your training or presentation. We have pictures of people talking on the phone, listening on the phone, angry, happy, and more! You'll find sets of people on traditional phones and headsets. Click on any of the characters below to preview the images in that set.
Browse newest products from this category
Showing 1–12 of 51 results
Showing 1–12 of 51 results
How many poses are there per character for the people on the phone images?
Each set has about 50 images, with different expressions and angles.

Are these packs good as customer service images?
Yes, this is one of the best uses of these images. The reality is that a customer service representative isn't always happy. That's why we include poses such as angry, confused, talking, listing, bored, etc in addition to the happy images.

What type of phone are characters talking on?
We include sets that include both traditional office phones and headsets.

How can I preview the images included in each character pack?
Just click on the character that you're interested in, scroll down, and click on any of the thumbnail images to see previews of the images.