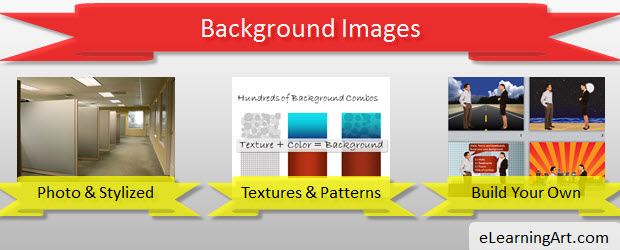 Background Images
We have thousands of background images for presentations and eLearning courses. These backgrounds complement our people images and our templates. If you're looking for photographs to drop characters on top of, we have pictures of office buildings and hospitals from the inside or out, with various artistic styles applied to them. We also have seamless textures, patterns, and other elements that allow a great looking background for PowerPoint or eLearning courses. You can easily adjust the colors to match your company colors, or just choose a color that you find pleasing. Click on any of the categories below to learn more about the images we offer.
Browse newest products from this category
Showing 1–12 of 42 results
Showing 1–12 of 42 results
What size are your background images?
All of the photographic images are at least 2,500 pixels wide, which is much larger than you need for a PowerPoint presentation or eLearning course. This allows you flexibility to zoom and crop into the section of the photo that you want to use. Our seamless textures can be scaled to any size you need.

What styles are the photographic background images in?
We include the original photograph and also run filters on the images to create new styles. This adds visual interest and allows you to have more contrast between the characters and the backgrounds.

How can I preview the images that are included in each set?
Click on any of the products, then scroll down to see the thumbnail previews of the images that are included. If you want to see a larger preview, just click on the thumbnail.