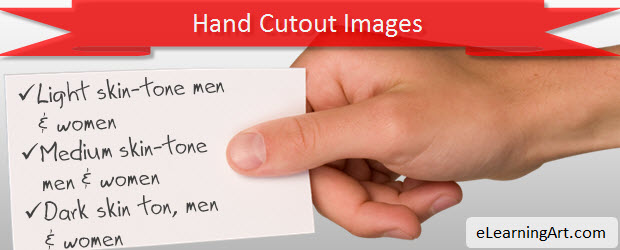 Hand images
We have hundreds of photos of hands with the backgrounds removed. These are great for presentations and eLearning courses. Some of the highlights include
Diversity of hands: 3 men's sets and 3 women's sets in light, medium, and dark skin tone
Backgrounds removed so you can drop them on any background
25 poses for each set of hands
If you're interested in how you can use the hands, click on any of the product pages to see some creative examples of how we use hands in eLearning courses.
Browse newest products from this category
How many hand images are included in each set?
Roughly 25 poses are in each set. Click on any of the sets to preview the images that are included.

What skin tone colors do you have for the hands?
We have sets in light, medium, and dark skin tones for both men and women?

What types of effects can you use hands for in an eLearning course?
Click on any of the product images to view a video that shows some ways that you can use hand images.