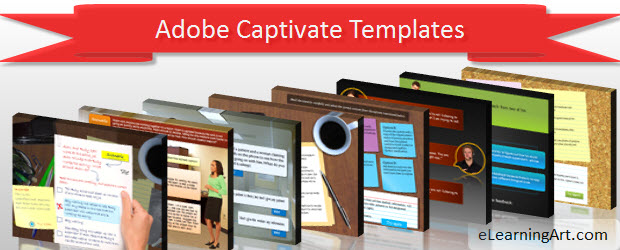 Adobe Captivate Templates
Don't stare at a blank screen when you start building your next eLearning course. Instead, use one of our professionally designed Captivate templates to create a great looking course and save time. If you're tired of form-based designs and bullet points, you'll find our graphic-based, interactive templates refreshing. Scroll down below to see some of the design options and start building better scenarios today. You'll see that there are two types of templates:
Browse newest products from this category
Showing 1–12 of 33 results
Showing 1–12 of 33 results
Why use a template?
Templates help your courses look more professional
Templates drastically cut down on the design and development time
What Captivate versions are supported?
Adobe Captivate 5.5 and 6
What project size are the files created in?
We develop all of the templates in the 800x600 size that is recommended by Adobe
How do the templates work?
Each 4-option scenario template consists of 5 slides. The base slide with the question prompt and options, as well as 4 feedback slides. Selecting an option takes the user to the slide with custom feedback for that choice. If the user chooses the correct option, they can advance; if they choose an incorrect option, they are provided feedback, with a link to return to the base slide and try again.
How do I edit the templates?
Editing the scenario text, options, and feedback is easy
Can I create a second scenario within the template?
Yes. You can create as many scenarios as you want. Just copy all 5 slides and paste them below. Make sure you go back and edit the hyperlinks.
What if I only want to have 2 or 3 options instead of 4?
That's no problem. Just delete those options on the base slide and delete the corresponding feedback slides.