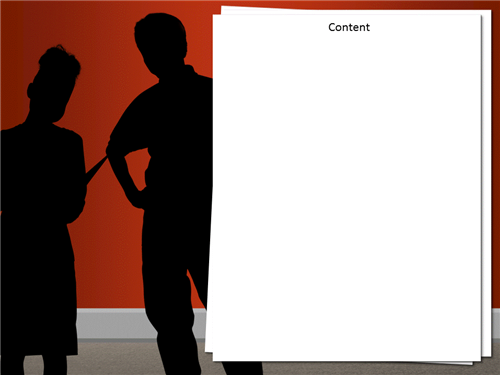 Captivate Template Blank Paper
This blank paper eLearning template is great for displaying information. You can add custom text or graphics to display a message or simulate a document. This template includes 5 different slides with different levels of zooms and functions:

Zoom out:

The focus of the zoomed out view is to create an establishing shot showing both the silhouette characters and the blank paper.

Zoom mid:

The mid-zoom view increases the size of the silhouette characters while also displaying the blank paper.

Zoom in:

The zoomed in view shifts the focus to the content on the blank paper. To create an interesting effect, first display one of the other views, then cut to the zoomed in view to focus on the content.

Reading:

The reading view shows a first person view of the learner or character holding and reading the content on the blank sheet of paper.

Writing:

The writing view includes the hand of the learner or character writing on a sheet of paper to simulate them doing a task (e.g. filling out a form, writing a response, etc).