PowerPoint Graphics and Templates Library for eLearning and Presentations
Add eLearningArt to PowerPoint and You've Got "YES!"
From time-saving templates, to cutout characters and stock graphics, our collections will amp-up your PowerPoint builds with rich on-screen experiences and time-saving approaches. Whether you work on a PC or a Mac, in PowerPoint or a PowerPoint-based tool, the eLearningArt library should be your first stop for building programs and presentations.
Our collections are focused on workplace learning and tested to work for you in PowerPoint. That means that when you're in the eLearningArt library, you're never far from a great idea, an easy solution, and a photo or graphic that will look great on your slide and satisfy the pickiest of stakeholders!
If you build presentations in Microsoft PowerPoint, you're in the right place! 
Great Things Happen in PowerPoint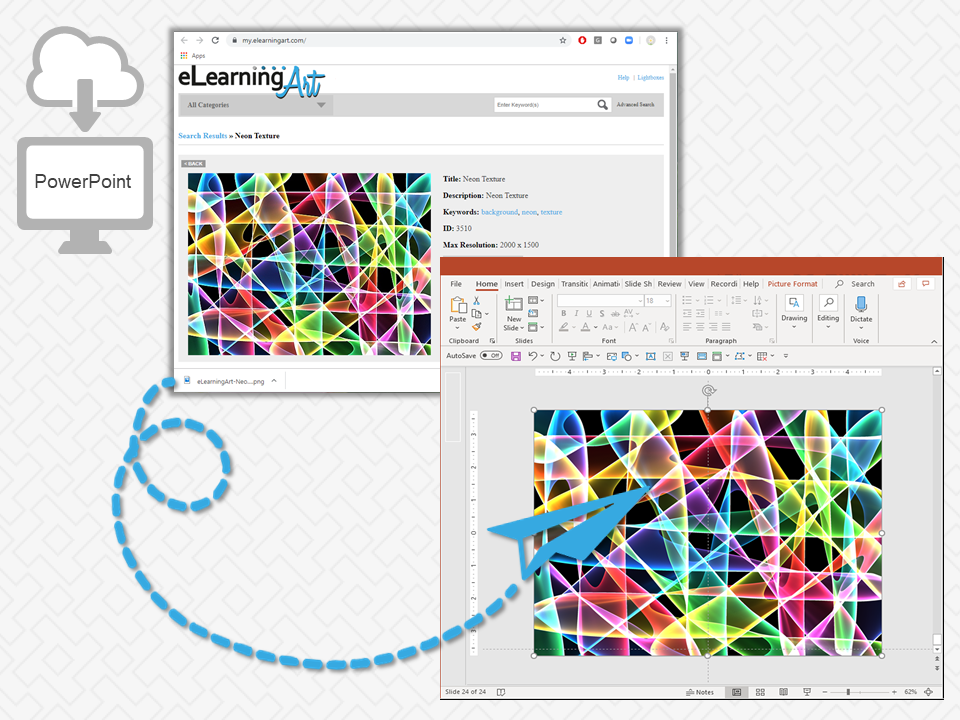 Download, drag, drop, and done
One super-convenient workflow when you work with PowerPoint and eLearningArt in Chrome: In the eLearningArt library, locate your character or other graphic item, choose the size you need, click download, and your choice is delivered right to your download bar. Click and drag that to your slide, and it's instantly placed on your slide. As an added convenience, the file will also be automatically tucked away in your chosen Downloads folder location, so you can grab it for something else, too!
Ungroupable means amazing!
When you add a scalable vector graphic (.svg) file from eLearningArt to your PowerPoint project, you're in for a treat, because it's completely editable. That means changing the colors, shapes, and styles of many of our illustrated characters, backgrounds, and icons, right there in PowerPoint, and it means matching your project perfectly! the steps to unleashing all of the possibilities are simple and straightforward, and you can look forward to saving hours over building from scratch or editing other types of files in fussy graphics programs. Start looking forward to the compliments, too!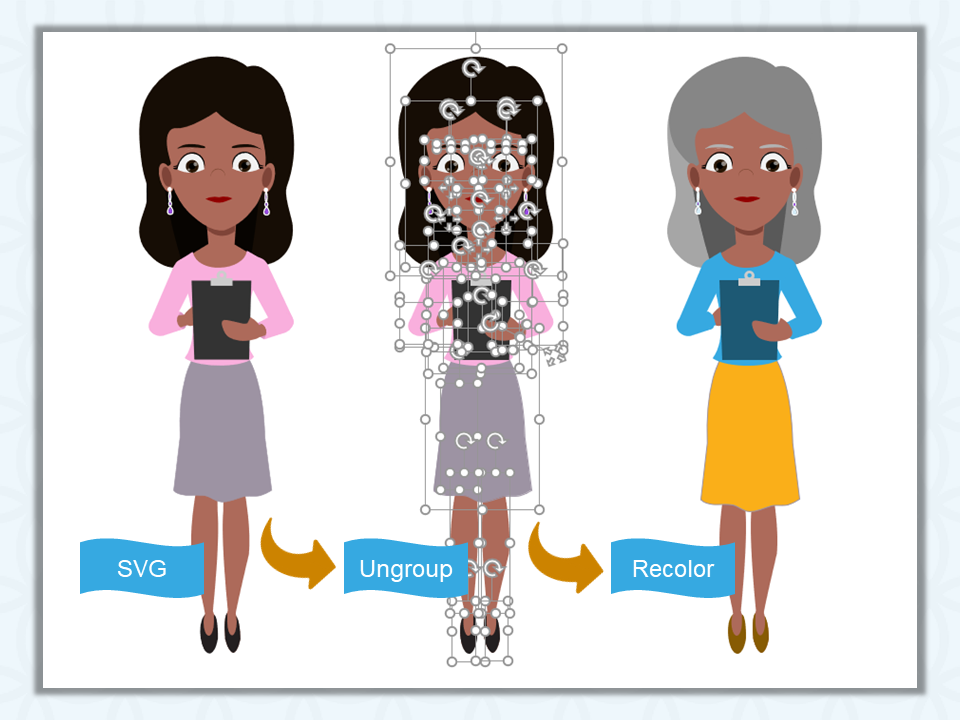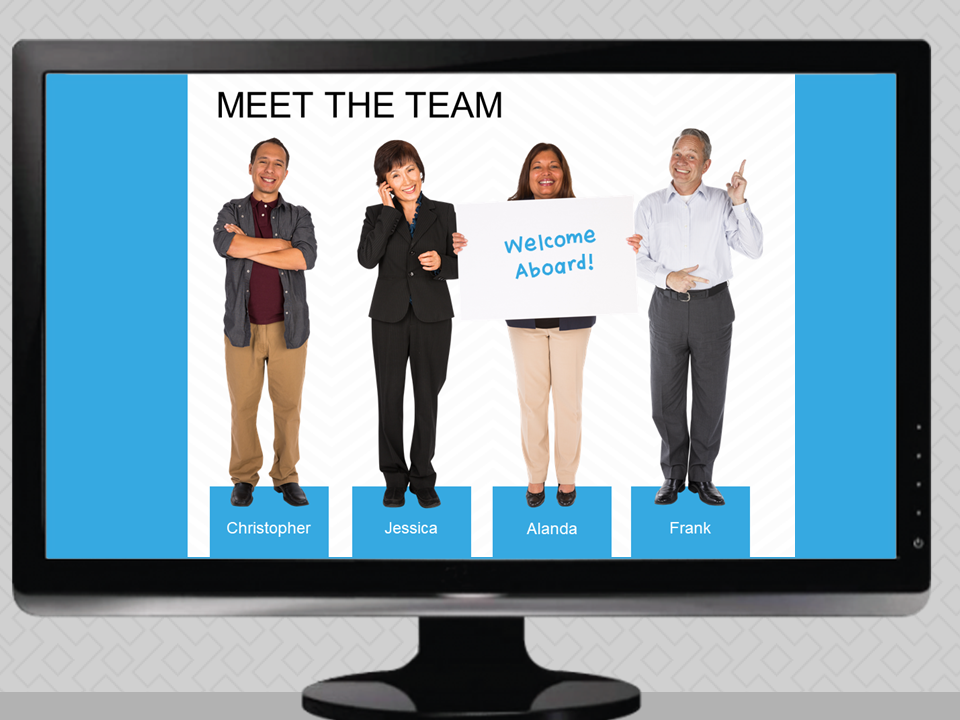 Characters for your world
Everything in the eLearningArt library is geared for building workplace-related projects for workplace audiences. But that doesn't mean just people in suits at desks! Instead, we've got cutout characters for healthcare and industrial settings, academic, athletic, and costume sets. You can easily show your audience people who look like them, or why not surprise them with people who look like ninjas, detectives, or safari guides (to name a few possibilities)? We offer extended disability, PPE, and outfit sets, too. When you need show people of all types doing things or interacting with each other, start at eLearningArt.
Quick formatting tutorials
Some projects need a special approach, and we've got just the design treatments you need. Library members enjoy access to the eLearningArt design treatment tutorials collection. These how-to kits give you a starter PowerPoint file, video tutorials, and printable work aids, all geared to helping you quickly and easily apply specific design treatments to your project. Your stakeholders will be impressed with your creativity, and you'll be building PowerPoint skills with each new treatment. Win-win, we say!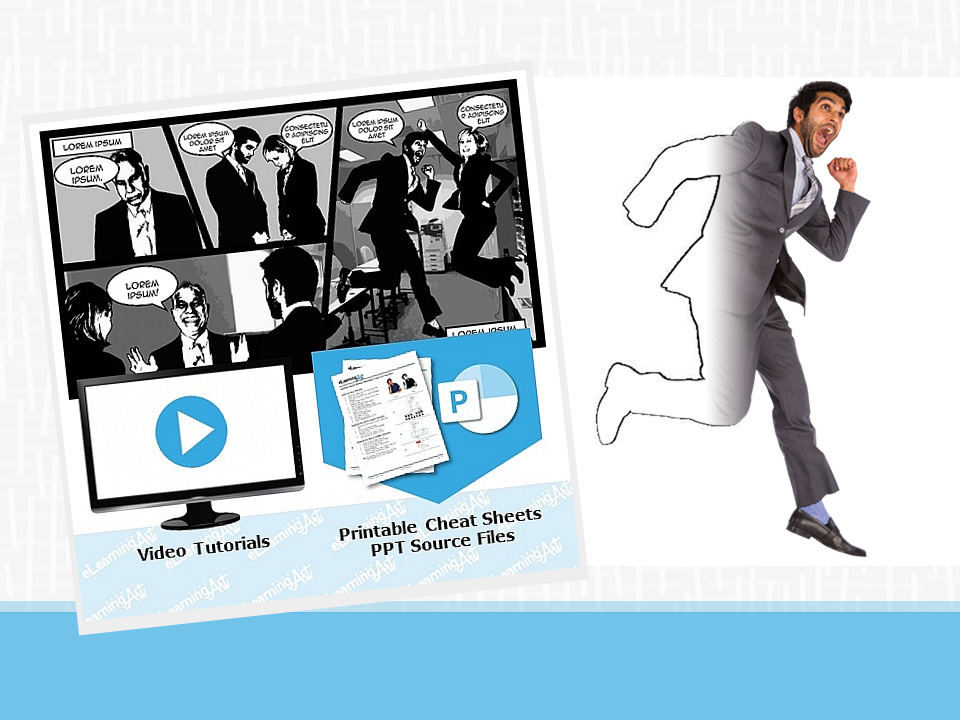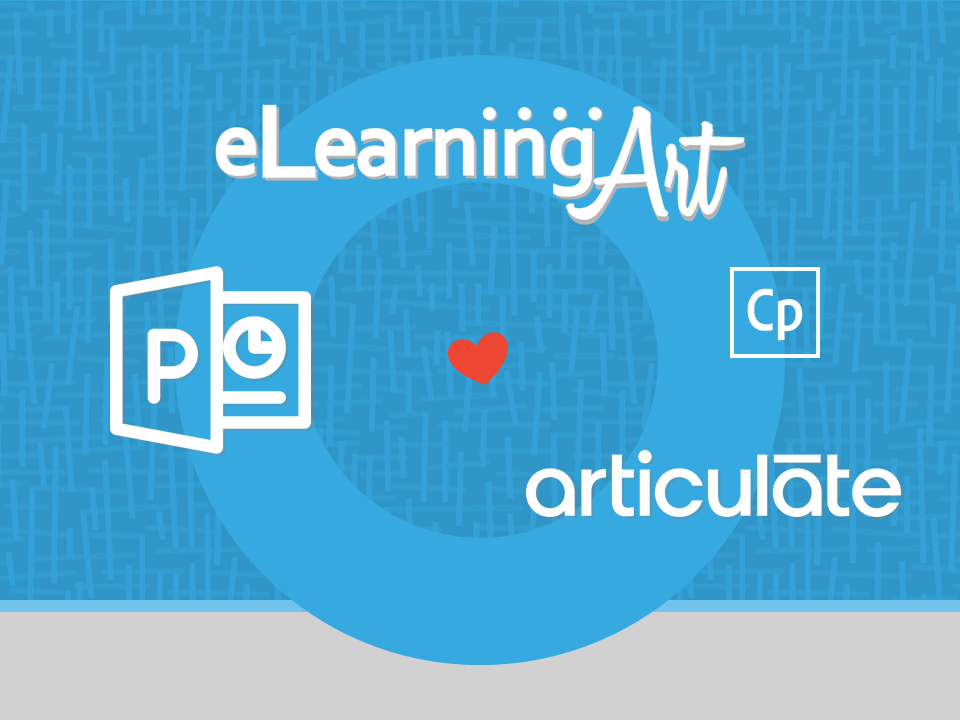 Files that are ready for eLearning
If your presentation will be deployed as eLearning, we've got great news for you! You can stay in familiar, powerful, and shareable PowerPoint for most of your project development, then (and not a moment sooner) import the file directly into the eLearning authoring tool of your choice. When you use eLearningArt library assets, you can be sure that the handshake between your PowerPoint file and the authoring tool is going to be a solid one. So build where you feel most comfortable and save the tricky tools for last, and do it with confidence!
VIEW OUR POPULAR ASSET CATEGORIES
Learn more about the graphic assets that will help you build engaging courses faster in PowerPoint.