Celebrating 10 Years of Character Photoshoots
Wow. What an amazing month! eLearningArt turned 10, we had a great time in the studio, and we launched search filtering on the membership website … all that, and record snowfall, too!
I can't believe it! eLearningArt is ten years old!
The very first photoshoot was April 2009, and I launched the website shortly after that.
On that first go, there were 210 images offered on the website in the form of three business casual characters, striking just 70 poses each. Not only did I sell these characters as a bundled package, I even employed them on the website!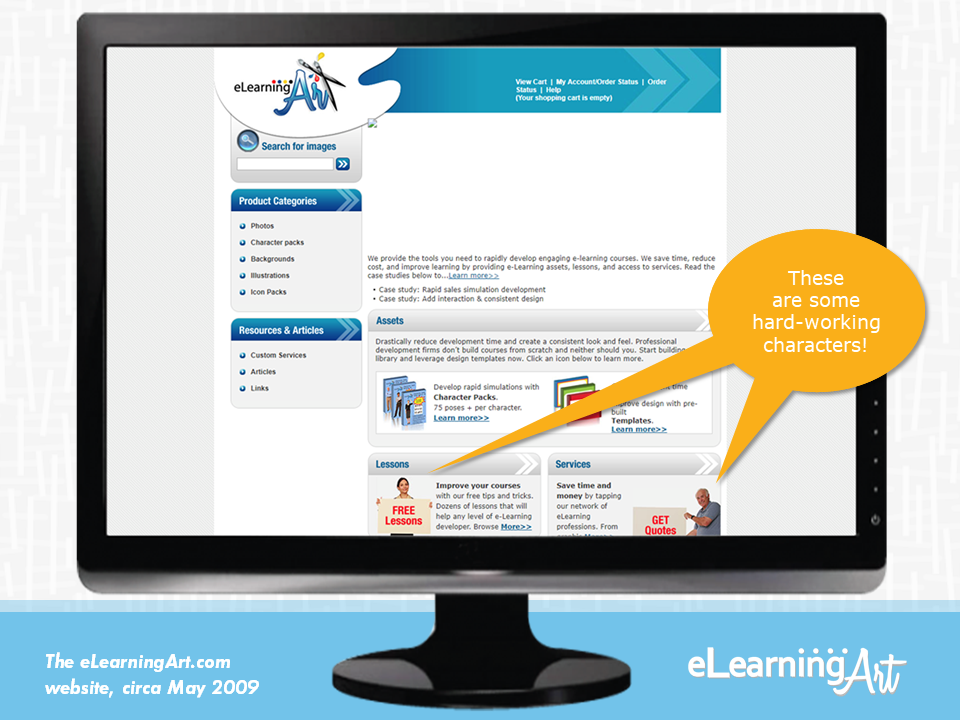 So much has changed since then.
Today, we have nearly 50 times more  unique characters, each available in a wide variety of outfits, poses, moods, and attitudes. Now the website offers over 50,000 images, and the basic set of poses for a business casual character has grown from 70 to over 250. We've also added templates, backgrounds, cut out hands and objects, and so many other useful features that sometimes I lose count myself!
One thing hasn't changed. I still think about you—the person developing workplace learning in PowerPoint, Captivate, Storyline, or wherever—and ask myself …
"Will this make life easier?"
If the answer is "YES," I'm all in.
Now, as I look ahead to the next ten years, I plan to continue asking just that and looking for the  big YES every day. Thanks for joining me on this ride!
Photoshoot—Back in the studio (and a video tour)
Almost by coincidence, I got back in the studio just in time for the 10-year comeback tour!
Speaking of tours, maybe you're curious about the behind-the-scenes of an eLearningArt photoshoot? Put on your party hat and take a little walk with me here:
Photoshoots mean one thing: New images coming soon!
We're in the process of editing them right now. Clipping out the backgrounds and checking, double-checking, and, yes, triple-checking, is not a fast process! (But it is an example of how we make your life easier, so well worth the trouble.)
First releases from this shoot will come through later this month. Watch this space!
Membership site filtering improvements
The more our library grows, the faster you'll want to search it, right?
We've been working on that!
Nearly a year ago, we started beta testing a new method for filtering images, so you can quickly narrow down library resources to exactly what you need. We've been tirelessly refining this system, over the past 10 months. Pretty soon, we'll be taking the training wheels off, and this will be the filtering system of choice!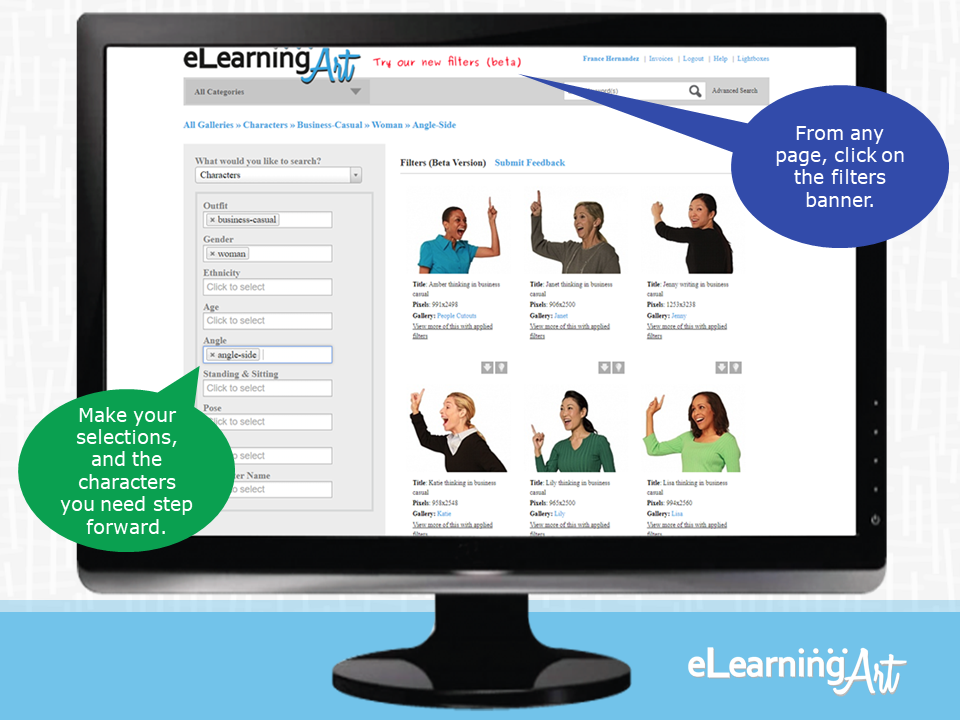 Spring is here, but—whoa!!—we got a lot of snow
Spring is finally here, and to mark the occasion, I got in my first road bike ride.
It was a record-setting season, with February marking the most snowfall in a single month in the history of recorded weather here in Truckee, California. Catch this: We were buried under more than 25 feet of snow in a single, shortest-of-the-year month!
Total madness and my back still hurts from all the shoveling. I mean … look at that snowbank … it's like 2.5 Bryans tall!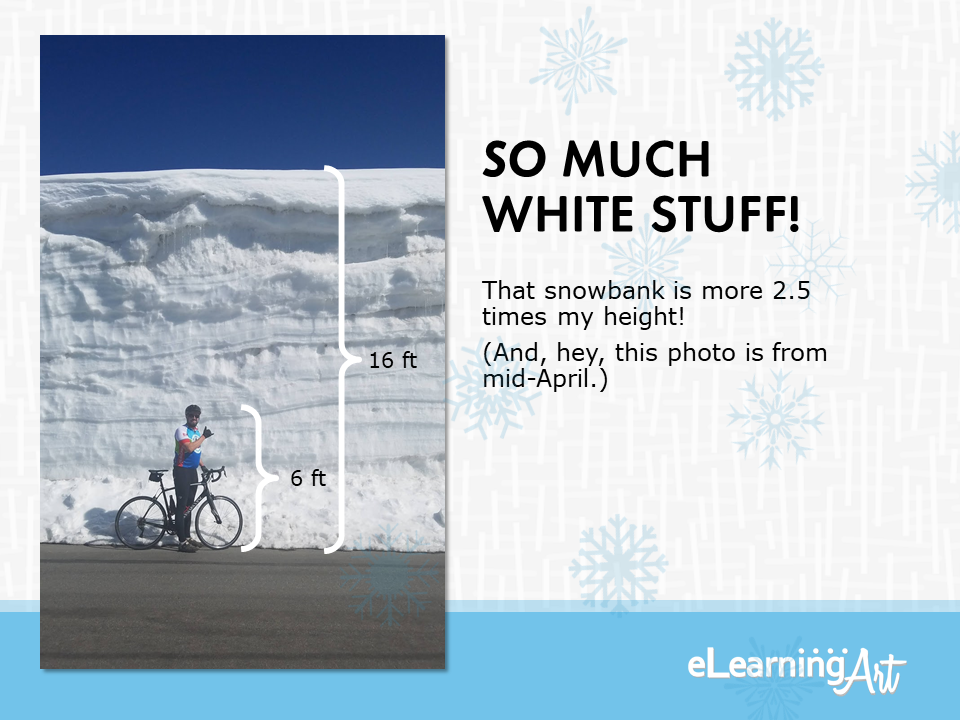 Coming up: What I'm excited about
Besides warmer weather (and actually seeing the ground and not just miles of snow) there are some great things happening around here! Here are some of the things I'll be working on in May:
Continuing the eLearningArt Portfolio class
It's been a blast to help workplace learning developers from a wide variety of backgrounds overcome the hurdles to building a professional-level portfolio website. Weekly virtual meetups keep all of us feeling positive and moving toward the finish line! If you want to join my free monthly portfolio webinar, feel free to sign up here.
Releasing images from the April photo shoot
You can feel the excitement in the air as a whole new crew of characters gets prepped for release. New people to populate your learning programs coming soon!
Prepping other goodies for the membership website
I've got some interesting "irons in the fire" for content that will complement the character library! We're getting these items ready for you right now!
So, that's what I'm up to!
What about you? Is there any way I could make your life a little easier? If so, I hope you'll drop me a line at [email protected].
Until next month, always remember: Today is a great day!
Bryan