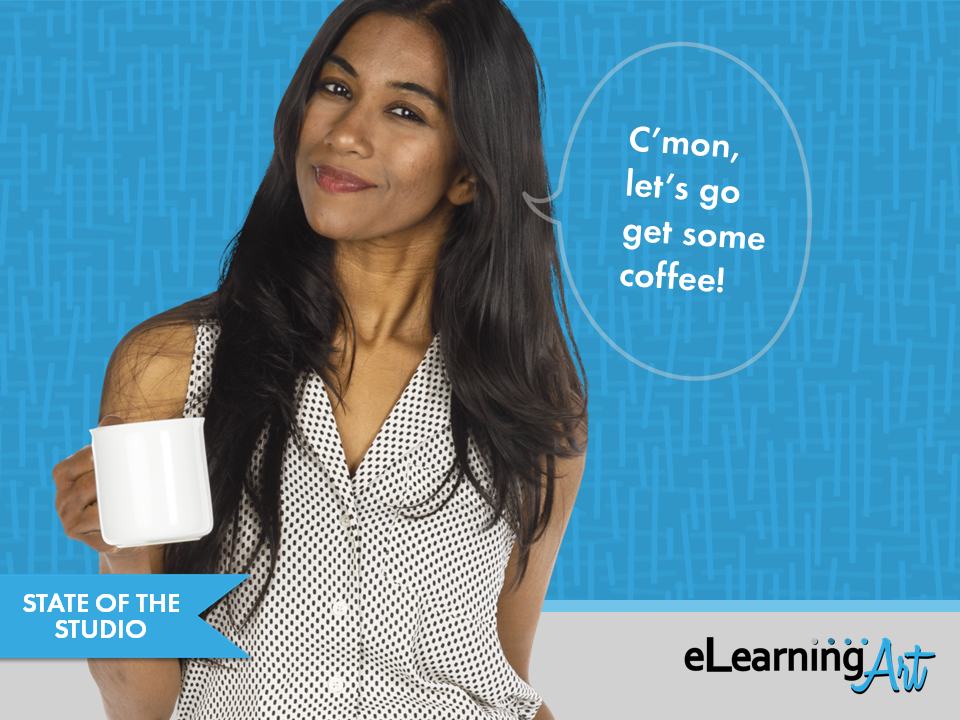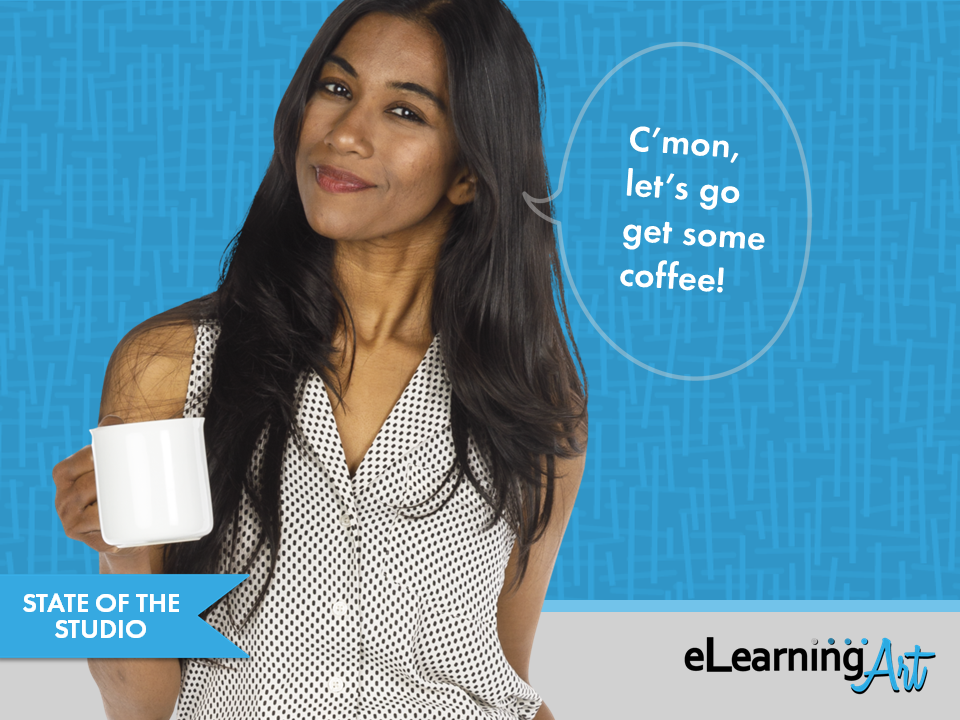 The eLearningArt engine was crankin' in July and it's only picking up more steam here in August!
We released a ton of new character images, created a bunch of design hacks, and published four awesome blog posts. 
I even managed to find some  s – n – o – w  to feature in this post! =D
But before we jump into that, let's jump into all of the eLearningArt updates! 
***
So, it's a new month, and there's someone new in the eLearningArt cutout character library …
Join me in welcoming Malini to eLearningArt!
We think she'll fit right in the the eLearningArt cutout character team, because, really, what's not to love about Malini? 
 Across more than 760 photos, we get her full personality.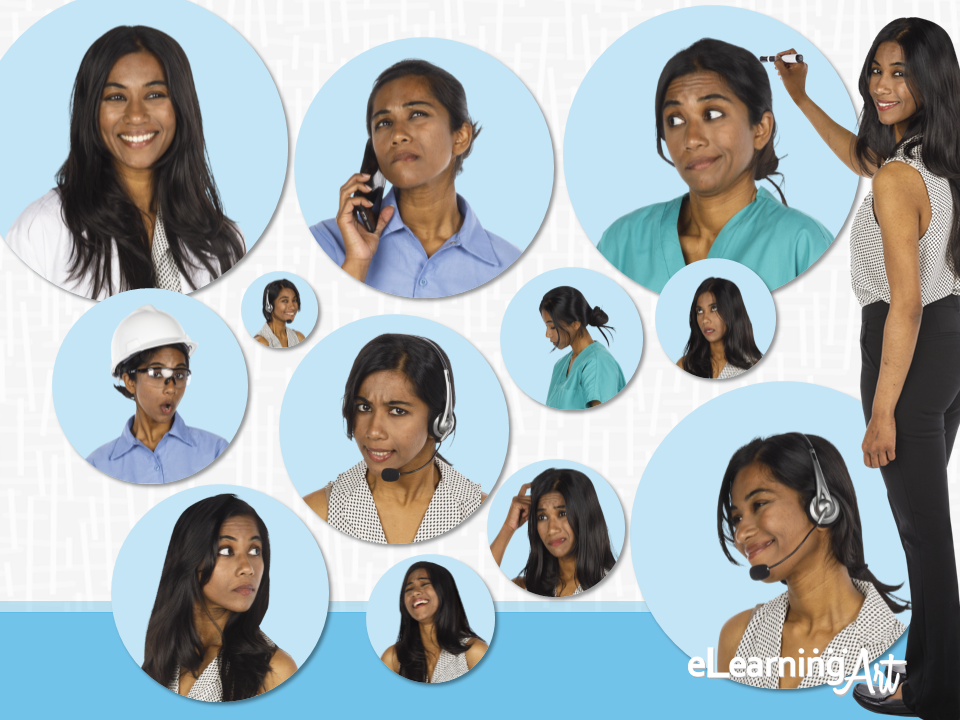 Something I love about this character is her "friendly coworker" vibe. She feels real, and does a great job of capturing all the ups and downs of the workplace–in an office, industrial, or medical setting.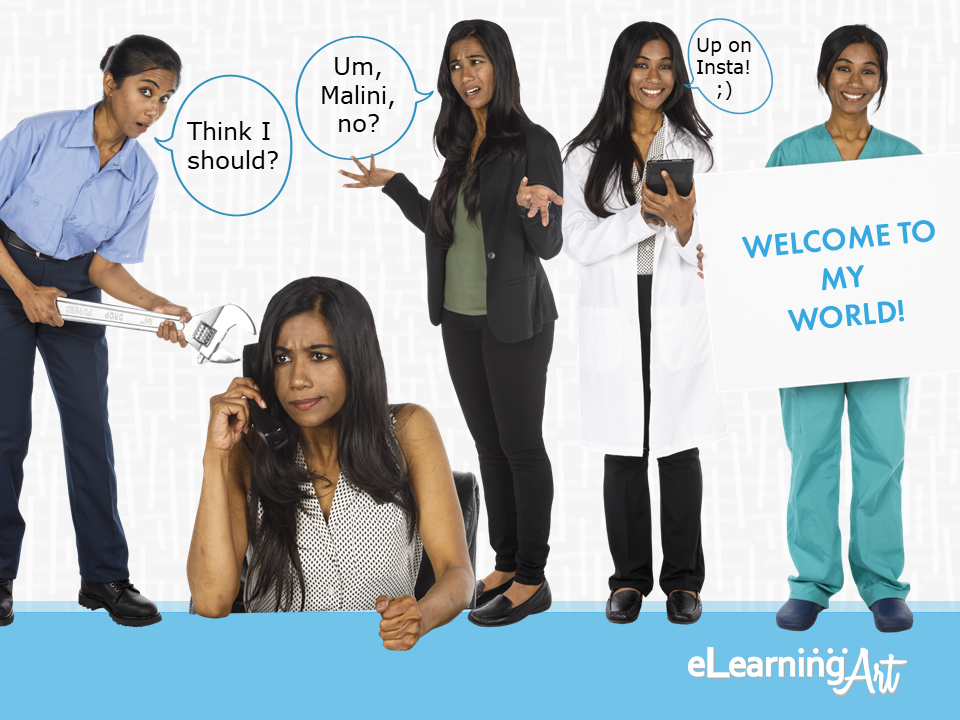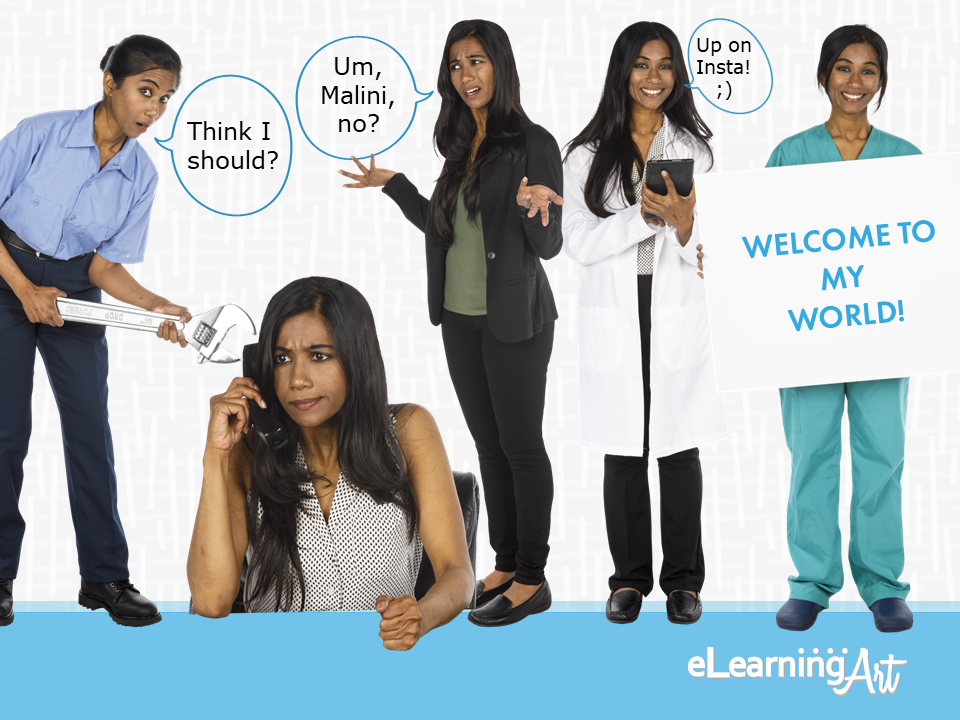 These are the golden poses that make eLearning come alive!
As with all eLearningArt characters, Malini rocks a wide variety of mix-n-match looks and poses. In fact, to make sure you've got a Malini for every situation, there are a full 7 sets of this versatile character! 
To get the full Malini story in a glance, check out her character card: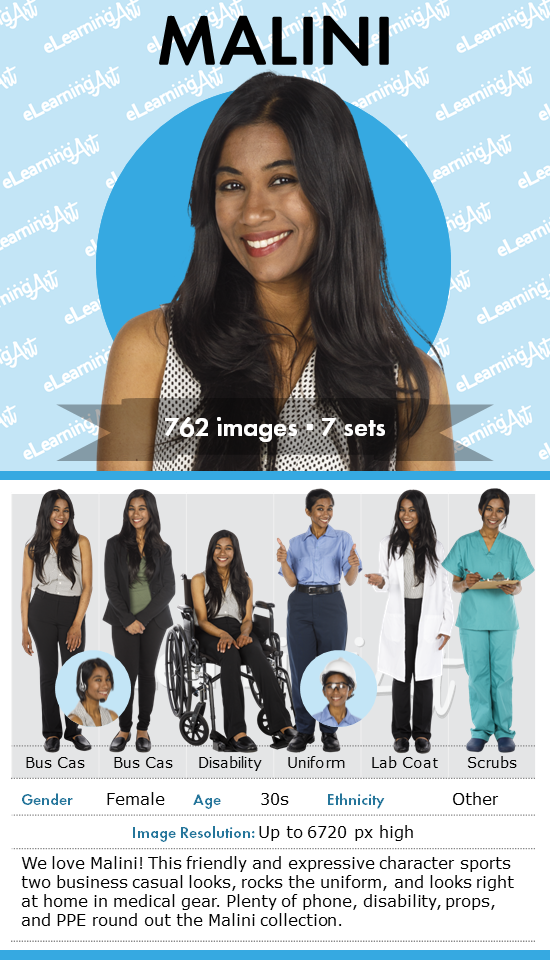 That's:
Business Casual Malini X2 (two distinct outfits)

Headset Malini, coordinated with the main bus cas outfit

Wheelchair Malini, also coordinated with the main bus cas outfit

Uniform Malini, with the full PPE set

Labcoat Malini 

Scrubs Malini
Super-high resolution photos allow you to pull in close for those important reaction shots, and — of course — every Malini pic is designed to snap together with the rest of the 50,000 (and growing!) elearningArt image library!
Wow 'em with Design Treatments (click, click, done!)
So, did you say you're not a graphic designer? No worries! (I'm not either.)
I've got a game changer on tap for the way you approach your designs. 
The last month, I talked a lot about controlling the design conversation and creating bang-up designs in just a few clicks. 
And then I released the graphic novel design treatment to the world.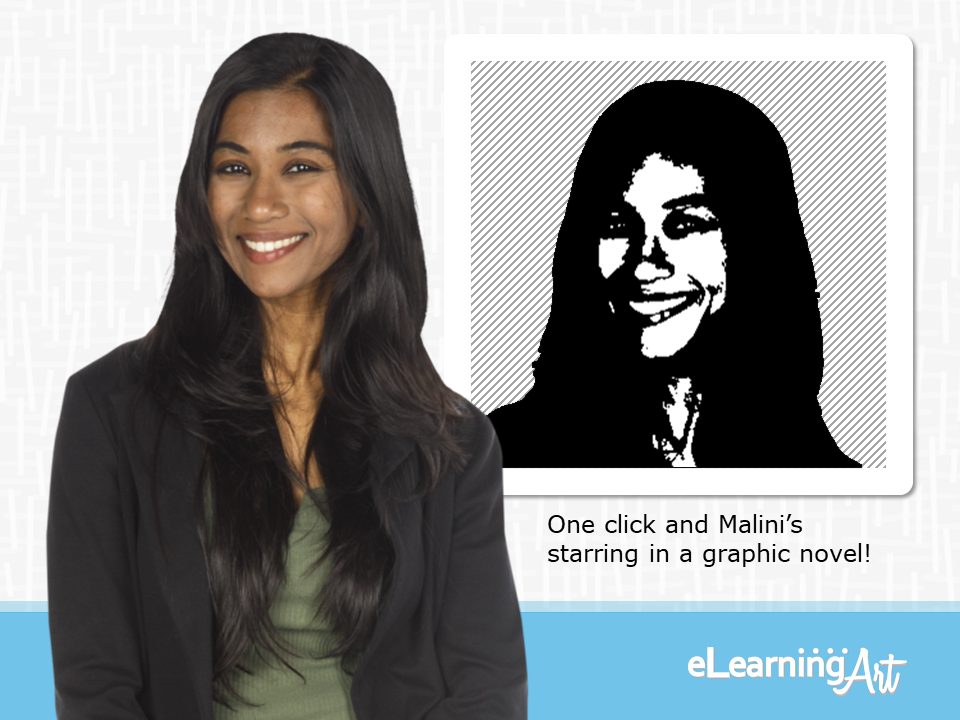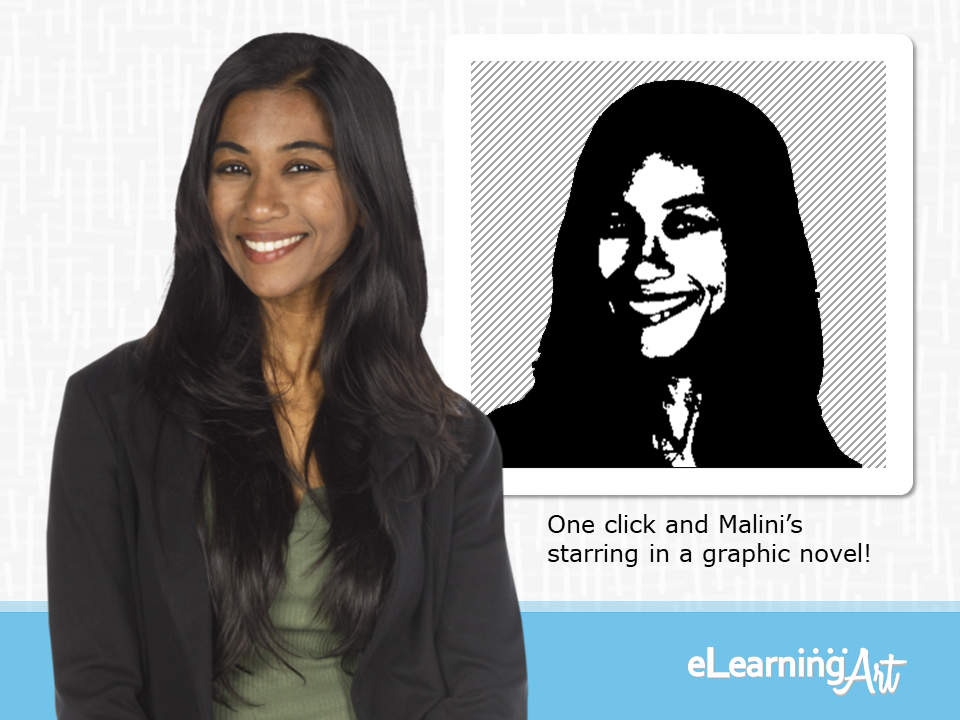 Simultaneously, 5 more design treatments were added to the eLearningart library. As I write, we're cranking out a bunch more to add in August and beyond.
Making the most of these means you'll be free from that not-a-graphic-designer bugaboo! Your stakeholders are gonna love the new options, and we certainly won't say anything about how easy those designs really are!
Blogtastic goings-on!
Speaking of the eLearningArt blog, have you been keeping up with the latest articles? We've been working hard to make it an informational powerhouse for all things workplace learning! Here's a snapshot of July's posts: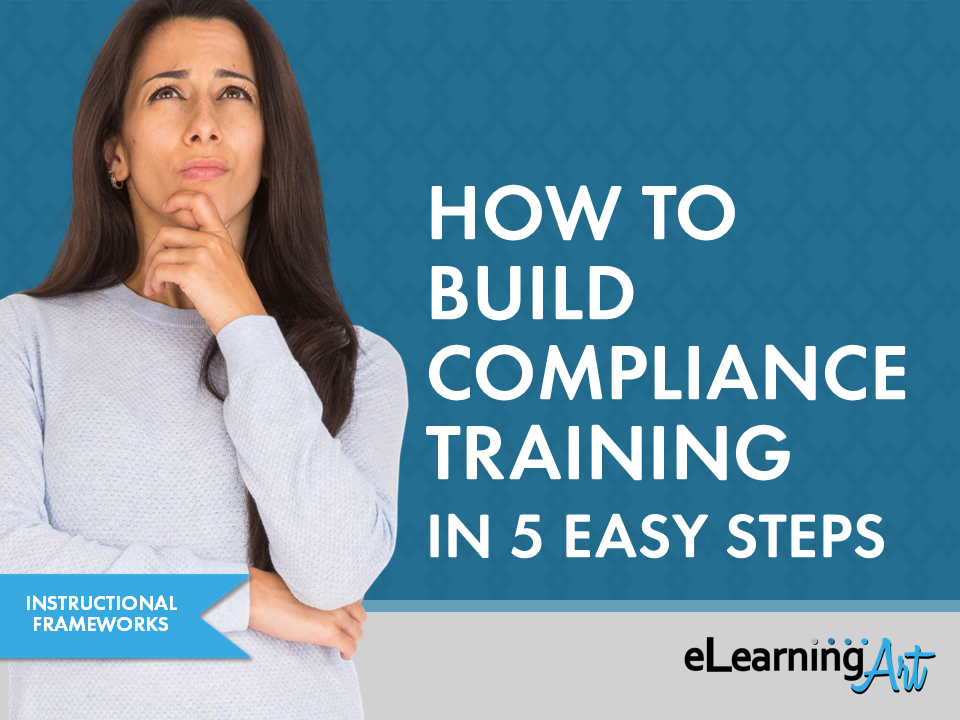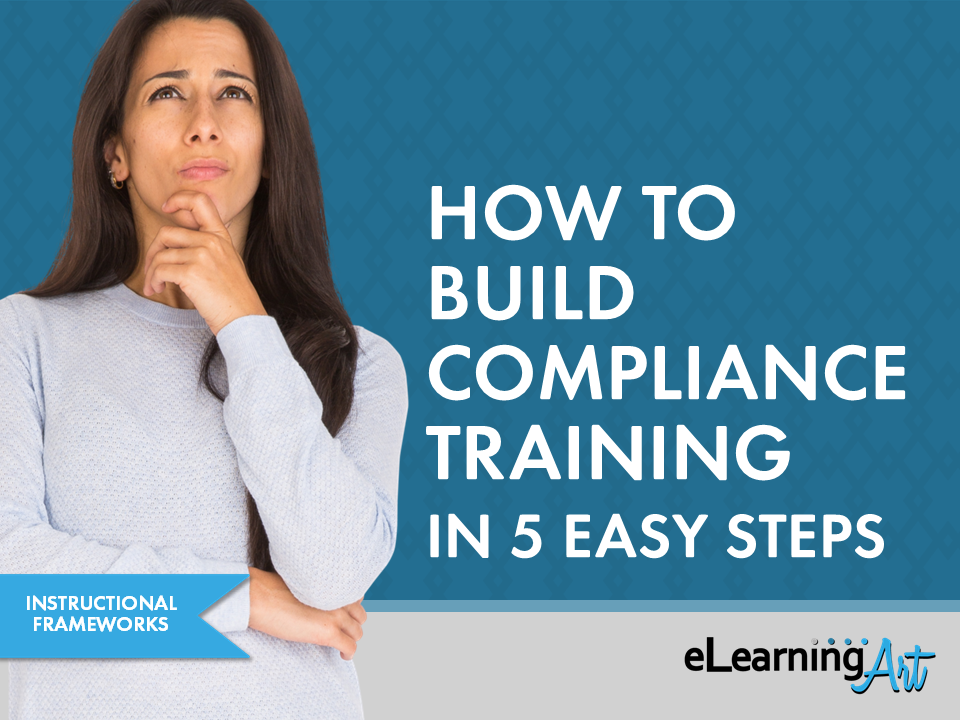 How to Build Compliance Training in 5 Easy Steps
After answering the "why" of compliance training in our [June instructional frameworks article], we've moved into the "how," giving you can-do insight into steps for building these important (but much maligned) learning programs.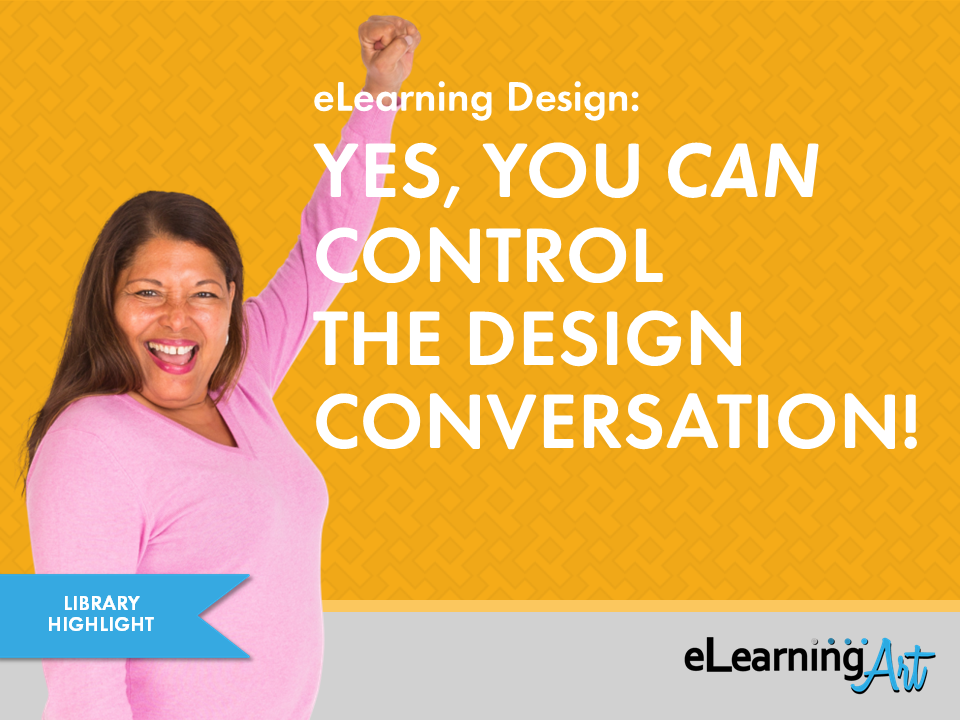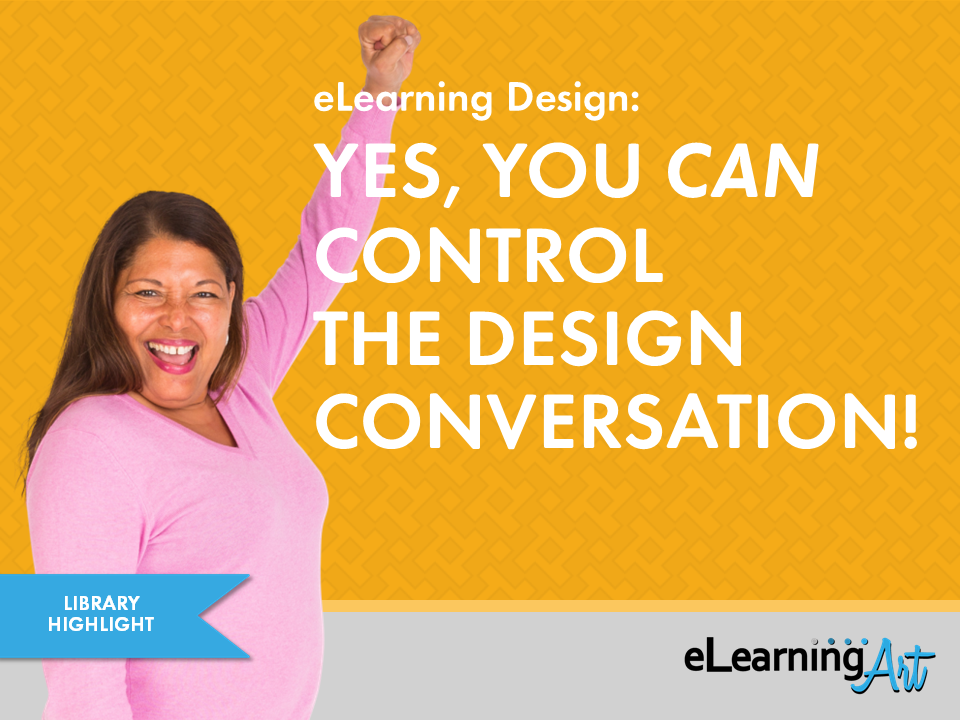 eLearning Design: Yes, You Can Control the Design Conversation
It's easy for clients (internal or external) to take the driver's seat on program design decisions. Problem is, they're not the people who have to build out the ideas across multiple slides! In this article, I offer my personal best practice for pointing design decisions toward easy to produce options. (hehe, tricks of the trade)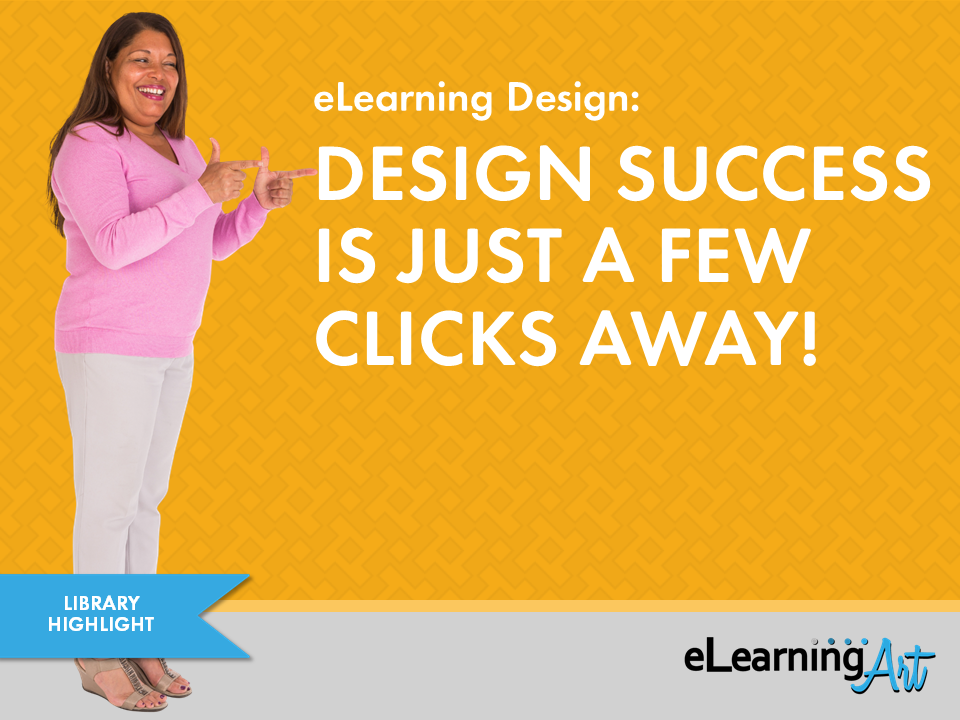 eLearning Design: Design Success is Just a Few Clicks Away!
The big reveal! Start with photographic assets, and with one click, you have the Graphic Novel treatment. Easy-easy-super-peasy! All the how-to and a starter file are in this article. Prepare to be surprised by how easy it all is!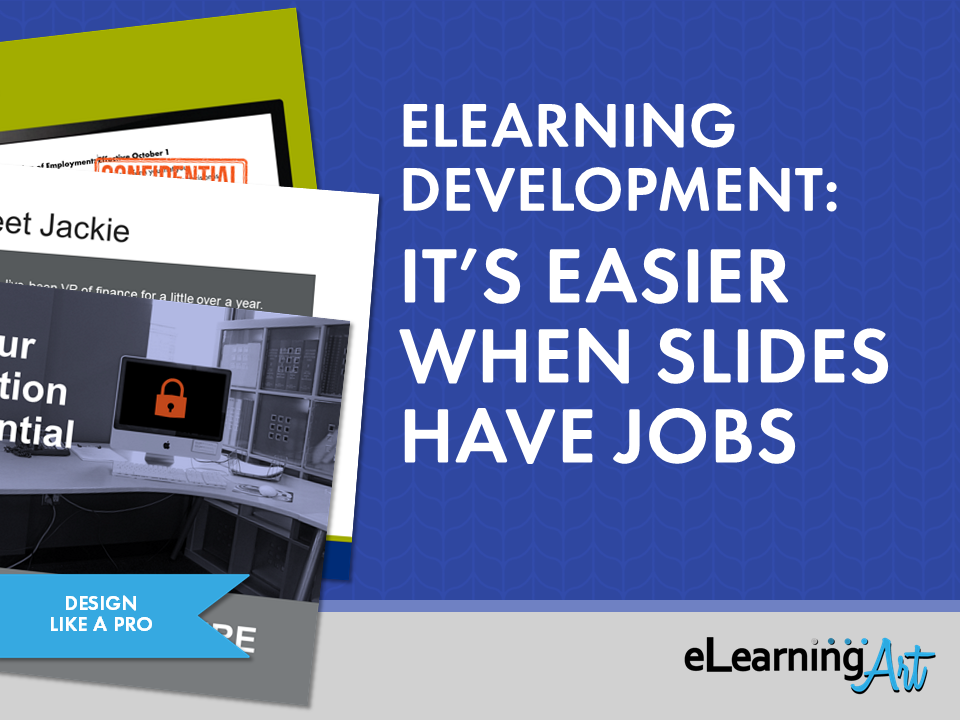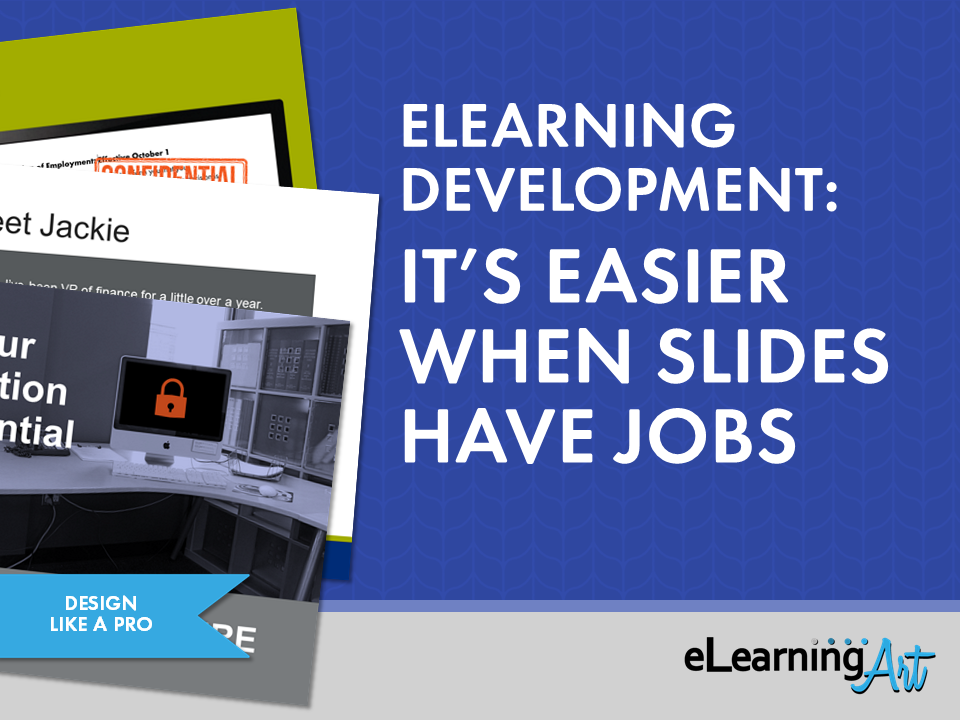 eLearning Development: It's Easier When Slides Have Jobs
Your next slide-based project (in PowerPoint, Storyline, Captivate, or wherever) can go more quickly than ever. The trick? One slide, one job. Learn about those jobs in this post and start building slides like a boss.
Site improvements: Filters 
Here's some insider info for you: 
I'm convinced that anything eLearningArt can do to save you time in building programs will a BIG WIN for you.
When production time is more efficient, you have more hours to do high value work, to focus on other priorities, or just to cut out of work early to hit happy hour or play with the kids.
With this in mind, I've targeted reducing image search time as a top, top priority. Why? Because  the time it takes to find the just-right images that will work for a slide is one of the big, but mostly hidden, time sinks in learning program development.
Let's say you spend 30 minutes on a slide, taking it from blank to swank. 
You could easily spend half of those minutes locating the just-right images the slide and program requires. (It's gotta fit with the voiceover, the look and feel of the program, the [CRAP principles,] and so forth. It's fine needle to thread!) 
Tick-tock, tick-tock, tick-tock.
Now, multiply that search time across all the slides in your program, it really adds up!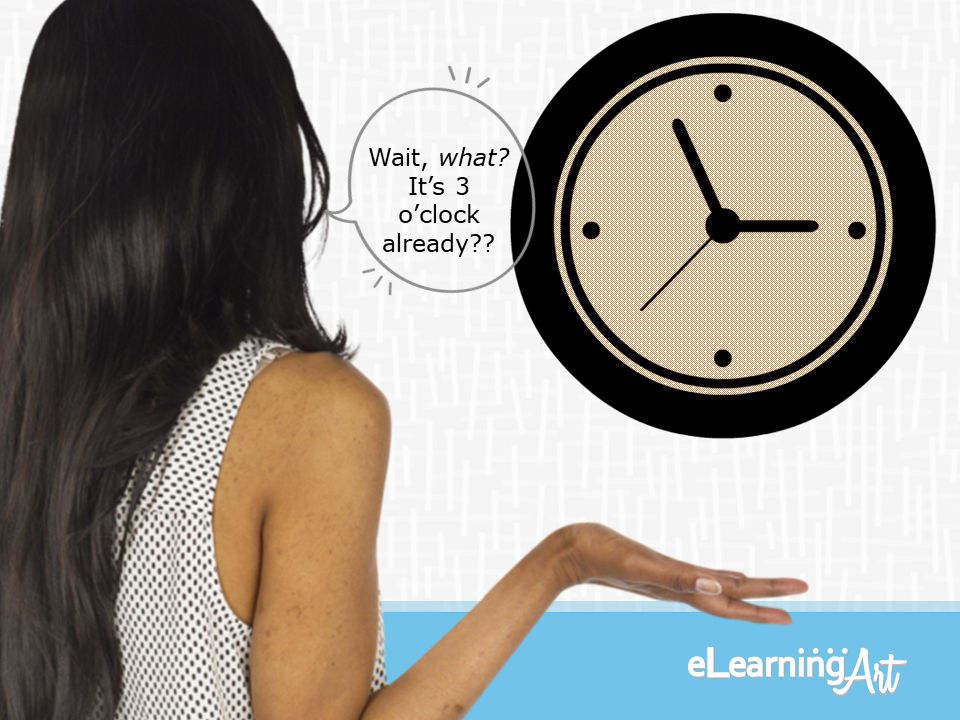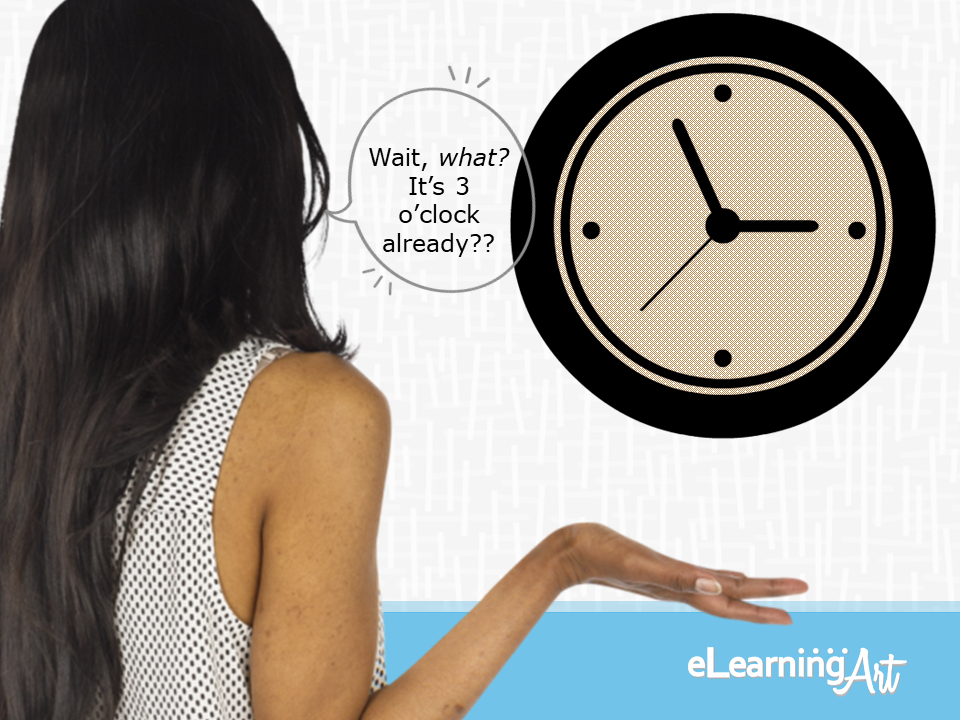 My team and I have spent the past few months staring bleary-eyed at the computer screen, working to improve, build, and implement the process of finding assets in the eLearningArt library. Now, it's with a lot of excitement that I get to announce: 
Filtering is here!
This has been a major improvement to my eLearning development workflow, and my user-testers say the same thing! I know you'll think so, too!
Here's a quick flyover:
Let's say you've chosen Malini and Frank as lead "actors" in your latest program. You're working on a slide where they're chatting casually.
You could look at all the Malini poses and select the one you need. Then you could do the same for Frank. (Tick-tock, tick-tock, tick-tock.)
OR, you could use filtering, and get the images you need just like that, BOOM!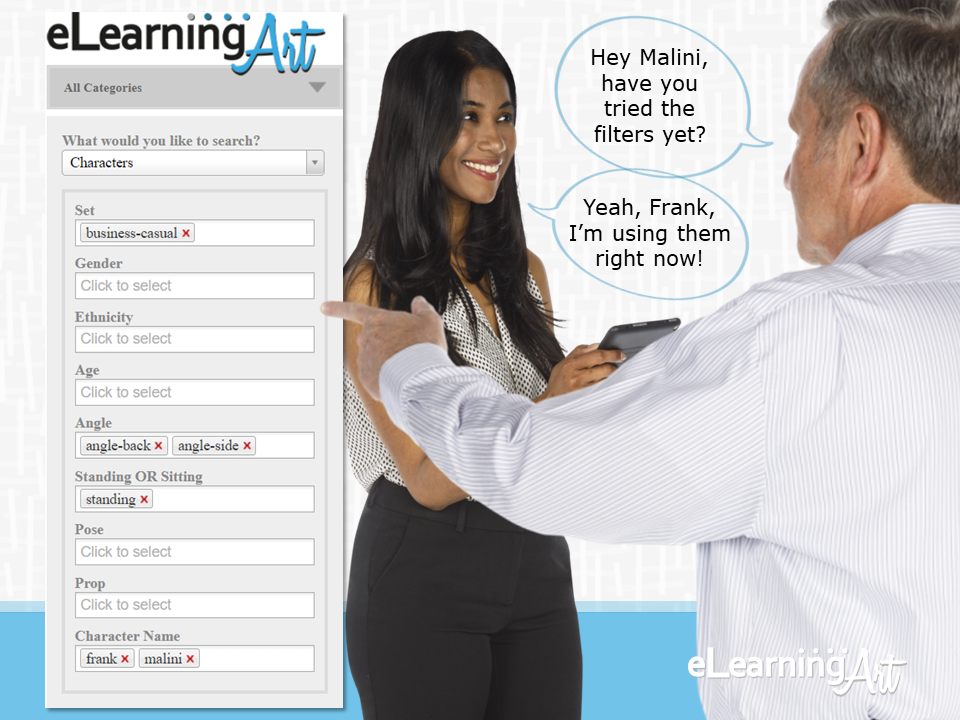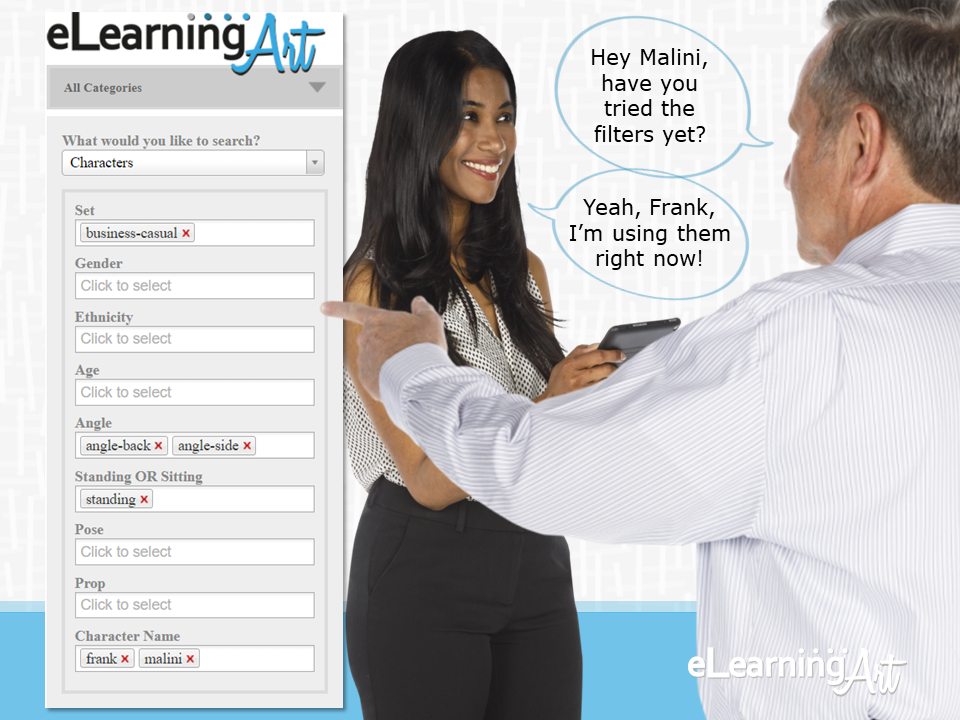 Log into the eLearningArt library, and there it is: Filtering. You will be drilling down to the exact images you need in seconds.
Speedy building, here we come!
I found more … snow (I mean … really?!!!) 
A couple weeks ago in mid-July, my best friend since 7th grade gave me a call, asking if I could sneak away for an overnight backpacking trip. Cami kindly offered to take on all kid coverage for the night (thanks, Cami!) and Jameson and I headed out to Tahoe National Forest. 
There, we took a 9-mile hike in perfect 70-degree weather to Glacier Lake, packing only ultralight gear. Nice way to walk!! 
Sadly enough, when we got to the campsite we had in mind,someone had already claimed it. =\
Hmmm. We looked around, and peering over a crest, saw five beautiful lakes below. Between us and those lakes? 
Snow, and lots of it! Here's how we got there fast:
(Fun fact! This is called "glissading," not "sliding down a snowpack on my butt.")
It was a great way to get to our campsite fast, and well worth the lumps and bumps, considering where we ended up: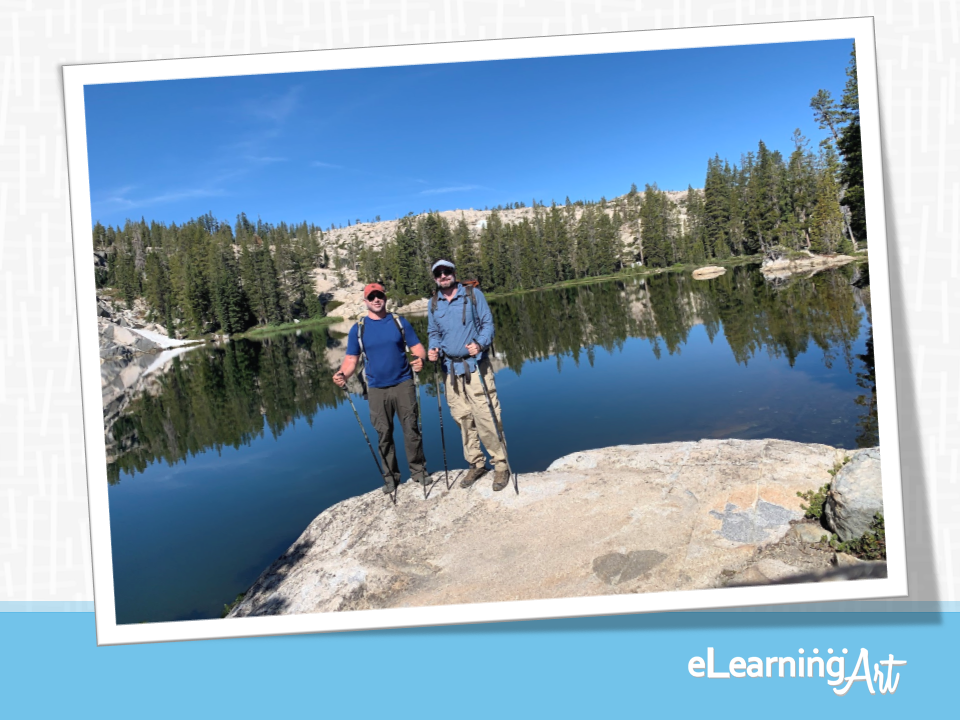 ***
And
that's
the State of the Studio! 
I bet you've noticed that we've really picked up the pace of product development, site improvements, and blog content over the past few months. It's my hope that our hard work is allowing us to better serve the eLearningArt community — both library members and blog readers alike.
Don't be shy! I love hearing from my people, so reach out to me anytime and let me know how I can best help you. Or, if you're liking the changes, make my day and let me know!
Until then, remember … Today is a great day! 
Bryan