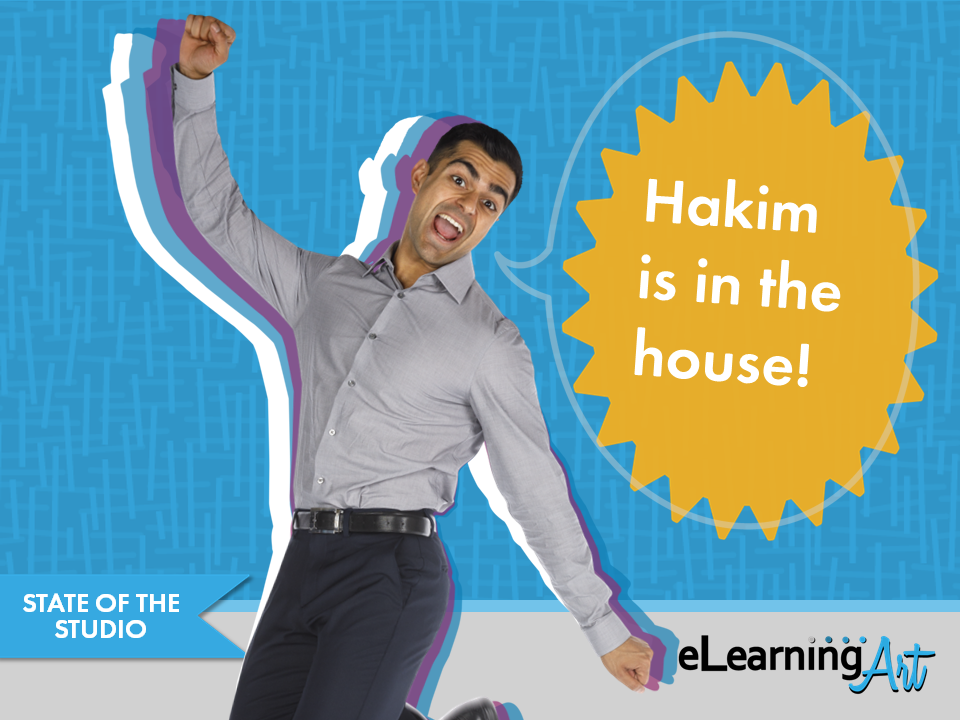 Wow! It's September already. We're turning the corner toward year-end, and all the fun that brings!
This month, we've got a new guy bursting on the scene, a couple of fun design treatments, and a few other good things to share with you.
No snow — believe it or not — but soon, I promise!
Today, in addition to being a great day, was also a big day for the Jones household. I'll tell you about that just a lil' bit later!
Welcome aboard, Hakim! 
It's my pleasure to introduce Hakim to the eLearningArt membership library! 744 images of pure usefulness!
Why? Well, this guy has an unwavering ability to deliver exactly what you're looking for in a character: poise, energy, and variety, slide-sparkling good looks, and lots of emotive poses that get your ideas across, zing!.
Seven sets comprise the Hakim team: Two business casual outfits, plus Hakim with a headset or in a wheelchair, two medical outfits, and a uniform set, with and without PPE.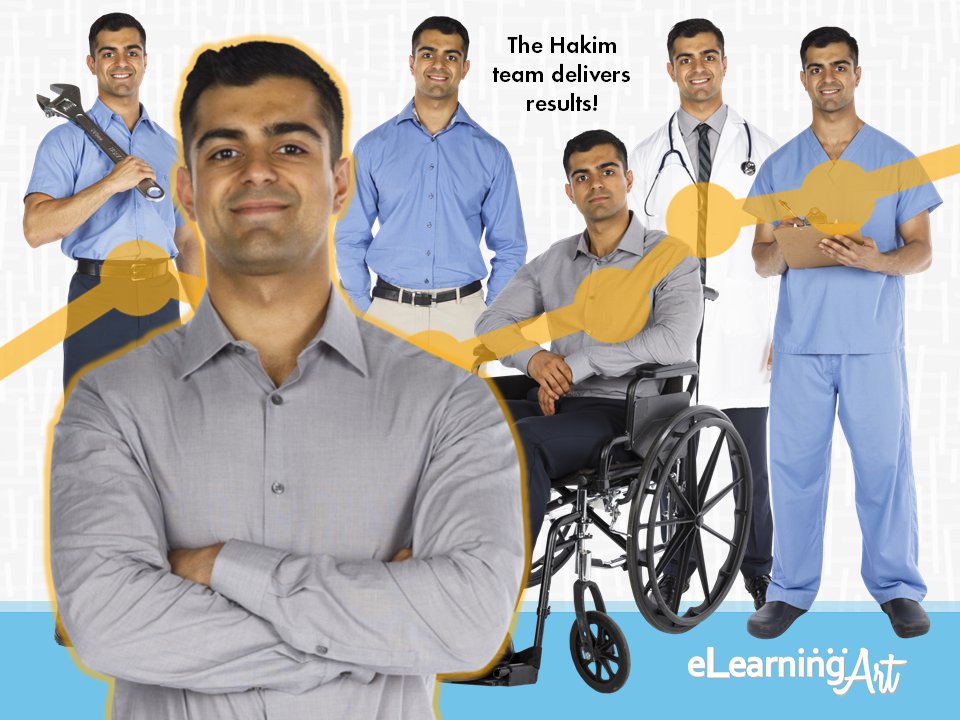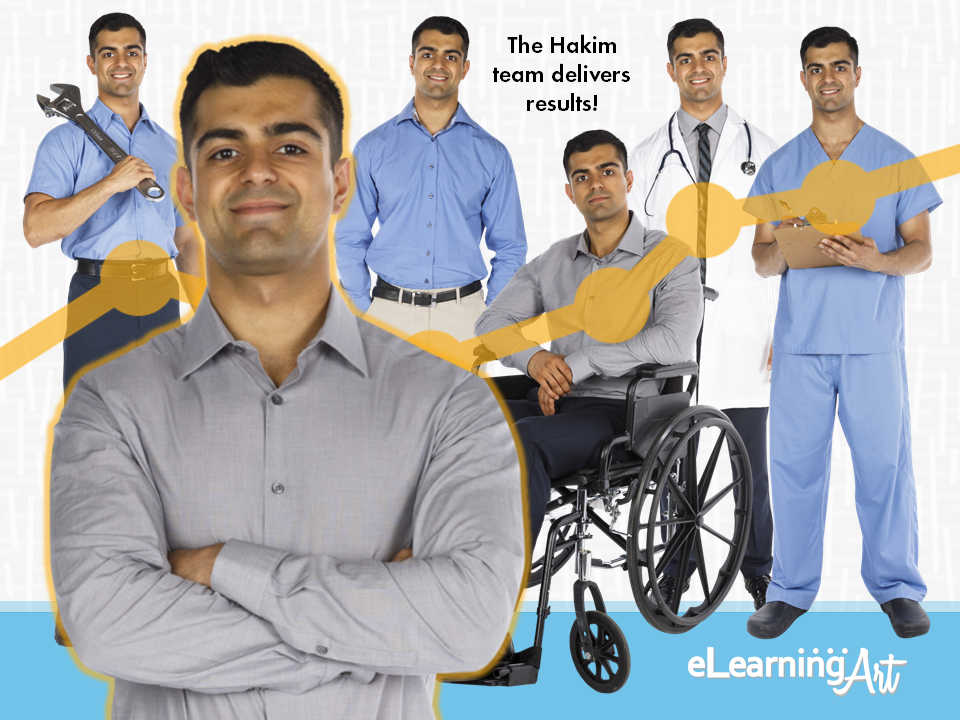 We're keen on Hakim, and you will be, too! =)
Character cards: Everything, at a glance!
Of course, Hakim has earned his place in the eLearningArt Character Card collection!
We're continuing to crank out the eLearningArt character cards (collectible? could be!) designed to let you see the whole set of options for a character at a glance!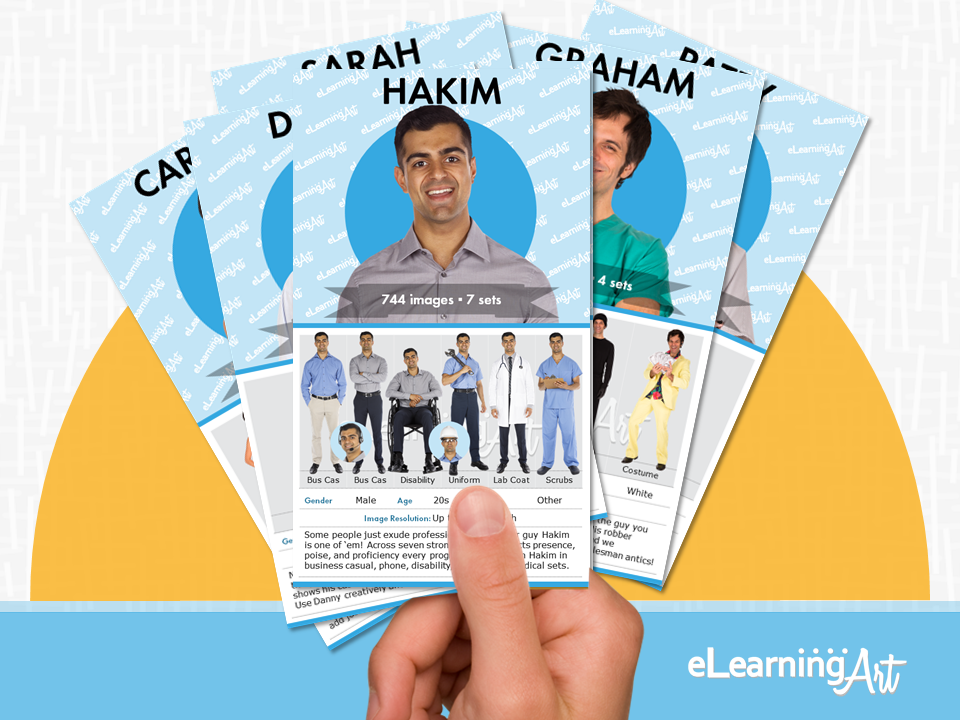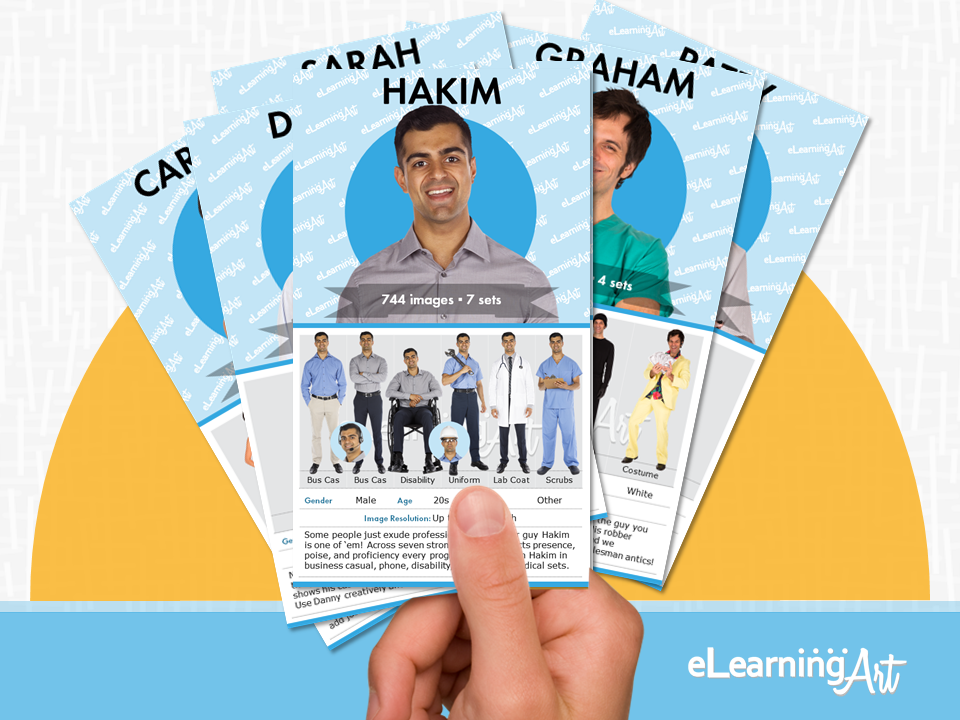 For each character, we bring together all of his or her sets, outfits, extras, and stats, and adding a description of what we think makes the character special. 
Added bonus? You can use the cards to suggest characters to your clients, sponsors, and SMEs. Boom, done!
All in all, it's one-stop-shopping for the characters you need for your programs, and it's specially designed to coordinate with the eLearningArt library filtering system, too!
And speaking of filtering: Continuing improvements
Filtering is opening up a whole new world at the eLearningArt library! My team and I have been digging in deep to make sure the filters are working to make your search experience both super productive and accurate. 
You're the reason for this! I think that the sooner you can surface and download the perfect character, background, template, icon, and et cetera, the faster you can complete slides.
In fact, that's what is driving the whole project — getting you to "DONE!" more quickly. And hey, if you feel a little proud of your work on account of also having found the just-right images, that's an added bonus!
New Design treatments: Making creative solutions so super-easy!
You'll probably recall me chatting about design treatments in a recent blog post here. (And to give you a chance to take a test drive, I even gave one away here!)
eLearningArt design treatments are your secret weapon for quick, easy, and amazing projects, and this month we've added two more to the library! 
Try out the Halo design treatment and the Cartoon2 design treatment.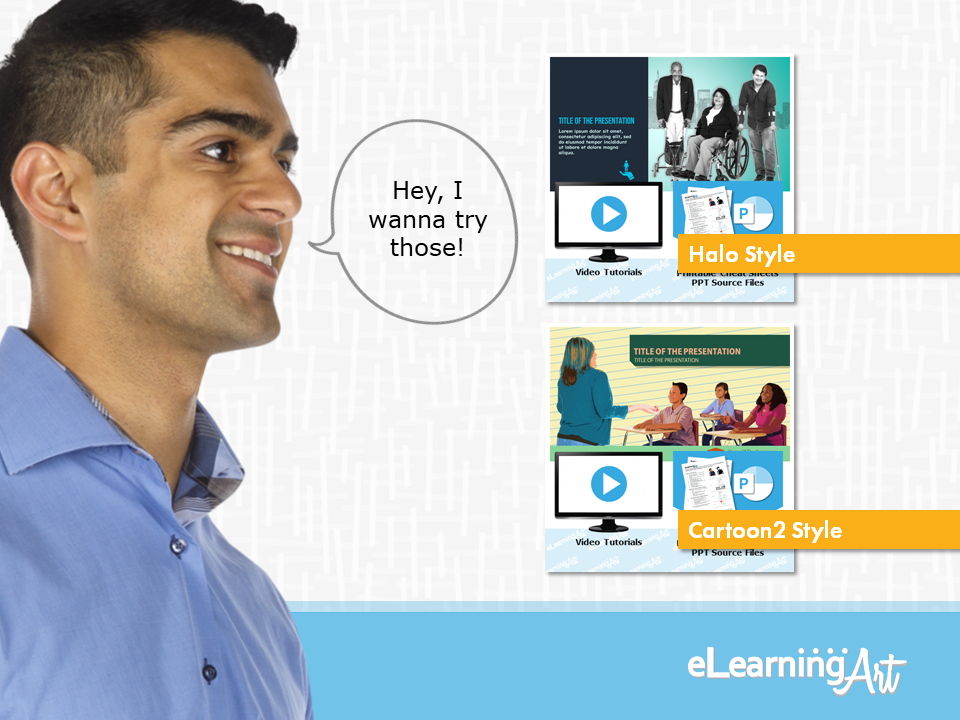 Hakim jumped at the chance! 
First, he got some great news about his brother's health results!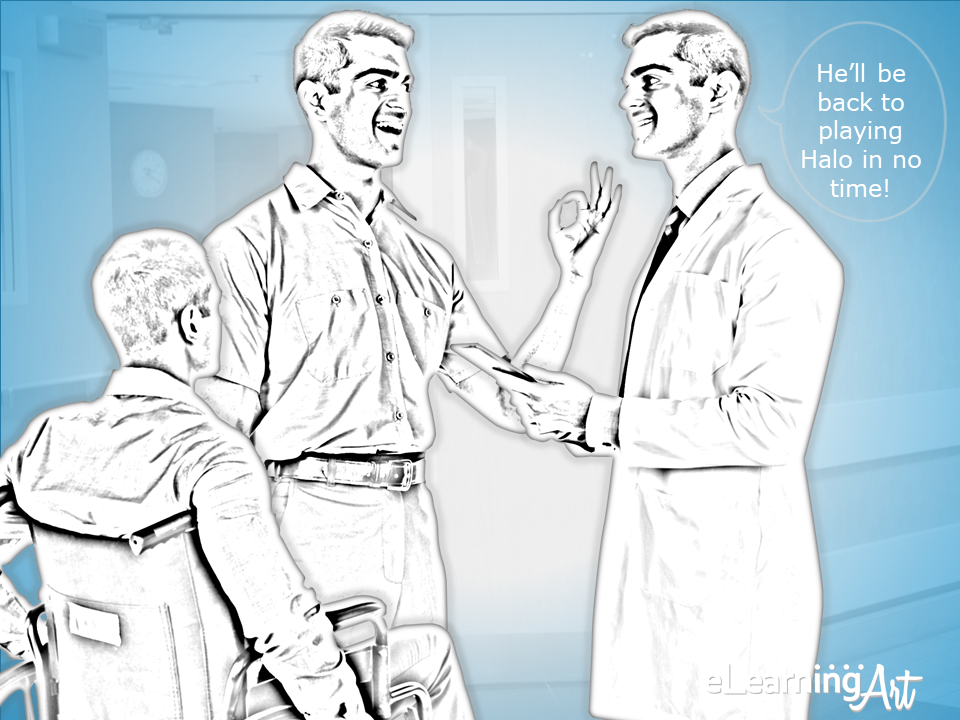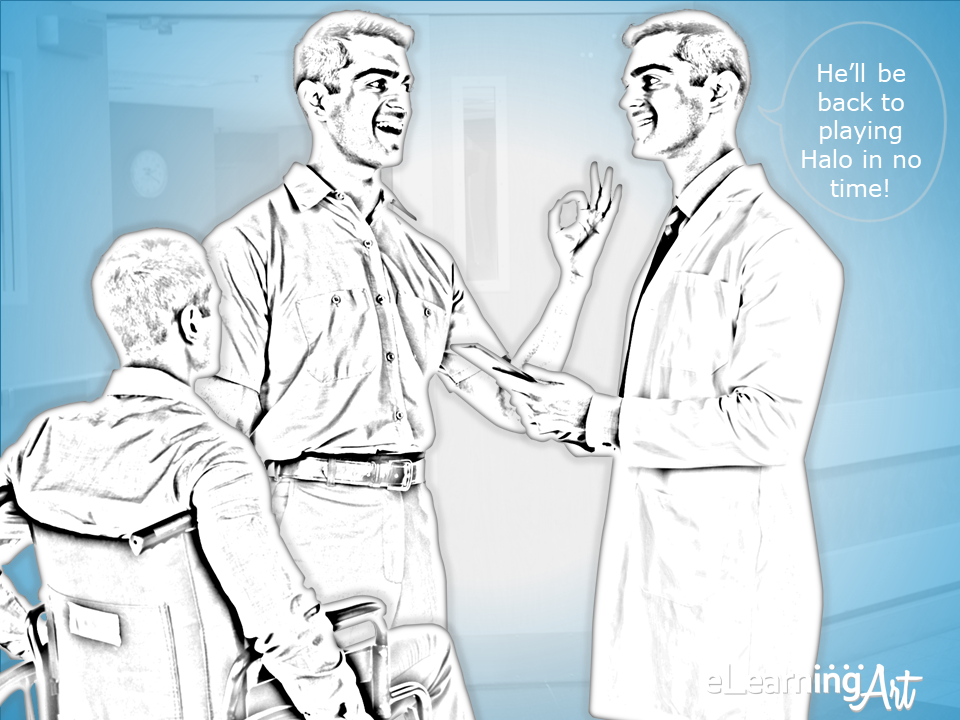 Then, he may have creeped himself out a bit, but at least he got a great idea for Halloween … !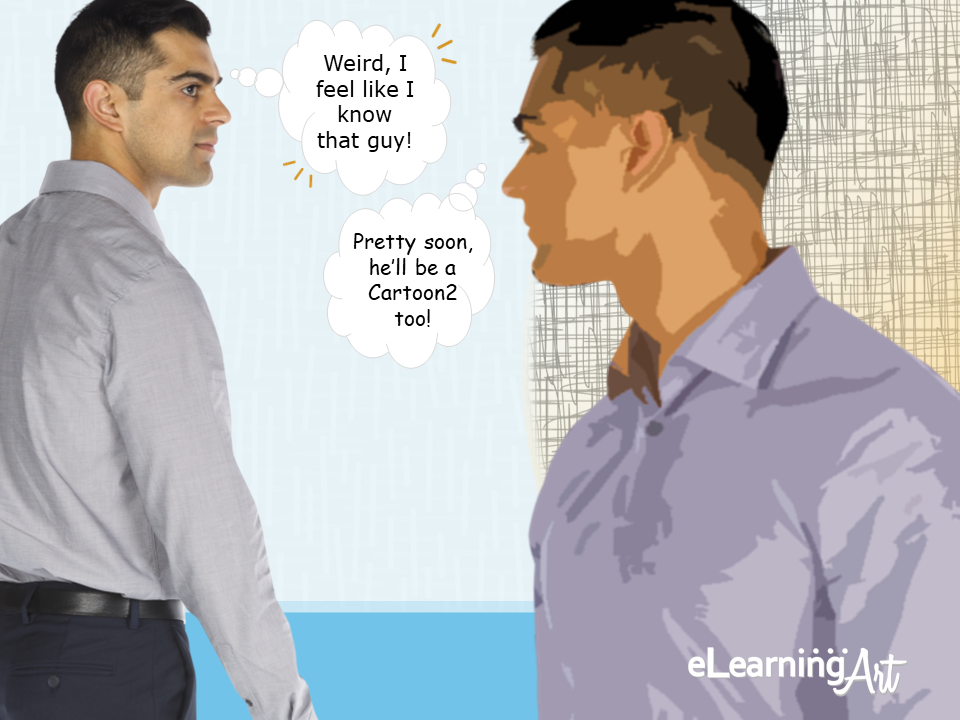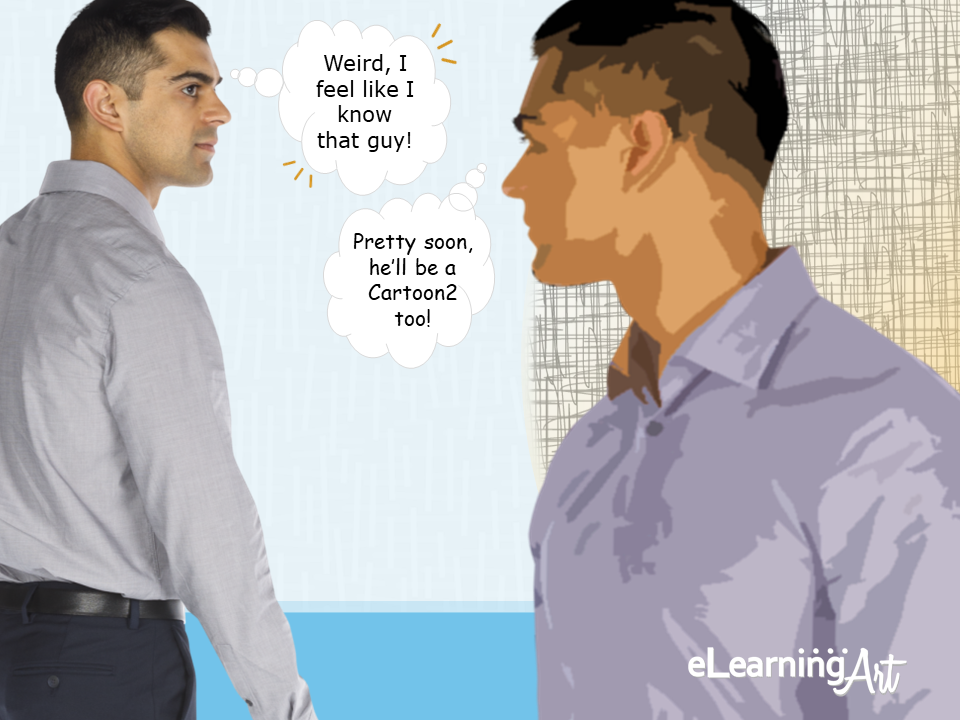 Take one minute right now to think about how these two design treatments might make your programs more creative! Just don't give yourself the willies, OK?
Personal "Big Day" milestone: First kid off to kindergarten!
The day after Labor Day was the first day of school in our area. With it, our oldest daughter skipped off to her first day of kindergarten! 
She was a champ! No crying or anything. 
A little hard on mom and dad though 😉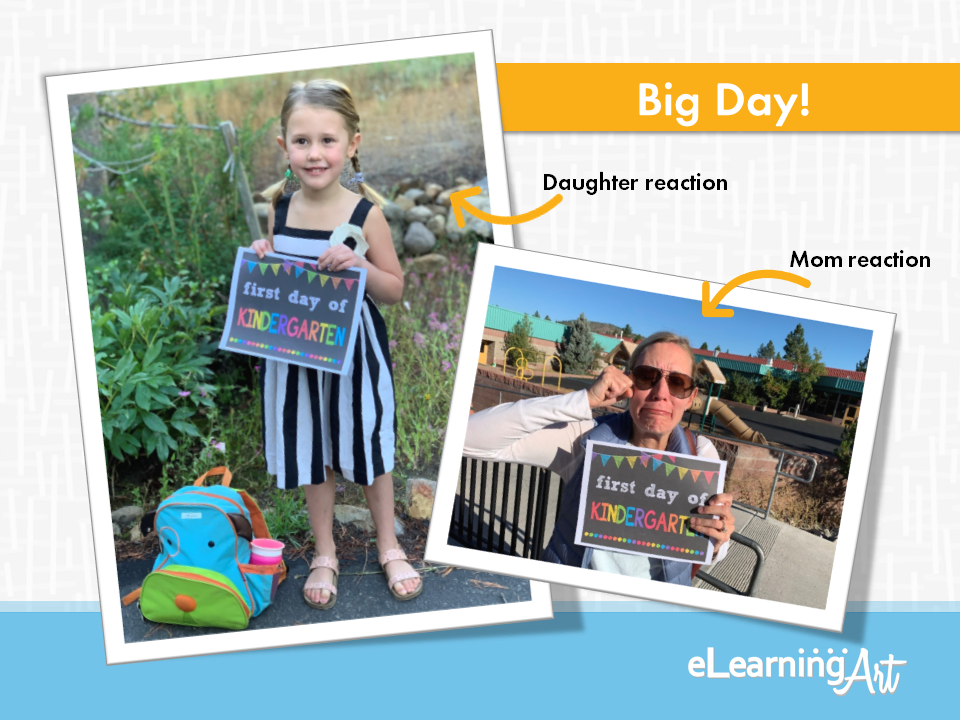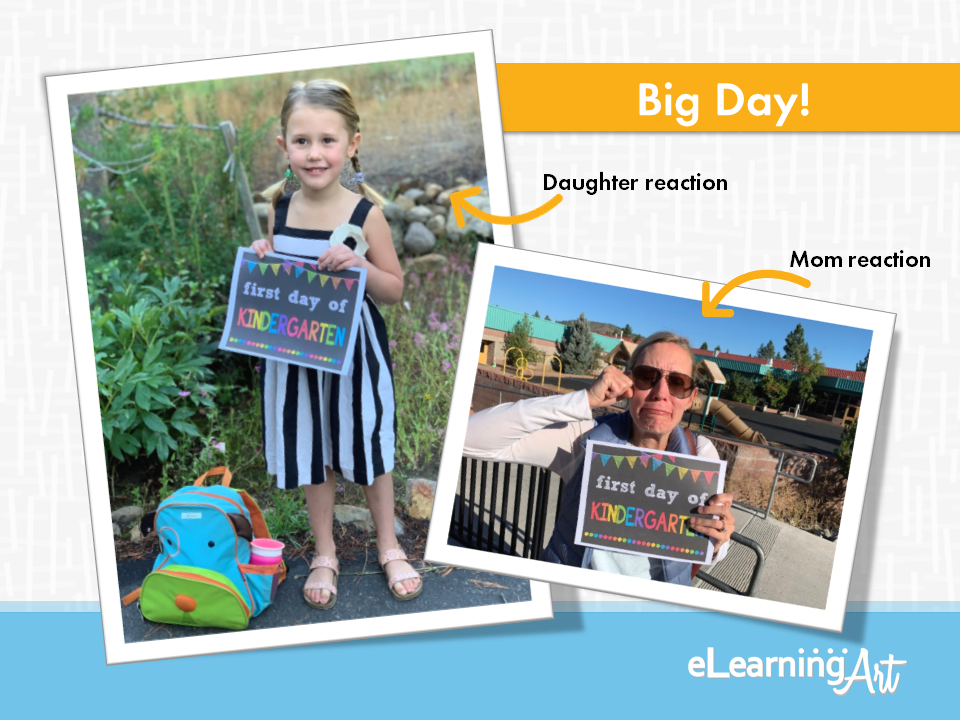 What I'm excited about 
Icons – We have a ton of new icons in the library, and I look forward to sharing more details about them soon. First, though, I want to get icon filtering and searching perfected. (We're practicing on characters right now.)
Improved library search – Like I said a little earlier, search and filtering results are getting better every week as we collect real data and tweak the results. Reducing image search time and surfacing assets you really need are super-high priorities!
Illustrated backgrounds – It was a sad day when Microsoft scrapped their ClipArt gallery. It had a ton of great illustrated backgrounds in matching styles that could be broken apart, modified, and rearranged. We're bringin' 'em back, people! All new and totally improved, this is a release worth waiting for! 
Illustrated characters – And to match those backgrounds, illustrated characters that can also be manipulated in infinite poses! These are coming soon to the eLearningArt library.
And
that's
the State of the Studio! 
Plenty for now, right? 
In case you haven't noticed, we're always having fun with new stuff here at the eLearningArt studio. You're the reason we do any of it, so here's a great big September thank you right atcha!
Today is a great day!
Bryan