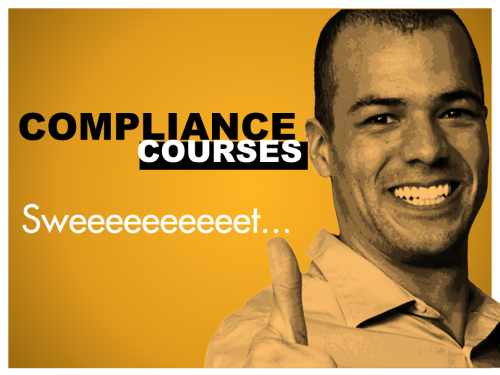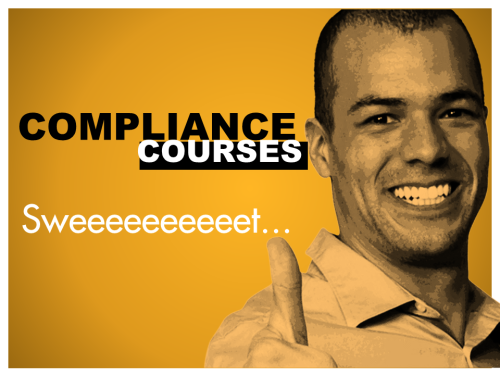 One of the ways I become a better eLearning designer is by finding good examples and trying to replicate the elements I like.
Recently, my friend Brooke Schepker from Yukon Learning shared a sample course. There are a lot of great ideas that you can apply to your designs.
I've included some video lessons and source files that highlight my favorite parts and should help you build them yourselves.
View the sample course
Here's a link to a snippet from the course: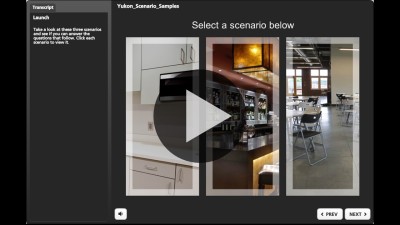 Two key takeaways for engaging & interactive compliance courses
For the most part, compliance courses are what give eLearning a bad name. They're usually dreadfully boring and poorly designed. Yukon was bold in selecting a compliance course as an example and kudos to them for showing us a better approach.
In my opinion, the two design elements that make it stand out from a typical compliance course are: storytelling and a scenario-based approach.
1: Use Short, Realistic Stories
Instead of walking us through the information using bullet points (like most boring compliance courses), Yukon used 3 short and realistic stories that contained the elements of harassment.
As Brooke describes, "storytelling and scenario-based learning is the ultimate 'learn by doing' method. It provides learners with an opportunity to apply their knowledge in a realistic and safe environment, providing guidance and coaching along the way."
By providing realistic stories, the learner can actually imagine themselves in a similar situation. How many of you wanted to (or did) click one of the incorrect options during the course? 🙂
2: Mix Conversations with Scenarios
Rather than present the scenario on a single screen, Yukon uses conversations to deliver the context of the scenario, then inserts challenges along the way. You are forced to stop and think, rather than passively watching. Once you've made a choice, you get custom feedback based on your selection.
Brooke mentioned that as designers, they always ask themselves "'would this information be better told or discovered?'  This question challenges us to think of ways to allow the learner to 'uncover' the importance of the topic as opposed to us just covering it in the course." I personally like the use of discovery in these scenarios.
What you're doing is actually mixing together a conversation with an eLearning scenario.
4 cool course elements you can easily use yourself
1: Add characters to background images for realism
When I shoot backgrounds, I usually do it with nobody in the background. But that can make it look a little bit like a ghost town, and not like a space that's being used. If you check out what Yukon did here, you'll see that there are several people in the background. It's actually just a few other characters that they've inserted to make it seem like the space is actually being used by people, and isn't a ghost-town.
View the video tutorial (source files included).
2: Make 3 person conversations
I have a tendency to create a lot of 2-person scenarios, which Yukon did nicely in the 2nd and 3rd scenarios. But, it was interesting to see the use of 3 people in a conversation in the 1st scenario. I thought the angle of the characters still worked really well.
I have a short lesson, including source files, on how to create a 3-person conversation.
3: Create a video effect with still-photos
One of my favorite elements of the sample is that way that the dialog uses a "stop-motion" effect of still images to give the feel of video. Brooke and her team had evaluated custom video and shared with me that most customers hesitate to use video because of the fear about making changes to the content and having to re-shoot video. As she explains, "using static images is a great alternative for these customers…they still get the 'look' of video, with the ability to easily make updates, and at a lower cost and quicker turnaround time."
Stop motion is a really easy effect to use in any tool. Below is a lesson, with source files, on how to use stop motion to create a video effect with still photos.
4: Use open navigation on the intro screen
Even though this seems minor, as a user, I like the idea that I'm in control of where I go and what I do in the training. I like that I could complete the scenarios in any order that I wanted. So many courses have locked navigation and force the learner down a single path. That's really not what users like.
In this example, it was as simple as building an intro screen that hyperlinked to one of 3 branches, then returned the learner to the main screen. If your concern with open navigation is that you won't know if learners completed all 3 sections, check out how the intro screen actually changes to the status of each of the 3 sections to "complete" when the learner completes that section. Yukon used the power of Articulate Storyline 2 with variables and states to track the status. Well done!
How do you make your courses more engaging?
Are you using any other techniques to make  your courses engaging and interactive?
Are there any other video tutorials you'd like me to create about the Yukon course?
Please share your thoughts in the comments below.
About Yukon Learning:
Yukon Learning's mission is to "Make e-Learning Easy for Everyone" by providing certified Articulate training, custom course development, and engaging simulations.  Plus, they've changed the game with Rapid Course where you "Buy the Course, Get the Source." You can see more of Yukon Learning's work here.