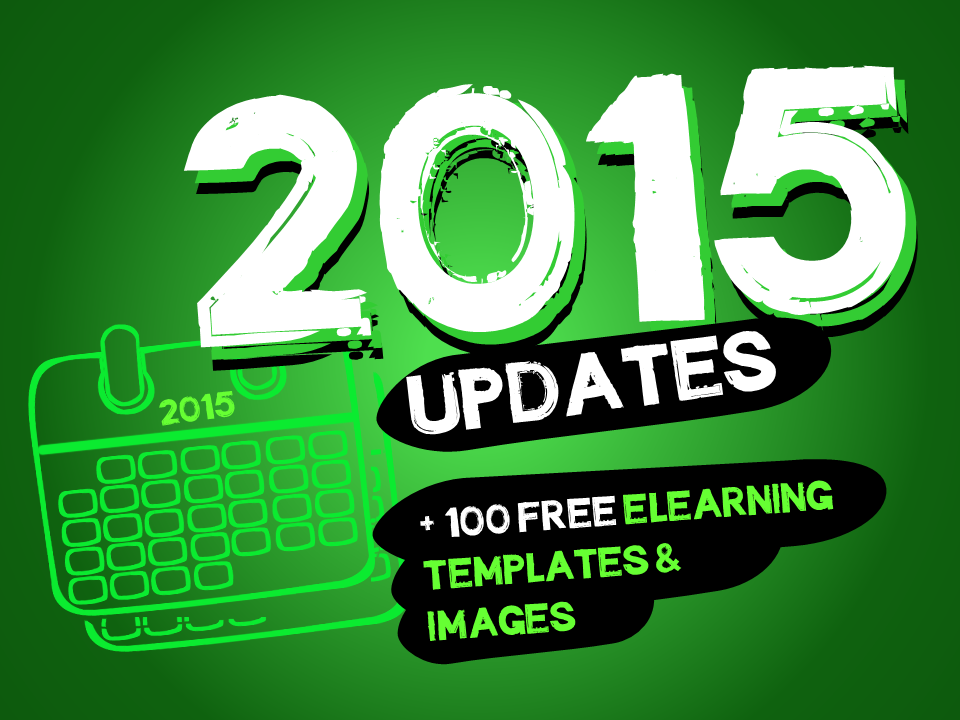 It's been an eventful year at eLearningArt, and for me, personally.
Mostly, I'm excited about the birth of my son, Rowan Hardin Jones, on Dec 1, 2015. He just cracked his first smile last week, so life is good!
Here are some of the other updates I'd like to share.
100+ free eLearning images & templates
Let's get to the free stuff first. Because who doesn't love free? 🙂 I'm happy to announce that we upgraded our image and template giveaway.
Over 50 new eLearning characters released
We've really been cranking out a ton of new characters, including 50+ over the past year. You can see the latest eLearning characters here.
84 new eLearning templates and a strategy that really works
I spent a lot of time last year coming up with a template philosophy that actually works. I'm excited to share more about this approach over the coming months, but if you want to check out the updates in the meantime, you can see the new templates here.
New website and other platform changes
A lot of my time in 2015 was spent on setting a solid foundation for my system architecture. Now, in 2016, I can build on that foundation. The two most notable changes:
Launched a new website: I updated to a cleaner, responsive design. More importantly, we completed phase 1 of the redesign, which was an upgrade to a new platform that gives us total control of the design and functionality. I'm even more excited for the design upgrades we'll be making throughout the 2016 now that the foundation is set.
Consolidated the 3 sites: One restriction of my old platform was that it forced me to build on multiple domains. Now everything is on the .com with the website, blog, and membership site.
Massive upgrade to customer support
As the number of members has increased over the past few years, the support moved beyond a level that I could manage on my own. Two major updates have already improved the customer service experience.
Hired a support team: You'll notice that response times are extremely fast now (same day for most requests). Maru and her team are doing an awesome job. They focus on support while I focus on growing the library, running the business, and proactively engaging with the community.
Launched a Knowledge Base: Answers to frequently asked questions can now be found in our knowledge base.
Images are now easier to find and use
Images both on the main website and the membership site are a lot easier to find. There are 3 main upgrades.
We finished tagging the 40,000+ images in the system
We rewrote the search algorithm from scratch to give better results based on the keyword tagging
We now have meaningful file names. Instead of seeing something like "Image_9584" you'll see a more logical structure that includes the character name, pose, outfit, file size, and unique ID#. So the new file might be something like "eLearningArt-Tom_confused_in_business_casual-2657×5496-43693"
Personal updates
This year has been a roller coaster of emotional highs and lows.
My son, Rowan Hardin Jones, was born Dec 1, 2015. He's a big boy… born @ 9lbs 5oz (Nice job Cami!!!). Now we have a 20-month old girl and a 2-month boy in the house. It's both crazy and fun. 🙂
My dad's health has been declining over the past year and we've seen him go from cane, to walker, to wheelchair, to motorized wheelchair.  After countless tests, he was unfortunately diagnosed with ALS a few months ago. I'm getting in lots of quality time, but it's been a really difficult time for me and my family.
Looking forward to 2016
My two goals for 2016 are:
Family: Spend quality time with my family, including lots of trips where the whole family gets together.
Community: Consistently participate in the eLearning community. While there were a lot of amazing improvements and releases in 2015, I did a horrible job of updating the blogs & tutorials, and actively engaging in the eLearning community. I really enjoy being a part of the community and look forward to connecting more in 2016!
What would you like to see from me in 2016?
What would you like to see from me over the next year? What products, posts, or tutorials are you interested in? Anything else?
Please share your thoughts in the comments below.