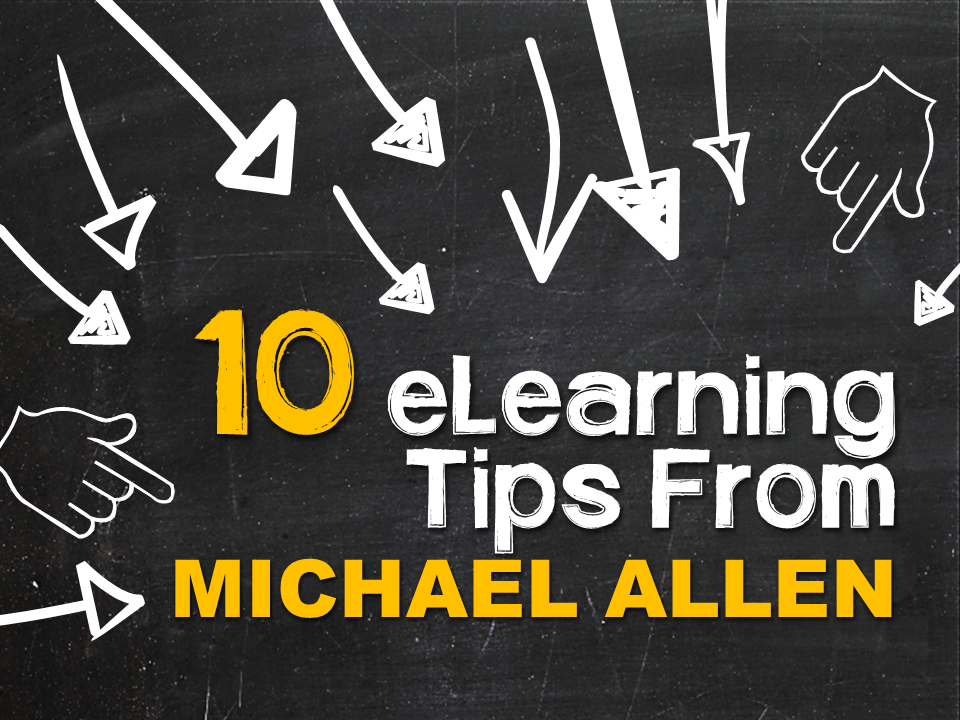 Michael Allen is well know as one of the top eLearning experts and his "Guide to e-Learning" book is on every list I've seen of must-have eLearning books.
That's why I'm excited that he agreed to do an interview with me and share some of his best tips for building better eLearning courses.
Get a 
FREE ebook
 with 2 awesome bonus tips from Michael Allen, as well as the 10 tips from this post.
With that, let's get onto the interview!
What's changed over the past 13 years since the 1st edition of your book?
eLearning is no longer a new thing, although its virtues and capabilities are still widely misunderstood, unappreciated, and unrealized. Instead of the fear of dehumanizing instruction and learning that were actually helpful to push e-learning to be the best it can be, there's now a drive to develop volumes of cheaply delivered training pretty much regardless of effectiveness. And there are many misconceptions or urban myths in the driver's seat.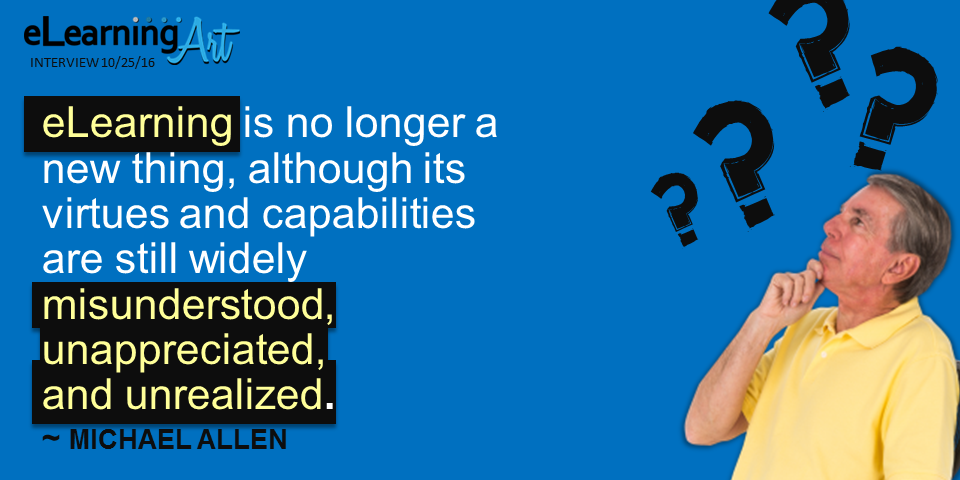 What's your best tip for making eLearning engaging?
CCAF! Context, challenge, activity, feedback. Instead of designing by focusing on content (let alone PowerPoint slides) as is so common, we produce engaging e-learning by focusing on the learning experience first and foremost. The most straightforward way of doing that is to 1) define a context that learners can readily see themselves in and therefore relate to, 2) present challenges for learners to handle actively, 3) enable actions that clearly approximate the performance we are targeting, and 4) give feedback, mostly in the form of consequences for each action so learners come to associate different outcomes with the various decisions and actions they might select.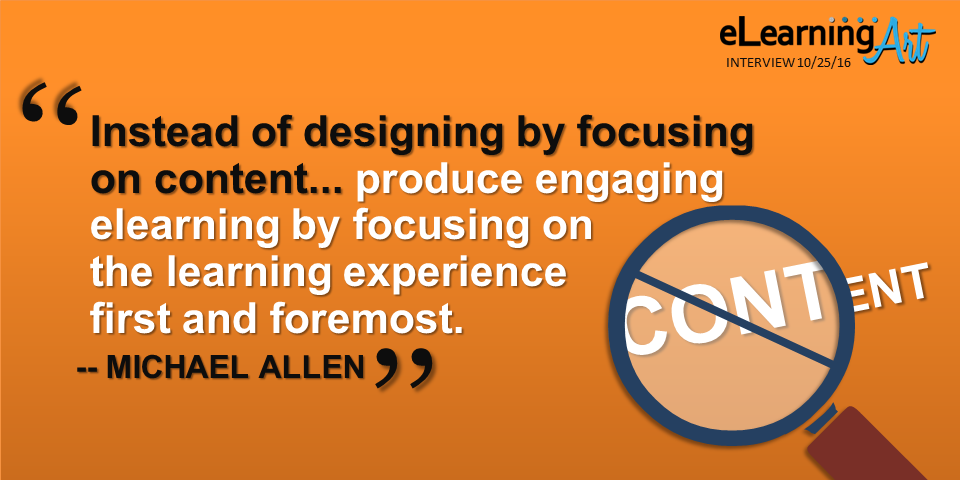 Why is there so much bad eLearning out there?
There are two primary causes of bad e-learning: 1) Unguided people who are thrust into or wander unaware into the role of creating e-learning without the benefit of sufficient education, mentoring, or professional skills and 2) Emphasis on minimized development costs and time, with insufficient concern for effectiveness. In addition, serious measurement of training impact is all too rare, and with no results feedback there's little incentive for quality work.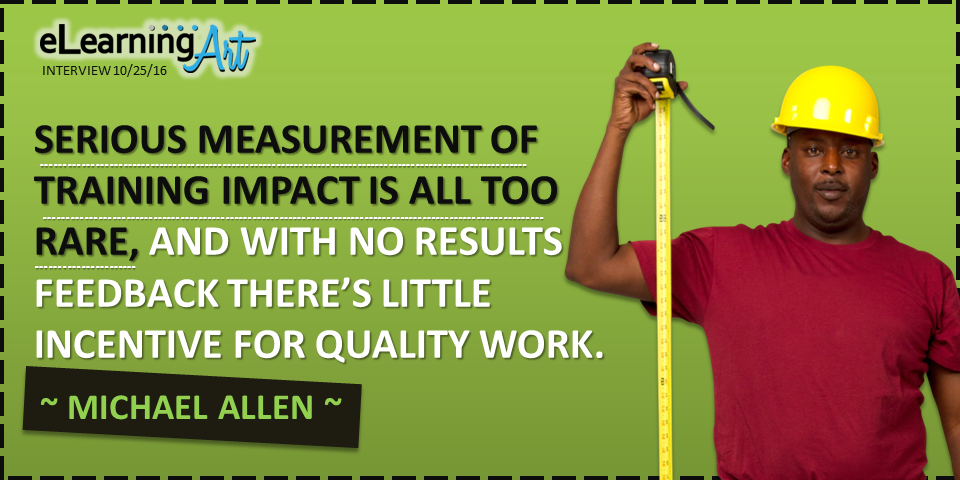 What potential do eLearning professionals have to make an impact?
We have an obligation to use each learner's time productively because there are no refunds; learners cannot get their time back if we waste it. I've seen first hand the impact good learning experiences can have in creating a better future for individuals. It can lead to a more satisfying life, greater income, enhanced confidence, and a greater sense of self-worth. Helping people realize more of their innate potential is important and rewarding work.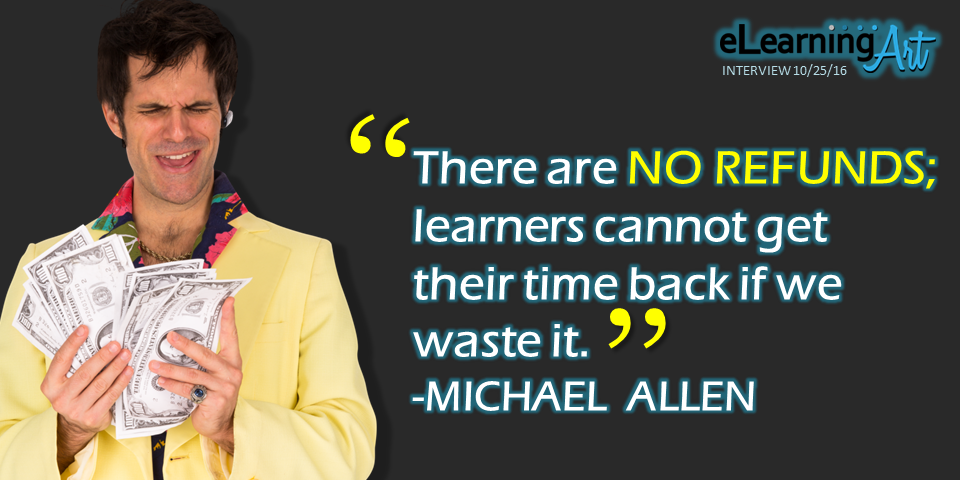 How can we work with business managers to create better eLearning?
We should be bold enough to contract with business managers. Let's agree not just to deliver some training, smoothly and with positive reception, but also to achieve defined performance improvement that has quantitative and measurable value. It takes confidence and skill to do this, but it's what business managers reasonably need to approve budgets sufficient to realize the value of great e-learning.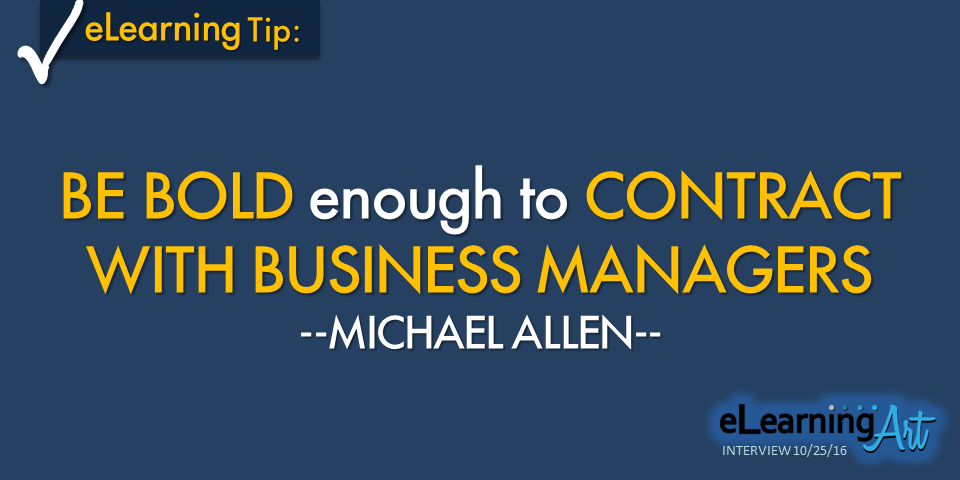 What's the biggest mistake with involving learners in the development process?
Involving them too late. Representative learners should be involved from the inception of a project and throughout. I also value having recent learners involved as they can remember how and what they thought before they came proficient. They can identify what really helped them and what didn't.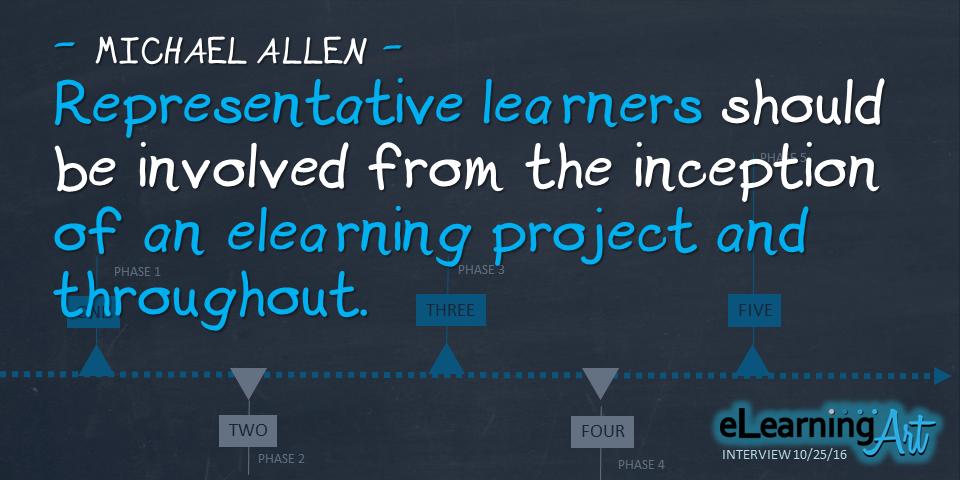 What practical tip could most help my readers improve employee performance?
Tell learners that somewhere between three to six weeks after training, their performance will be observed and appraised. During this time, provide new practice exercises every three to five days.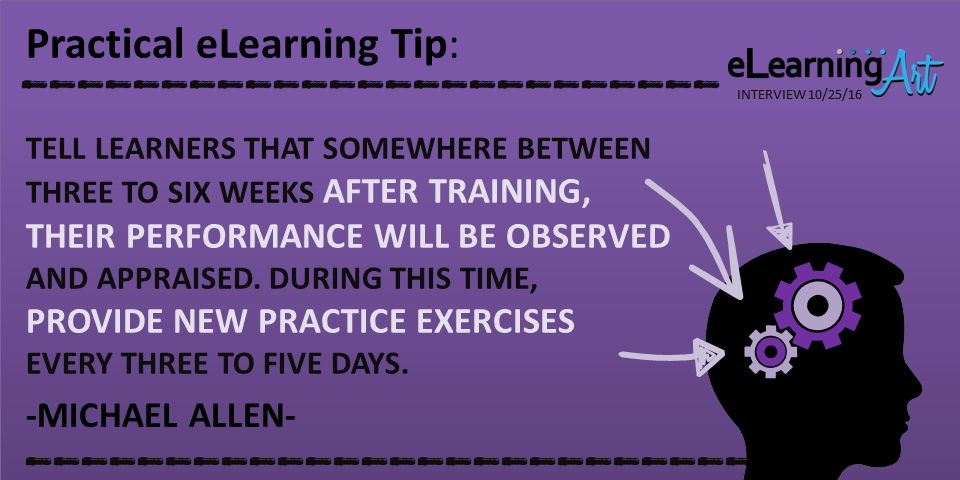 What role should making a course fun play in eLearning design?
If instruction is boring, there's little likelihood it will be effective. You can't do the learning for your learners, they're the people who have to spend the energy necessary to learn. If they're bored, they're not likely to be paying good attention or putting in necessary effort. Boring = bad and ineffective.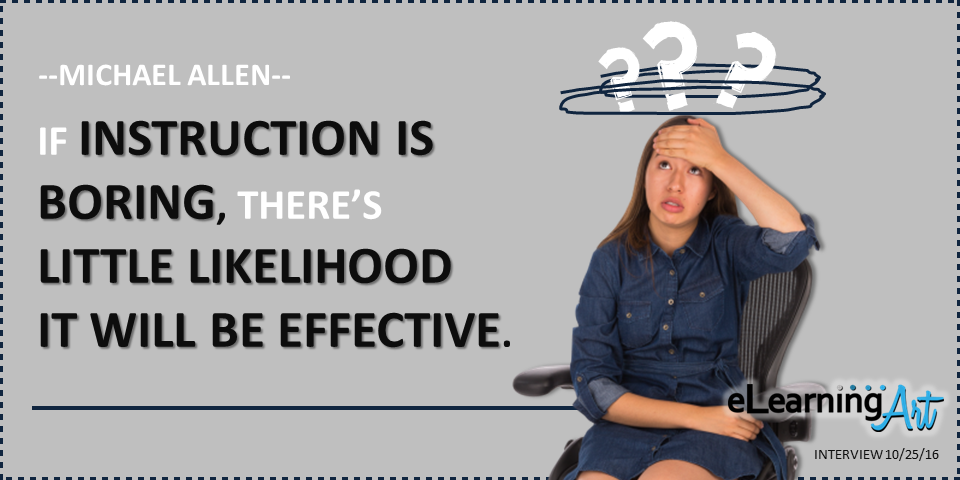 What's the single biggest reason developers should leave ADDIE for SAM (Successive Approximation Model)?
The greater probability of developing much more creative, engaging, and effective learning experiences in less time and with less effort.
Are gamification and serious learning games distractions from what makes e-learning effective or are they a valuable means to higher impact learning experiences?
They can be distractions if not integrated well and purposefully. Learner motivation is essential, and game mechanics can provide some welcome motivation. But it's important to keep in mind that learners need to focus on development of useful skills and not just beating the clock. Instructional designers have a sad record of producing something they call a game, but learners call pathetic and demeaning. Perhaps as a cliffhanger, I'll just mention that I've been searching for a systematic way to merge games and instruction, keeping the value of both. I shared what I found through three new chapters on this topic.