People often ask me what eLearning and training industry associations I recommend.
Below I share the 3 that are always on my short-list.
The best part about it is that the first two have free levels of membership….
So there's no reason you shouldn't sign up today.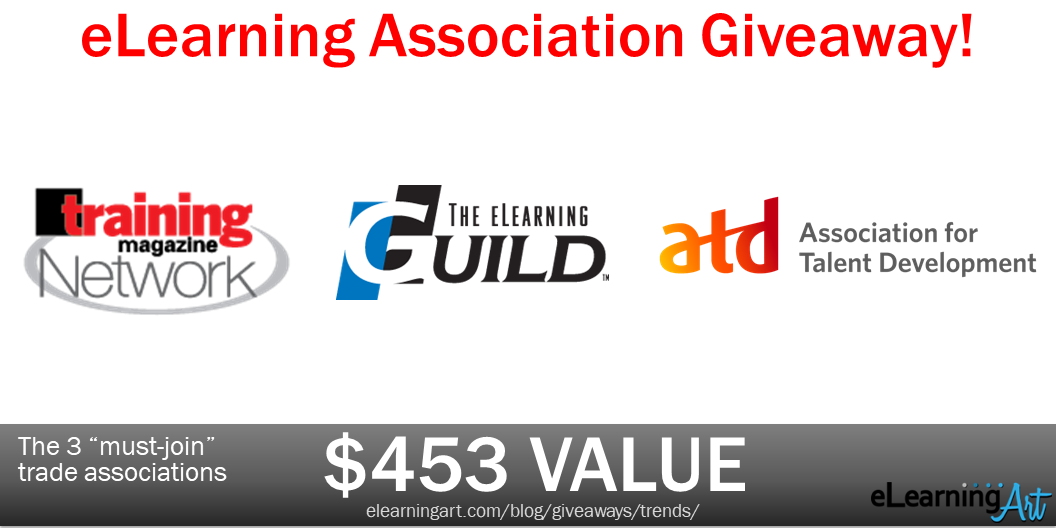 Let's take a quick look at all 3 associations!
Training Magazine Network
80,000 members involved in the training industry. TNM Includes both eLearning and classroom training professionals. TMN provides are a ton of great articles, webinars, discounts, freebies, and conferences to check out. They have a free memberships that provide a lot of value and they additional tiers with even more value.
Free membership available? Yes.
eLearning Guild
The eLearning Guild is the oldest and largest association focused on eLearning (more online focus than classroom training). I've been a member for over a decade and have attended a bunch of their conferences. Their memberships pack a ton of value, even at the free level. The eLearning Guild is great resource for articles, white papers, webinars, examples, conference and more.
Free membership available? YES
eLearning Guild membership page here
Association for Talent Development (ATD)
Largest talent development association. There are local chapters all over the world where you can network face-to-face with other talent development professionals. I've attended several local chapter training sessions that were awesome. They also hold several national and international conference every year.
Free membership available: NO. (Individual professional plans start at $259 per year.)
What industry associations are you a part of?
Please share in the comments below.