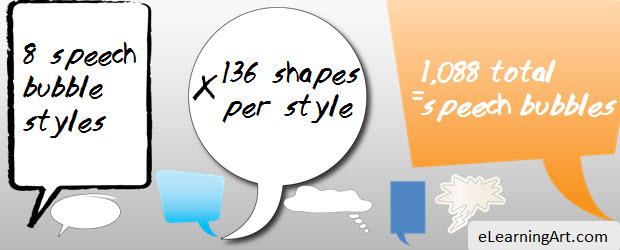 Speech Bubble Images
Hundreds of images of speech bubbles for presentations, eLearning courses, or general design. Some of the highlights include:
8 designs to choose from
136 speech bubbles per design for maximum flexibility
PNG images with the backgrounds removed and vector source files included
If you're trying to build an eLearning scenario, have an onscreen avatar guiding a learner in a course, or want to get a message to a learner via text, then these speech bubble images are a great product for you. We''ve created 8 matching designs that create a different feel for your course. Click on any of the product images below to preview the images that are included in each pack.
Browse newest products from this category
What format are the speech bubble images in?
We deliver both .png and vector source files (Adobe Illustrator).

What eLearning authoring tools can I use these images in?
The files are simple image files that can be inserted into any tool. Just add a text box on top of the image to add text.

What styles do you offer?
You can see the different styles by scrolling up, but the styles we offer include: simple, dropshadow, ink stamp, orange gradient, blue gradient, paper cutout, hand drawn, and solid blue.