Does Age Matter Example Course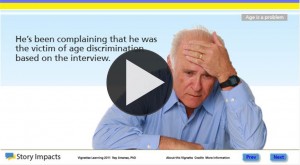 In this course, Ray Jimenez uses a mini-scenario that addresses the issue of age discrimination in the workplace.
Tools Used: Adobe Captivate
What we like: Ray shows how a simple dialog can be used to quickly create a realistic scenario of a conflict that could occur in the workplace.  Additionally, instead of pushing the "right" solution on the learner, he poses thought provoking questions at the end of the course.