Here comes the sun, ummm … I think?
Snow on Memorial Day weekend?
What the …???
Summer is here for most of you, but we've been slogging through a looooong winter here in beautiful Truckee.
Finally, the forecast shows some sun and warmer therms, and, well, I'm more than ready to do the spring–or, OK, summer–thing!
Just like everything in the great outdoors, elearningArt is bursting with the new! Read on, and see for yourself…
Blog is rocking!
The blog is now rolling out at a consistent pace again. In case you missed these colorful posts,  check them out!
It pays to be an ELA subscriber – $995 scholarship winner
We're pleased to announce that Enrique Luna won the $995 scholarship to Ray Jimenez's Story-based eLearning design workshop. Congratulations Enrique and I hope you enjoy the course.
If you're not currently a subscriber, be sure to sign up for the free 100 essential images set on the homepage and you'll also be added to the giveaway announcements. That's just one benefit of being part of the eLearningArt family, but it's a nice one!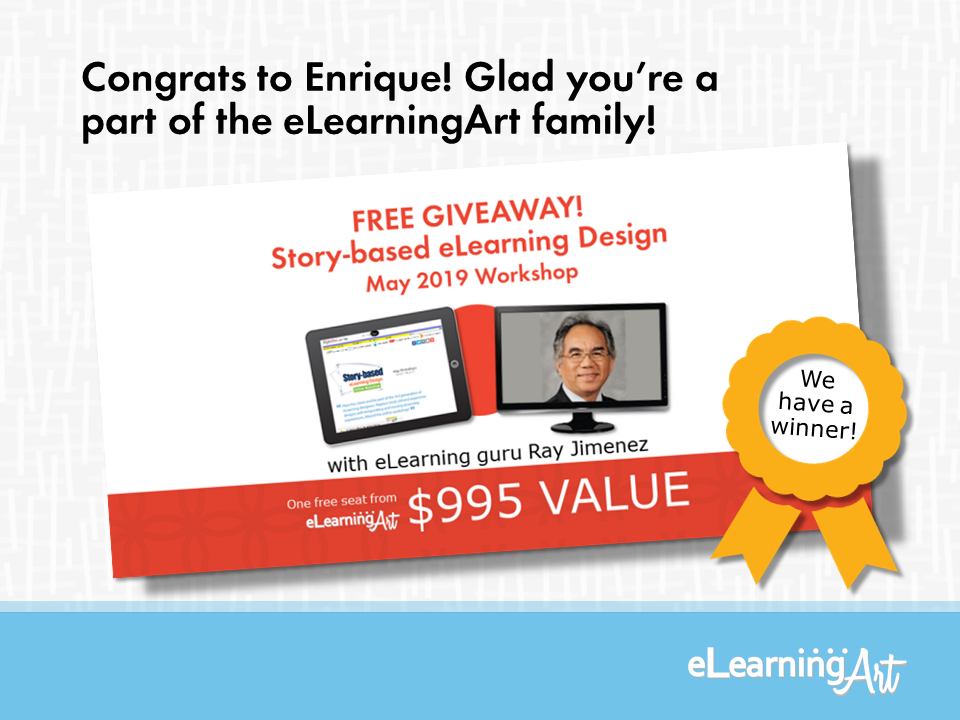 eLearningArt excitement #1: New characters on the way
Stay tuned for the library update later this month. We'll be releasing the first assets from our April photo shoot, and possibly in a brand new way!
In the past, I've gone for releasing a selection across all of the new characters, rolling out different characters in different professions, or I've focused on restocking all of the same profession at once.
This time, my team has convinced me to try releasing all images of a single character in all their  outfits they're in, all their poses, and all their formats. Right away, you'll have the full breadth and depth of a character!
And since we actually put a lot of thought into how the sets connect to new and existing assets, Take a look at this oldie-but-goodie video where I tell that story!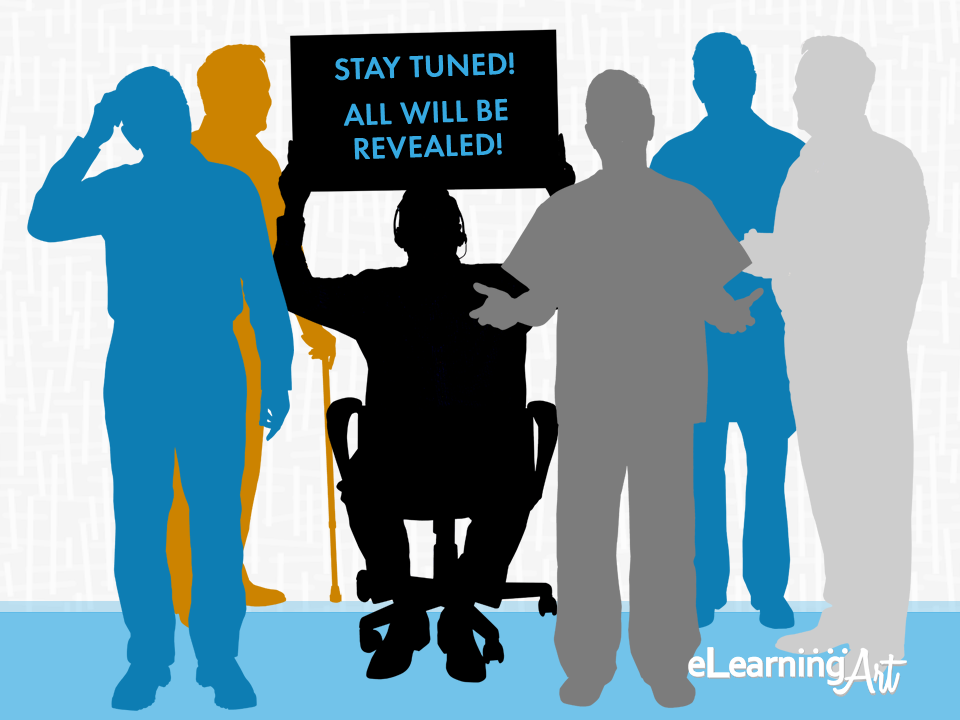 eLearningArt excitement #2: Design tutorials for the non-designer
Not a graphic designer? Wish you could deliver projects that make you look like one? We're working on that!
My team and I have been working up with a significant collection of "design treatment" tutorials.
We're showing the exact steps needed for creating great visuals, and NO Photoshop or Illustrator involved! These are offered as both video tutorials and printable work aids, complete with source files. What could be easier?
Some of these will be for members only, but I'll share a selection of them widely via to the eLearningArt blog and YouTube channel. Help us select the first one to release to the community for free by voting here.
And, hey, if you are a designer, these will be useful for you, too. (We promise not to tell where you learned your tricks!)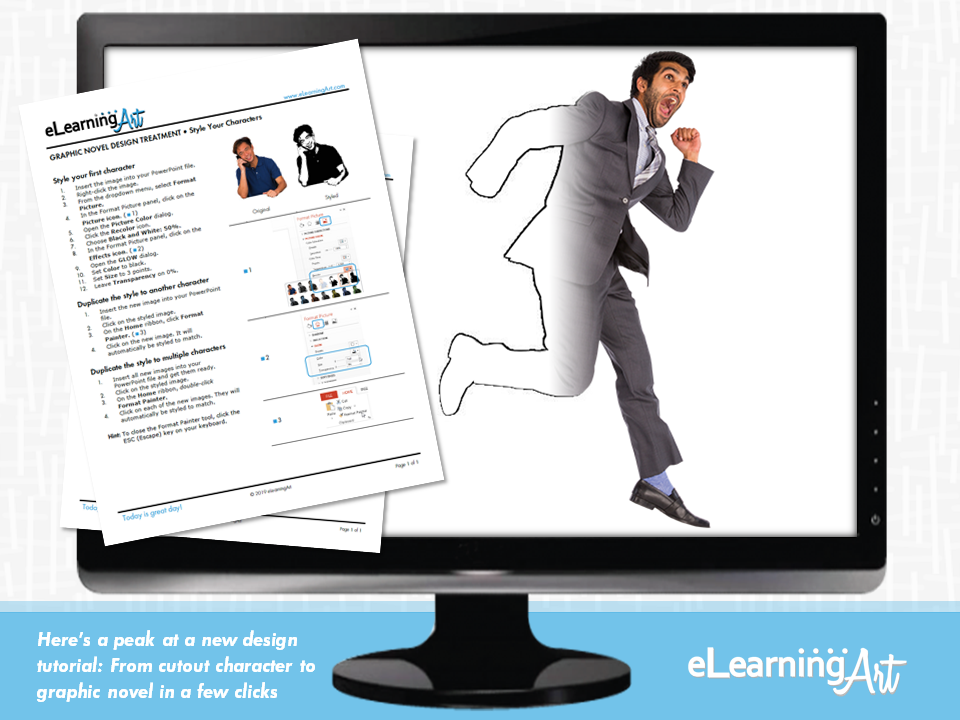 eLearningArt excitement #3: Adobe Character Animator
If you're an Adobe Creative Cloud person, you may have played with After Effects or Animate to build some motion graphics for your workplace learning programs. If you're like me, you probably decided that life is too short to hack your way up that learning curve.
The newest member of the Adobe animation family, Character Animator is going to change all that!
It's built so that non-animators (like me) can easily build animated scenes.
With your camera and mic turned on, Character Animator puppets mirror your head movements and use lip sync technology that makes it look like they're saying what you're saying.
Really. It's crazy awesome.
And here's something just as awesome: eLearningArt is in on the ground floor!
This program is going to rock your world, I promise. I also promise to share something really special with you soon, an insider opportunity, for sure. You'll love it even if you don't have access to Adobe CC. 🙂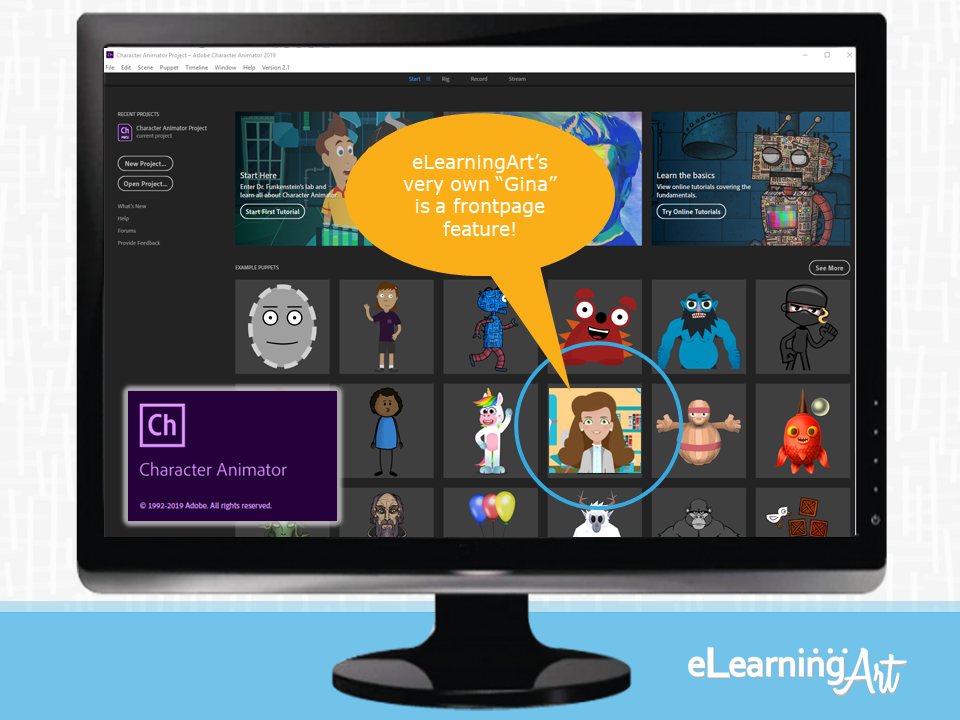 A mini-meme moment all my own
Now, that is a great segue into a little Dad story…
Character Animator is fun for kids, too. Um, maybe too fun?
While hosting a recent live-via-Zoom portfolio class, my daughter, home sick from school, popped up, sat on my lap, and started making funny faces into the camera and looking at herself on the screen.
Guess what program made that a kid-pleasin' activity?… Character Animator and the "Gina" puppet …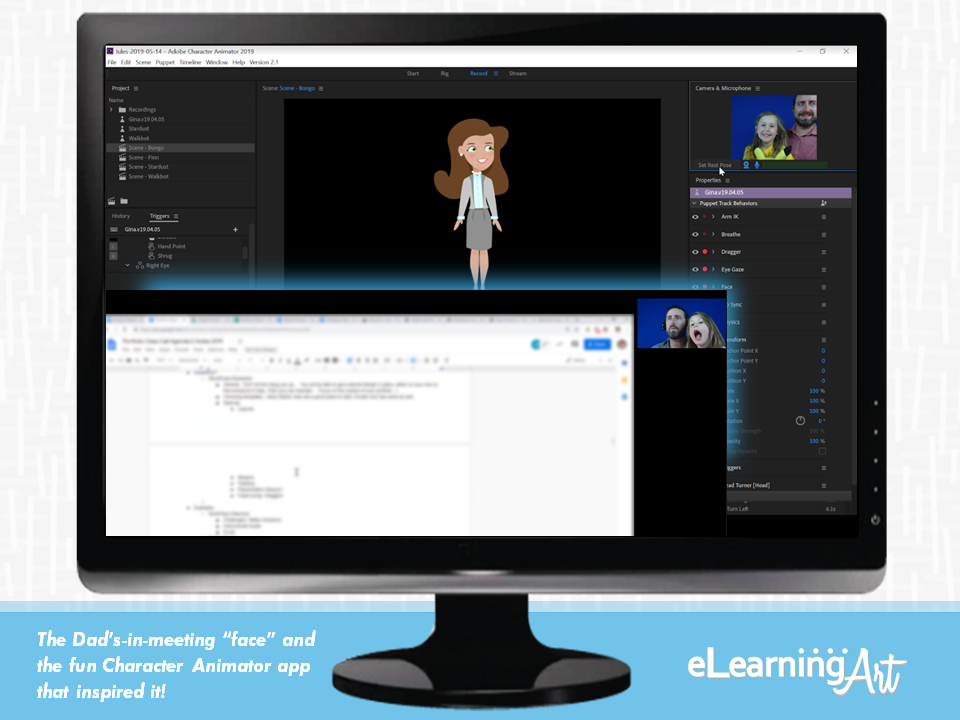 At least it wasn't on National TV like this famous CNN meme! This one always makes me laugh, maybe because I know how easily it could (and apparently does) happen to me!
Live at ATD-Sacramento
In early May, I left the snow-covered peaks of the Sierra Nevada mountains and headed to Sacramento to speak live to an audience of instructional designers, trainers, and other workplace learning pros.
These ATD-Sacramento members participated in the same hands-on portfolio building course I offer via online webinar. The turnout was great and the group was tuned-in and active. Thanks, ATD-Sac for having me out there!
I love meeting up with real people! If you're interested in having me speak to your organization, either live or via webinar, feel free to reach out to me at [email protected] and we can discuss the details.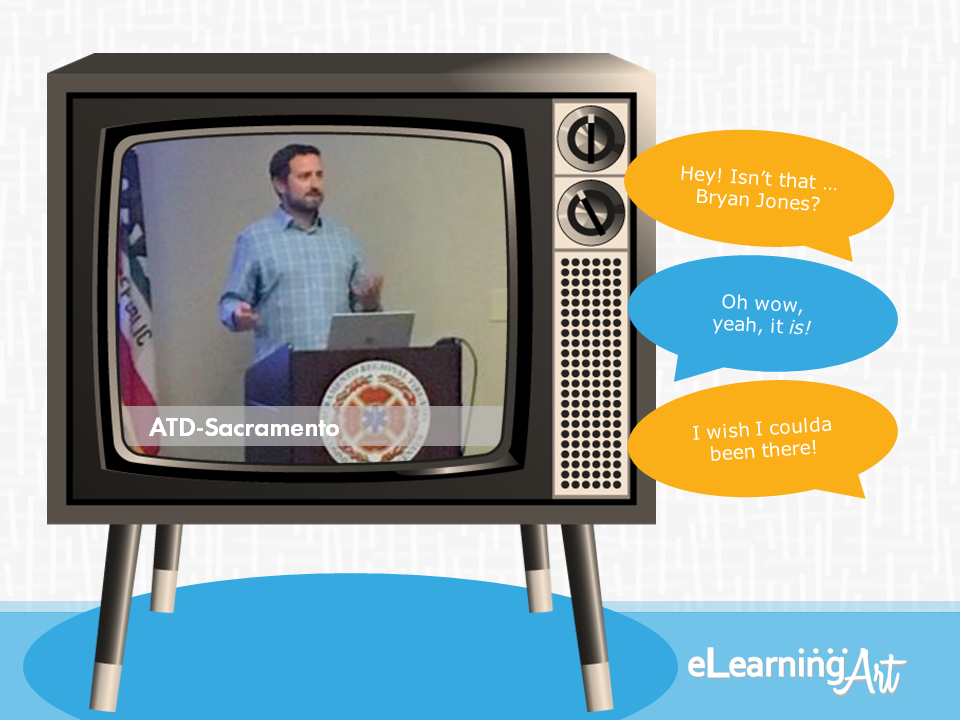 And that's the report!
So, to bring things right up to current, me and the fam have been enjoying a really nice extended Memorial Day, visiting relatives in the South.
First night there: sirens, phone alerts, bunkering in the tornado closet … and, it was proven that bad weather really does follow me wherever I go! 😉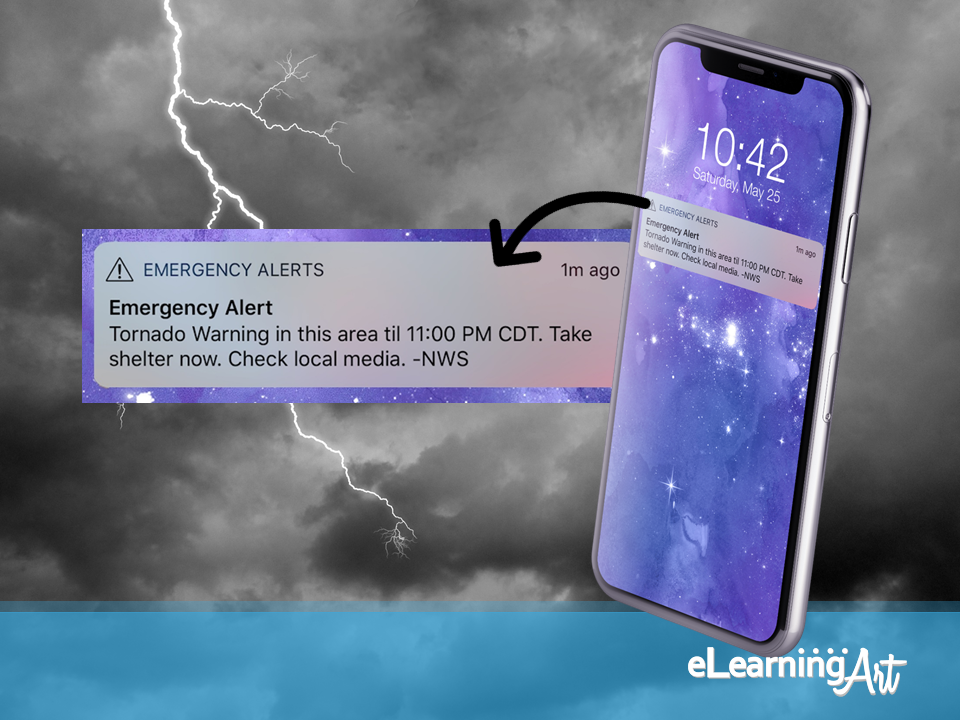 So, that's what I'm up to!
Lots to look forward to, so like the mystery character said above, stay tuned. All will be revealed!
Until next time, always remember: Today is a great day!
Bryan