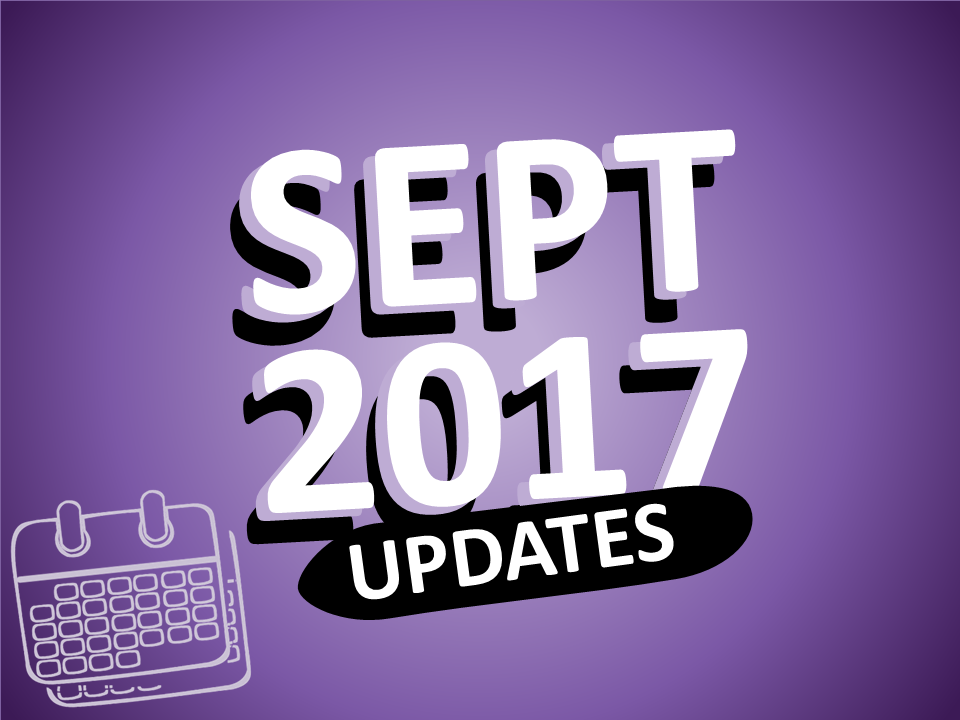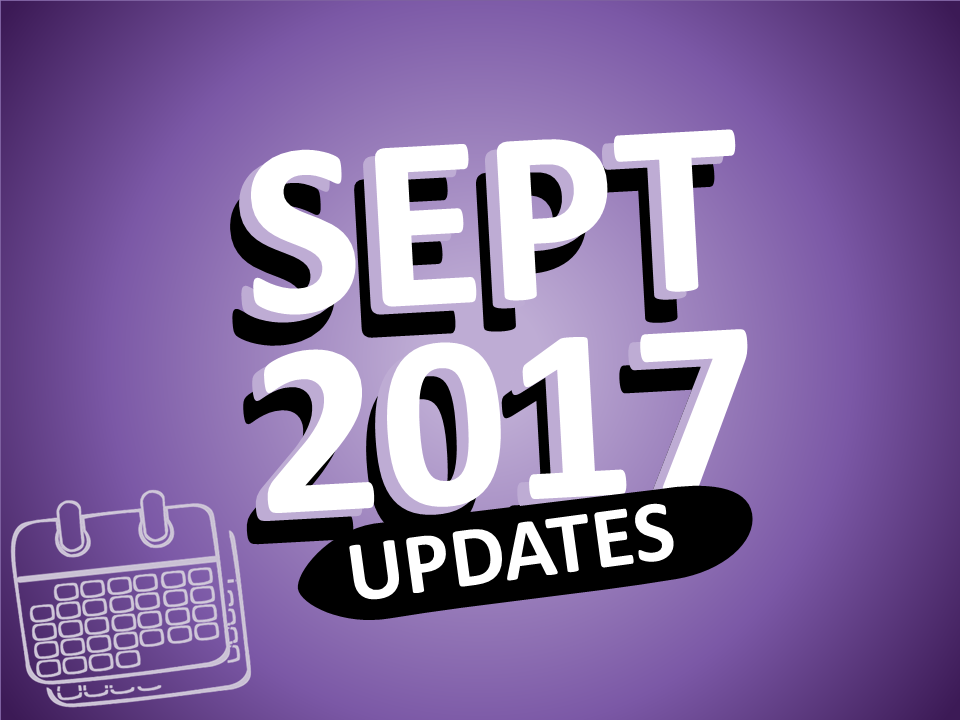 It's been a crazy and sad year for me personally, but the business has continued to march on.
And as my dad always said "Today is a great day!" so there is plenty to celebrate as well.
I have some important personal and professional updates I'd like to share.
Personal updates
My dad passed away
Sadly, my dad passed away from ALS last December. It's a huge loss for me and my family. I think about him every day. He was an amazing dad and I aspire to be the type of man, husband, friend, and father he was. I feel grateful I was able to spend so much time with him in the last year of his life, but he will continue to be missed. Here's a nice article the local paper did about him just after his death.
We moved houses (again!)
We're loving Lake Tahoe, but the housing situation up here has been crazy. We've moved 4 times in 14 months with 2 kids under 4. But we're locked in for another year here and are looking forward to being settled in one place.
Training for ALS awareness ride to honor my dad
Last year, I did the 62 mile challenge ride to raise money and awareness for ALS. This year, I'm upping it to the 100 mile ride. It is sad that he won't be joining us for the event this year 🙁 We've raised $14k of our $20k goal so far and there are several ways you can help.
Today is a great day!
I debated whether or not to share the info about my dad and worried about it being sad and depressing. But he inspired me with his approach to life and lived by the motto: "Today is a great day!" So hug someone you love today and let today be a great day!
25 Free Books Given Away Tomorrow – Last Chance!
Everyone likes free stuff and these two giveaways are closing tomorrow, so sign up for a chance to win some top-selling presentation books.
Better Presentations: A Guide for Scholars, Researchers, and Wonks– This is one of my favorite books on presentation design and has a ton of practical tips. I'm giving away 10 copies, so your chances of winning are pretty good.
Presentation Summit Keynote: 5 book giveaway from the presentation thought leaders. 3 winners will be selected tomorrow (This giveaway is now closed) .
Blog updates
Here are my 6 favorite posts from last year:
4,443 Character Pack Cutout Images Released
In April of this year, I started ramping up the release character images again. These 4,443 new images bring the total people cutout library to 43,691 images for our members! Here are the categories we updated:
Business casual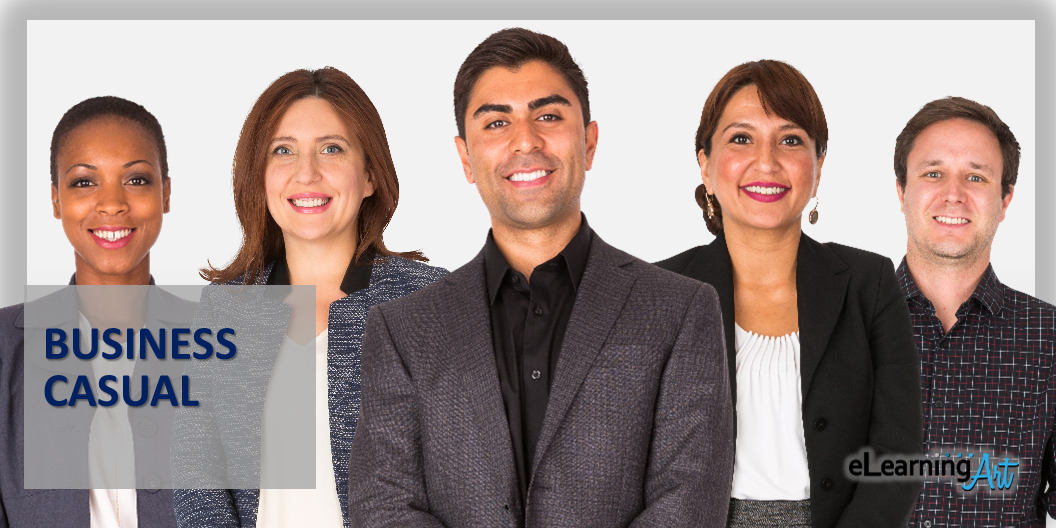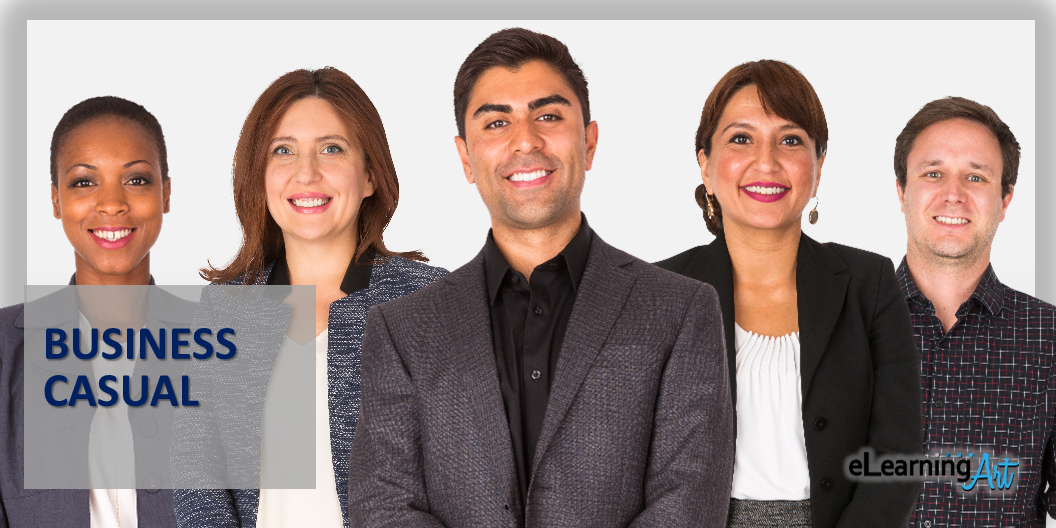 In April, we released 5 sets of business casual characters, each with over 200 images per set. These characters all  filled an important slot in our diversity matrix (age, ethnicity, gender, etc). Business casual continues to be one of the strongest represented category with 11,317 total images Check out all of the business causal characters here.
Medical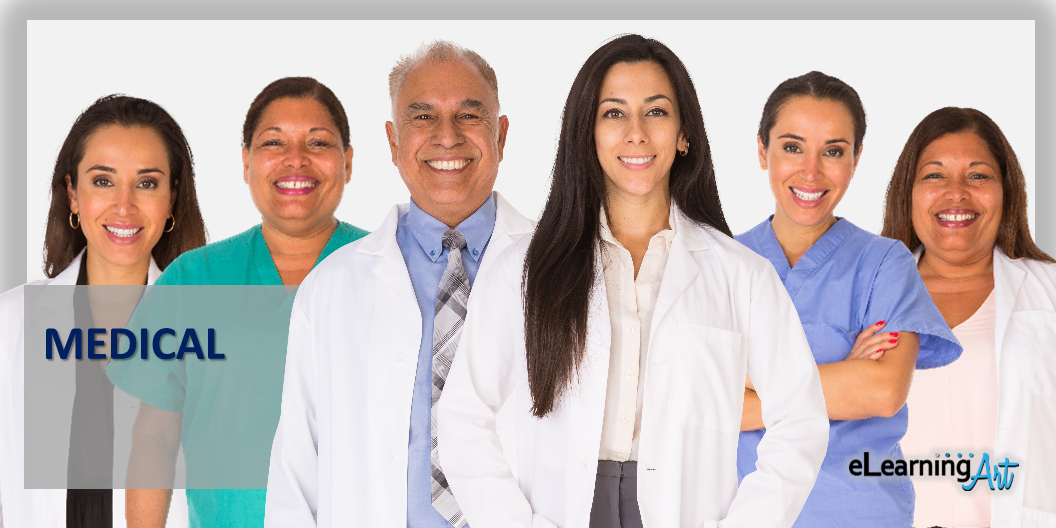 In May, we added 4 labcoat characters and 2 in characters in scrubs. This shoot primarily focused on adding to the Hispanic medical characters (5 of the 6 sets). The medical category continues to be one of our core category and we update it frequently. We now have 7,934 total medical character images. Check out all of the latest medical images here.
Casual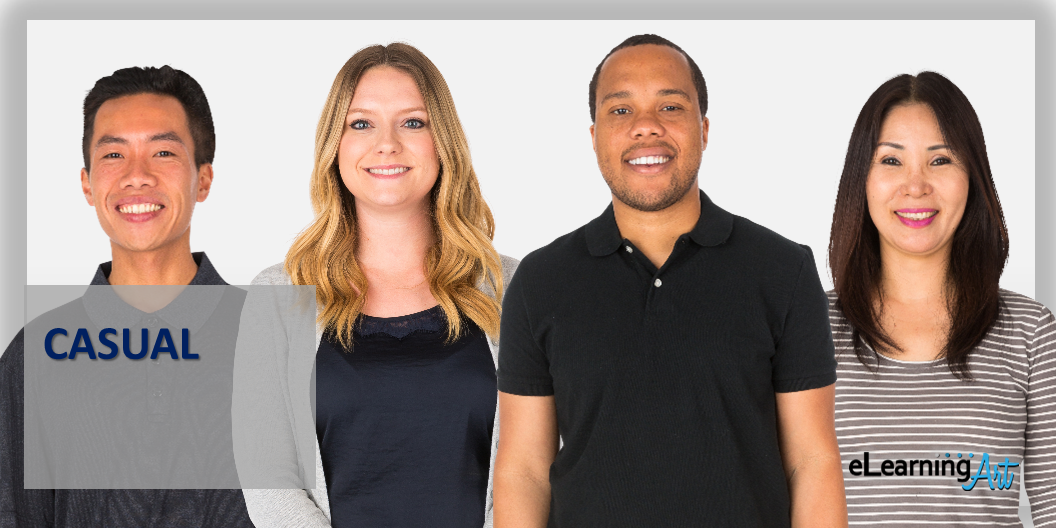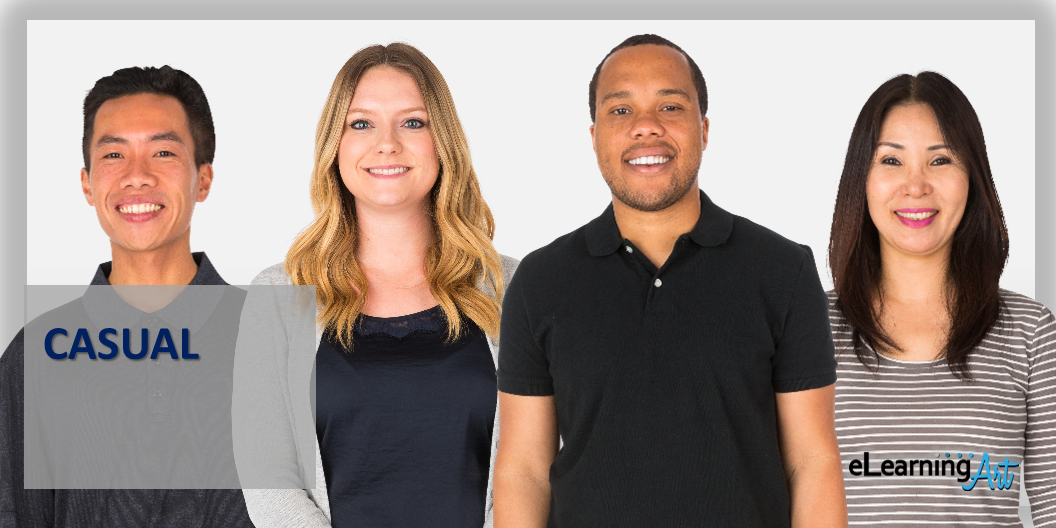 In June, we added 4 casual characters. This category has grown a lot over the past few years and we now have 7,235 casual character images. Check out all of the latest casual characters here.
Phone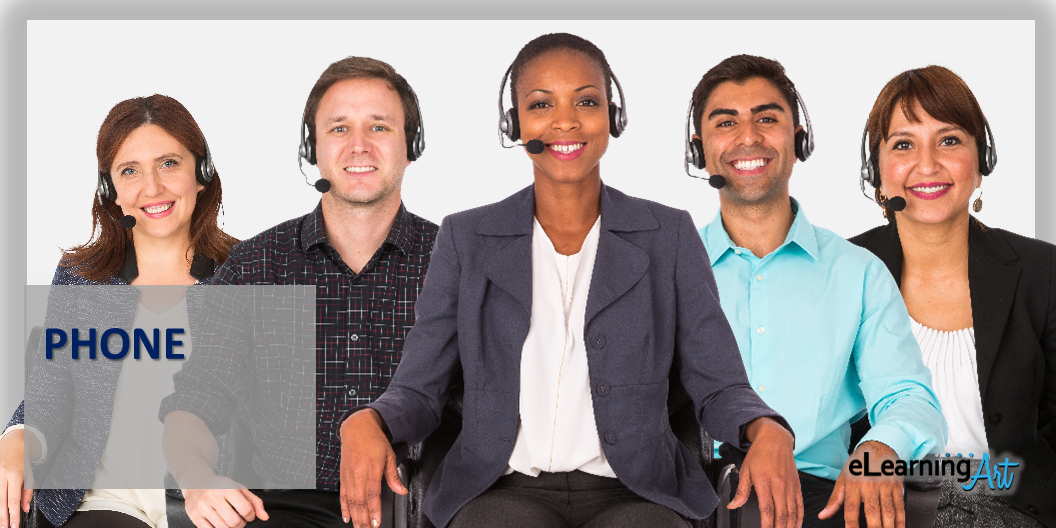 In July, we released 5 sets of characters on the phone, which is great for call center or sales training. This is a newer category, but has been rapidly expanding. We now have 2,009 total images. Check out the latest people on the phone images.
Business casual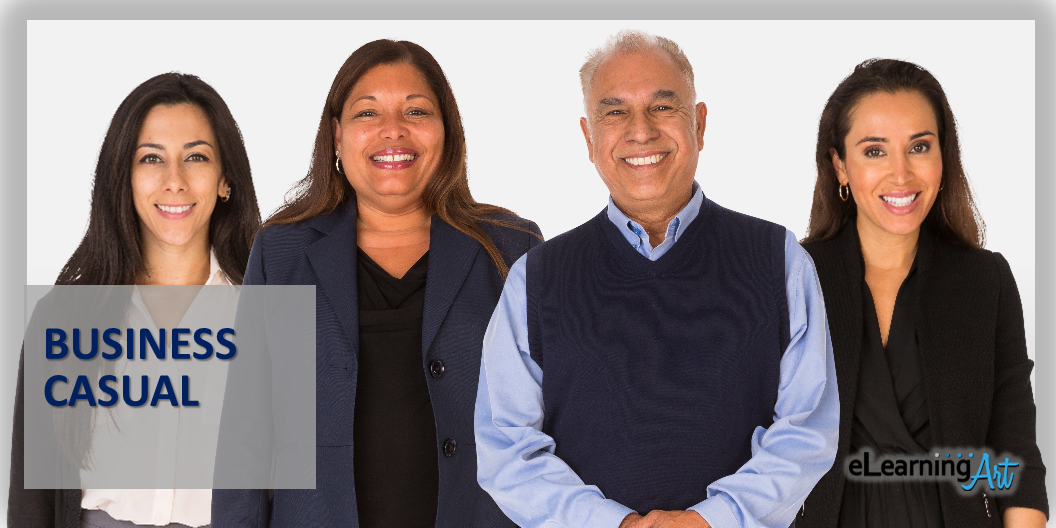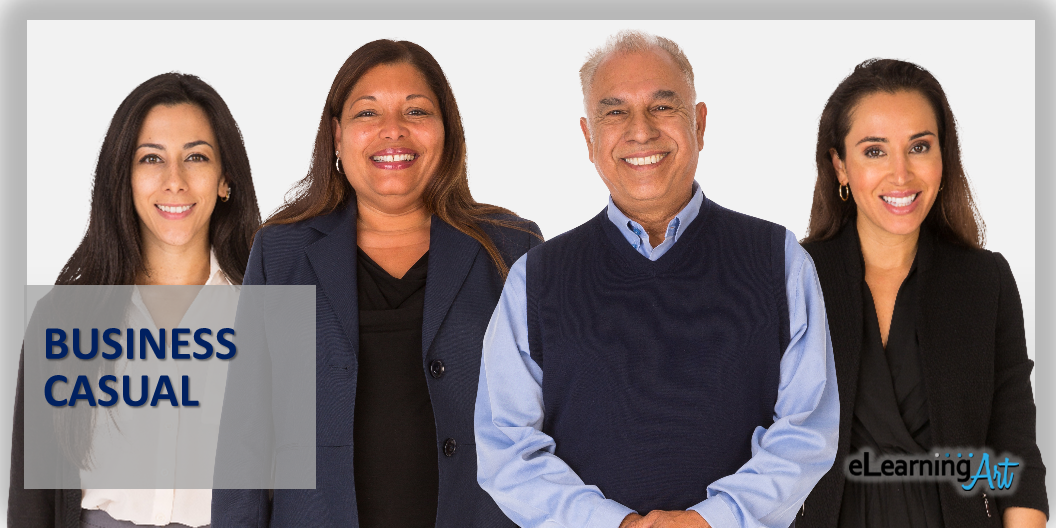 Last month (August), we restocked the business casual library again with 4 new sets. 3 of the 4 sets were Hispanic characters and I'm pleased that the diversity of the library continues to expand. We now have 11,317 images in this category. Check out all of the business causal characters here.
What's new for the next few months
There are a ton of new characters images slated to be released. I also have a few new categories of graphics and templates that I'm working on…
I'm excited about them and will share more over the coming months.