Scenario-based eLearning Examples, Expert Tips, and How-to
Scenarios are one of the best ways to increase learner engagement. But they often feel overwhelming to build.
We've organized nine scenario examples below to demonstrate that with just a slight change to your approach, YOU can actually build scenarios too! 
Not only that, but we asked 60 industry experts their top scenario-building tip, and compiled them into 13 actionable tips.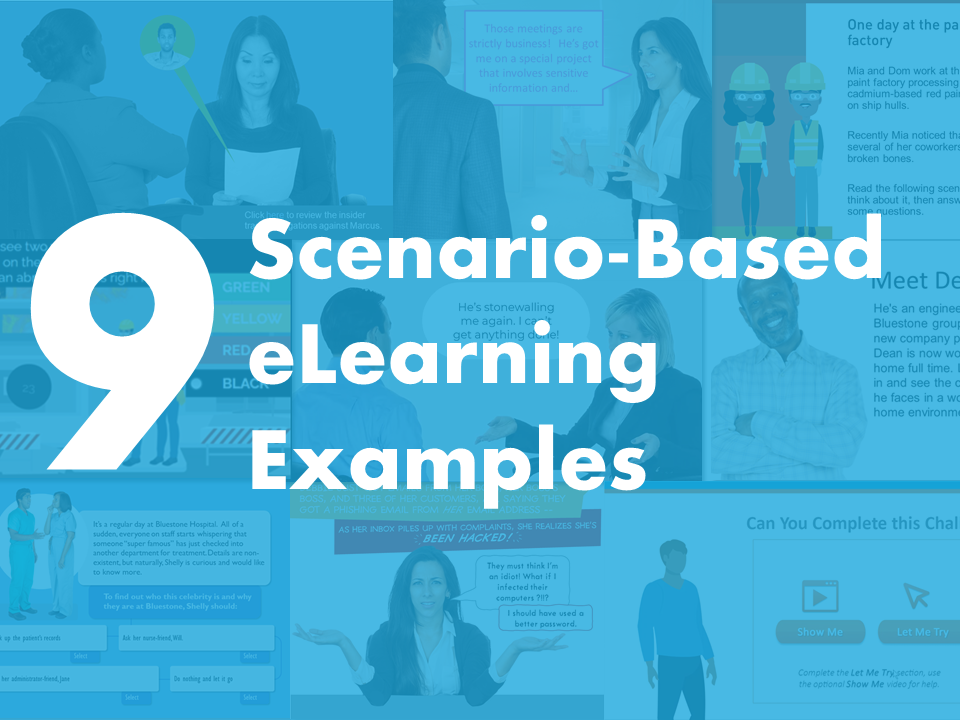 What is scenario-based eLearning
Unlike traditional eLearning courses, a scenario-based eLearning approach shifts the delivery of a lesson from passive, information-based learning to active, performance-based learning.
Rather than just consuming content that is PUSHED on them, with scenarios the learner interacts with real-life, on-the-job situations, makes decisions, and receives feedback to PULL the lesson in.
Anatomy of an eLearning scenario
Every scenario is made up of 4 elements:
People: Who are the people performing the task at hand? This can be characters or the learners themselves. 
Setting: What on-the-job setting is this taking place, and what is the context behind the task being performed? 
Challenge: A real-world challenge is presented as either choice that needs to be made or an action taken.
Feedback: The learner experiences the consequence (or feedback) of the choice or action.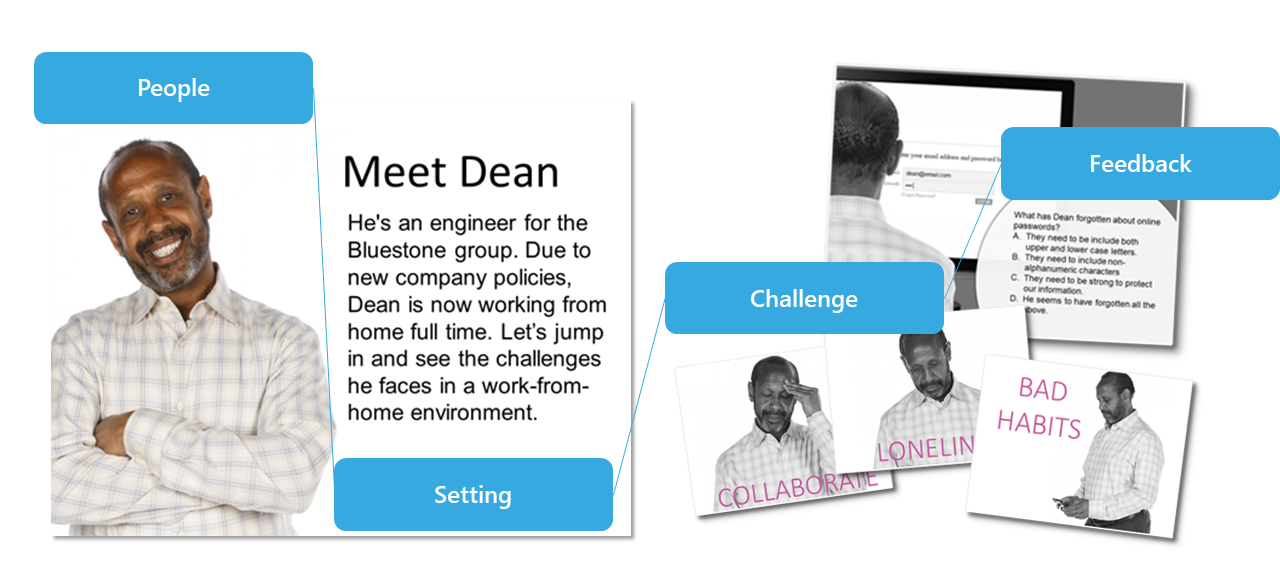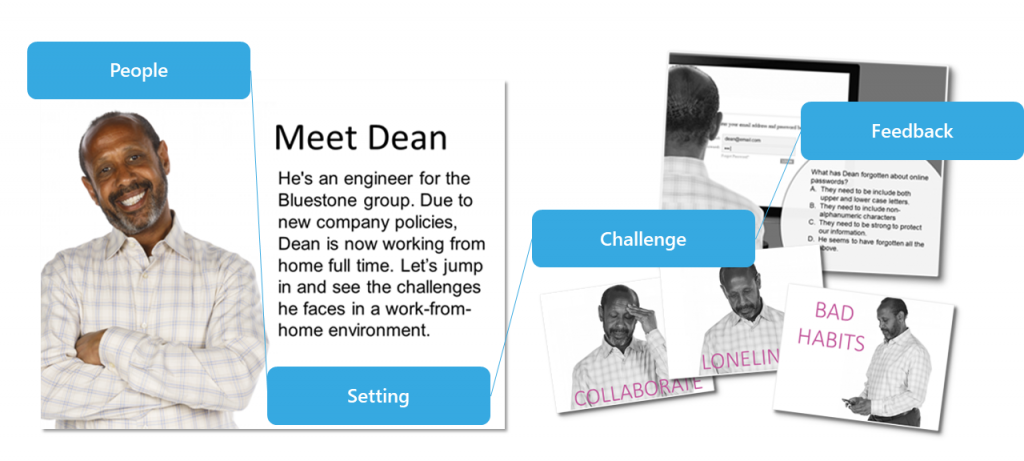 Benefits of Scenario-based learning
Scenarios are one of the best methods to increase learner engagement, increase learning, and improve retention. Not only that, but scenarios are about the application of the training to on-the-job performance (not just "absorbing" information)!
There's plenty of research that supports scenario-based learning, and other benefits, but for now, let's just focus high-level on why scenarios work in corporate training. 
Generally, there are 4 main benefits of scenario-based learning: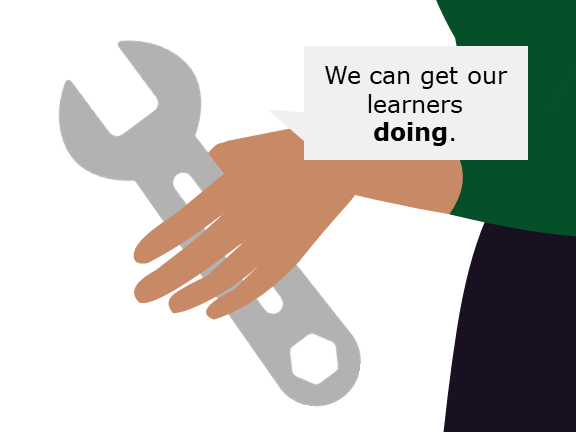 1. Promote doing
The goal of corporate eLearning should be to improve on-the-job performance. That means: people doing things better! Scenarios flip the lessons from pushing information, to pulling information in the application of doing those activities how they'd encounter them in the real world.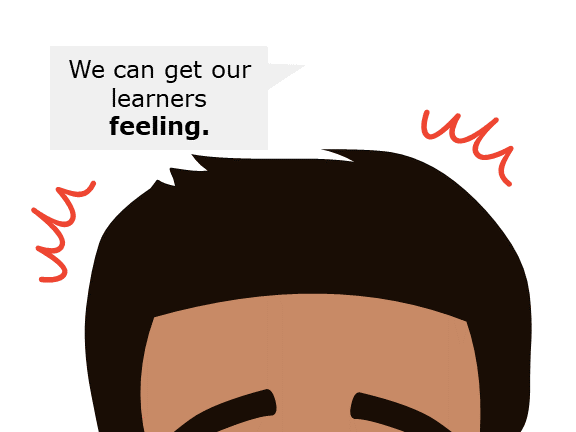 2. Address emotions
One of the biggest disconnects of traditional elearning approaches is that it doesn't connect outcomes, either positive or negative, to emotions. Scenarios create an opportunity to create lasting learning by allowing the learner to make choices and experience outcomes.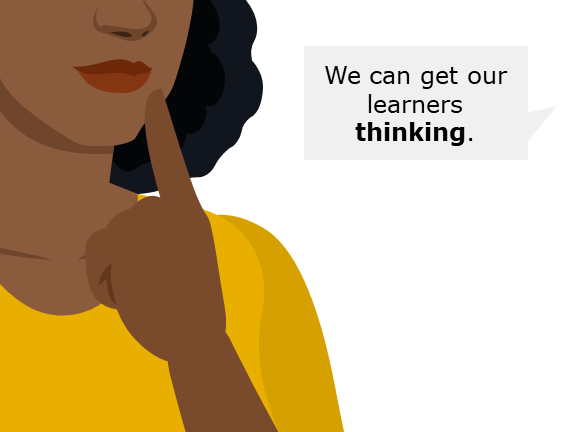 3. Activate thinking
Most traditional eLearning is focused on information, and click....click....click the next button. By presenting challenges the learner is likely to face on the job, we can activate thinking. Choice and feedback loops perk up viewers and their learning brains.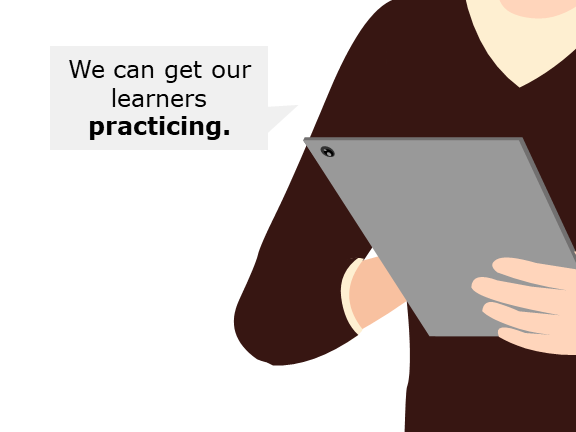 4. Practice and improve
Real-world job tasks and challenges can be modeled by characters in a story format where setbacks, growth, and change are part of the narrative. When these lead to cliffhanger decisions, learning will feel high stakes to the viewer.
Scenarios are a great approach for most corporate training, and are especially good for:
Doing: If the goal of your training is to improve on-the-job performance (which it should be!), scenarios are a perfect approach because they're all about real-world application.
Emotion: If there are substantial positive or negative consequences (outcomes) of the task being performed correctly/incorrectly, you can create more memorable learning experiences if you tie the training to emotions through scenarios.
Nuance: Scenarios thrive for decisions/actions that aren't black and white. You can present multiple options and let the learner feel the struggle and learn from it.
Decision making: Scenarios go beyond information. They're about making decisions and experiencing outcomes.
The topic matters less than the elements above. Scenarios can be great for soft skills, compliance, safety, sales, customer service, and even software training.
Let's look at 9 scenario examples and show they each use the the four scenario elements.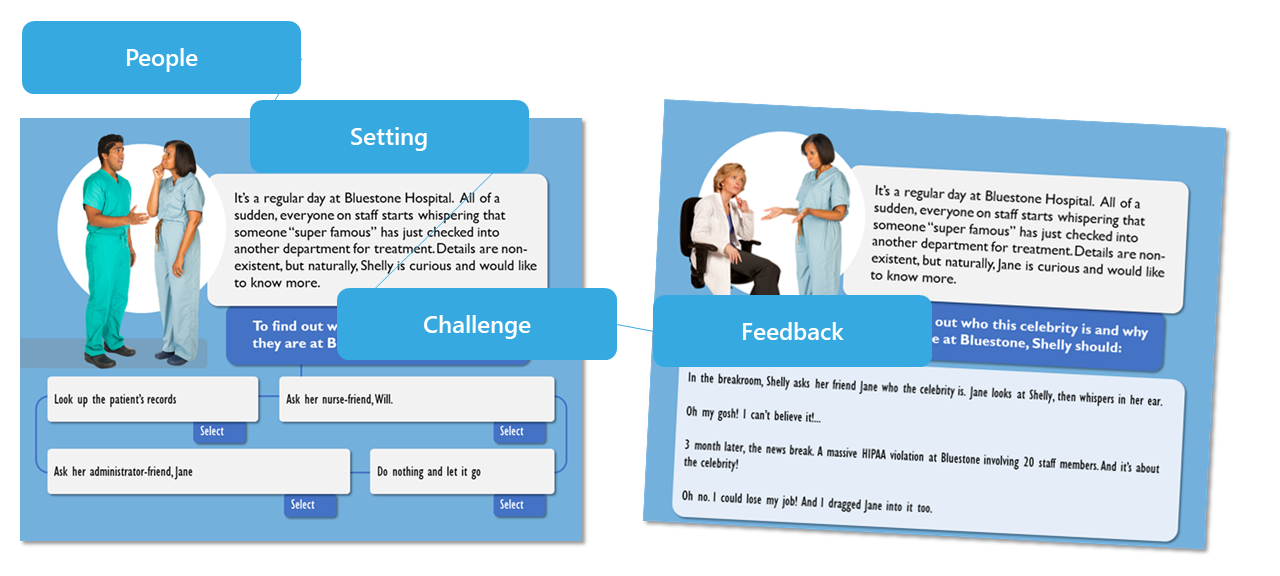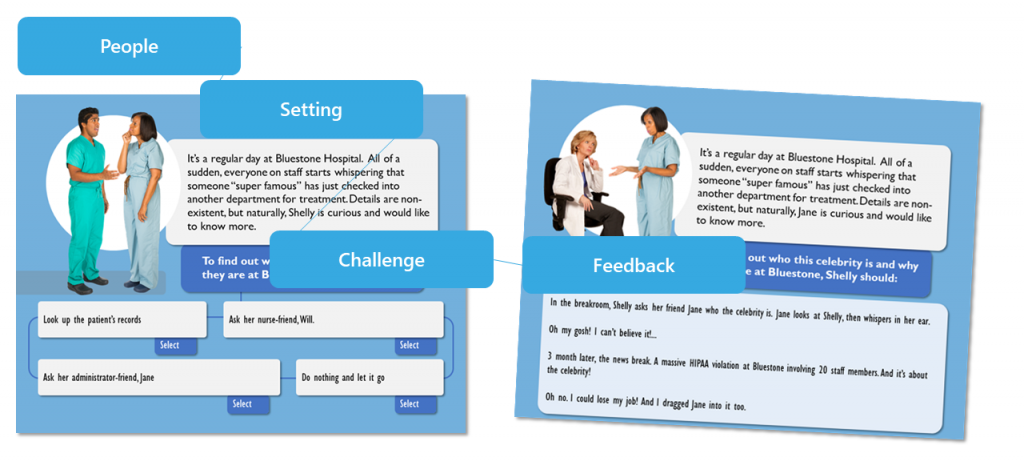 A quiz-scenario applies the same four scenario elements to a quiz. With just a simple rewrite of a standard quiz question, it's easy to transform a quiz question into a scenario by adding work context, using characters who have to make decisions, and having the outcomes be experienced instead of standard "correct/incorrect" feedback. 
People: Shelly the nurse (protagonist), Will, and Jane.
Setting: Bluestone hospital. 
Challenge: A celerity has checking into the hospital and Shelly must decide how to handle her curiosity, which could be a HIPAA violation. 
Feedback: The feedback is delivered not as commentary, but rather through experiencing an outcome. 
Also note that this scenario uses a follow-up lesson that forces some critical thinking. [not currently pictured]
Graphics featured: eLearningArt quiz scenario template, medical photo cutout characters. 
2: Embedded scenario example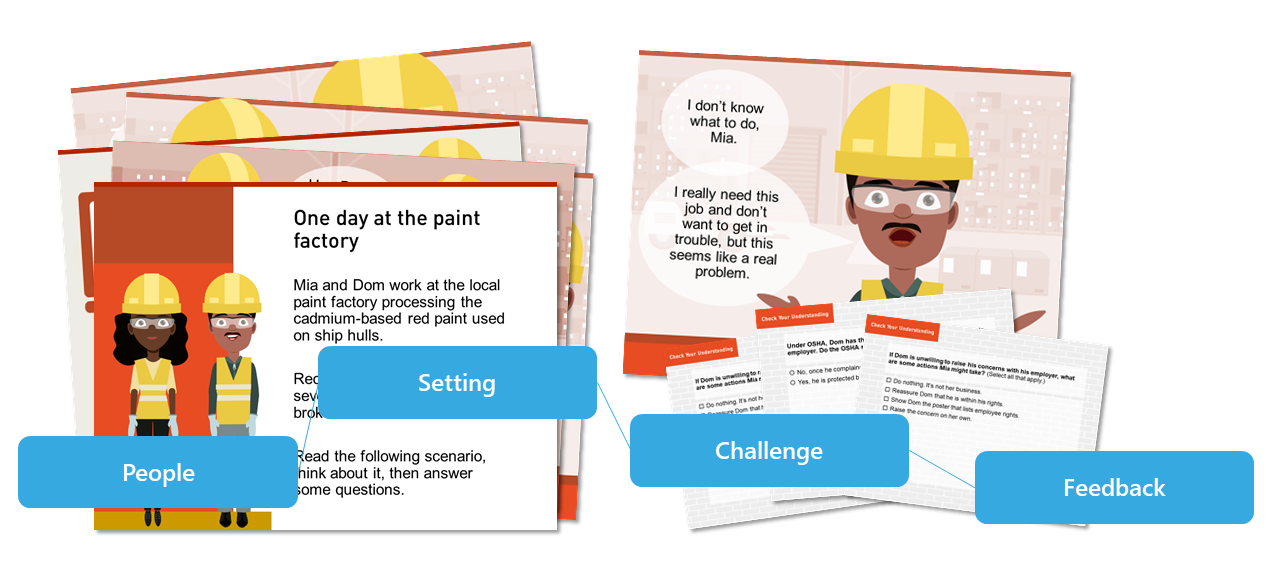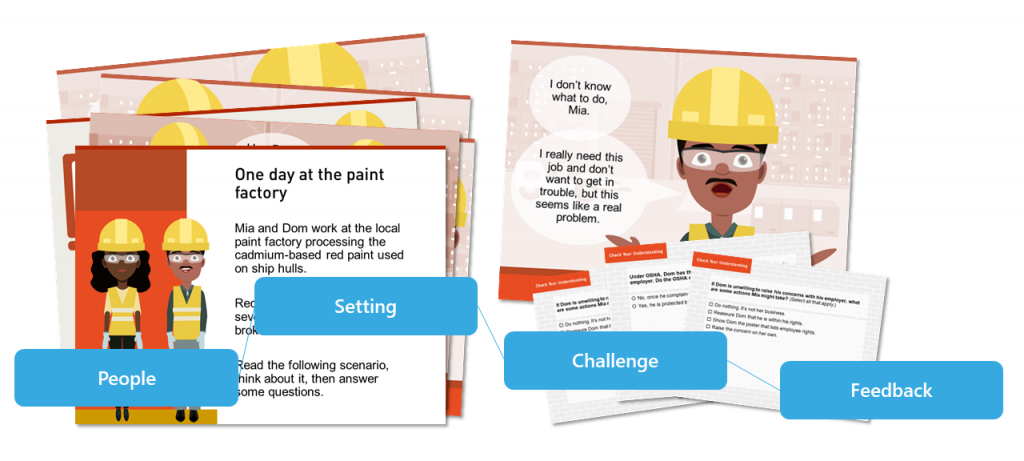 The most common type of scenario is an "embedded scenario." This means that the scenario itself is part of a larger program. The reason the embedded scenario is common is that it is a type that stakeholders more easily approve since other traditional information-based content surrounds it. It may follow the Knowledge Skill Builder (KSB) or other model.
People: Dom and Mia, both employees at the paint factory. 
Setting: A conversation between the two of them at the paint factory. 
Challenge: Dom is concerned about his exposure to toxic chemicals, but doesn't want to stir the pot and put his job at risk. 
Feedback: Delivered as feedback to quiz questions. But then a lesson about the topic is follows immediately. Scenarios are used throughout this larger teaching program.
Graphics featured: eLearningArt designer cartoon illustrated characters, designer illustrated backgrounds. 
3: Vignette scenario example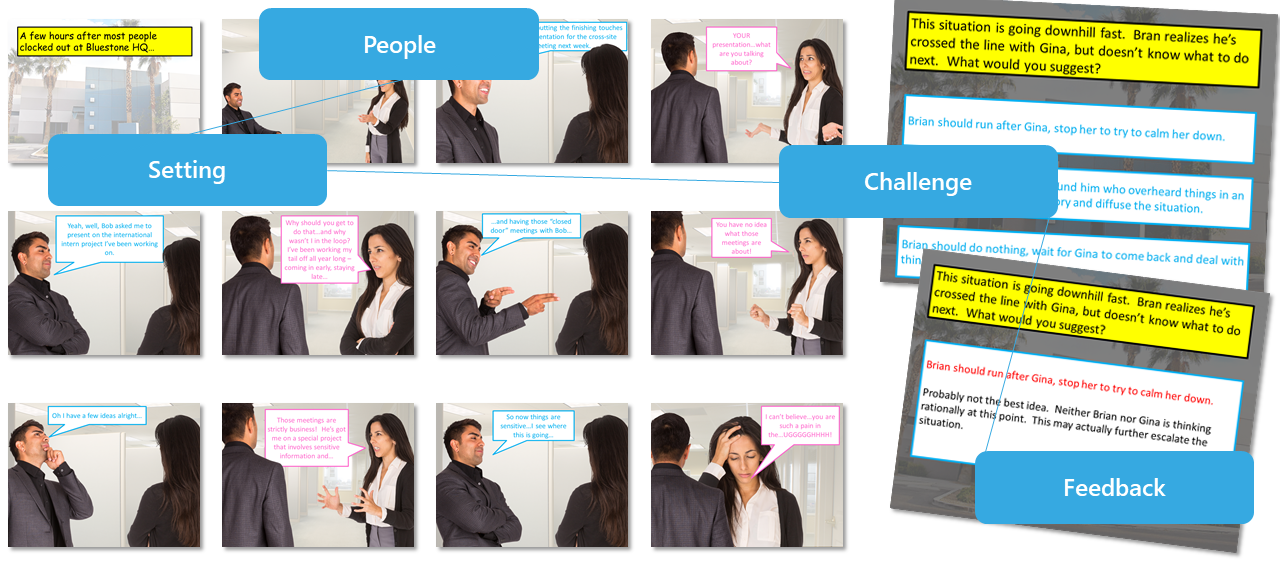 Vignette scenarios are mini-scenes that are acted out in on-the-job context. Then, reflective questions are asked at the end. They can be stand alone mini-scenarios, or part of a larger scenario with feedback either delivered immediately (see linear examples) or can be used as part of a branching scenario. 
People: Brian and Gina. 
Setting: At Bluestone headquarters. 
Challenge: Brian has done and said things that have upset Gina. He needs to resolve the conflict by deciding how to handle it. 
Feedback: In this version, it's delivered immediately from the narrator, but it could be acted out, or used to start a conversation in a group training. 
Graphics featured: eLearningArt photo business characters, photo business backgrounds. 
Soft Skills Micro-scenario – If there is Booze
By: Vignettes Learning / Ray Jimenez
Synopsis: This is one of several micro-stories that highlight potential workplace problems, with interactive choices and feedback provided at the end of each story.
eLearningArt assets used: Business characters
4: Linear scenario example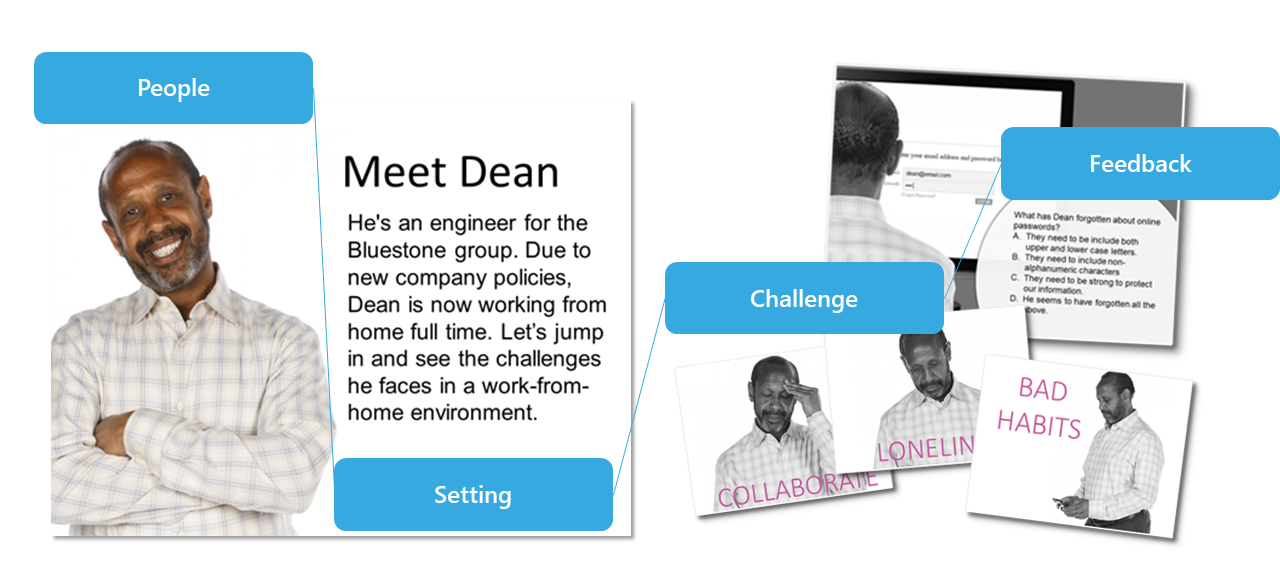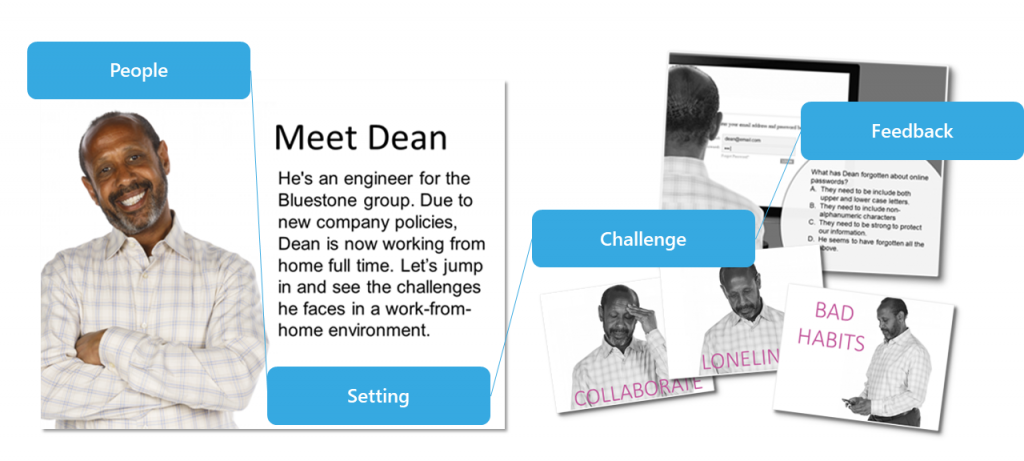 Linear scenarios incorporate some of the best aspects of eLearnig scenarios, but keep the development simple by having a single path lead to a single outcome. In the case of Dean, while he faces 6 different challenges, makes decisions, and gets feedback, a "guided story" keeps the path and outcome the same for all learners.  
People: Dean (protagonist), an employee of the Bluestone Group, his wife, and his son. 
Setting: Dean's home, where is now working from home.
Challenge: Dean faces 6 challenges of working from home (collaboration, work-life balance, loneliness, distractions, bad habits, and security) and must make some decions about his day. 
Feedback: While this scenario is linear in that there is only a single path leading to a single outcome, the learner gets immediate feedback on the decisions about Dean's day and also has opportunities for reflection and thinking.
Graphics featured: eLearningArt photo business characters, photo objects, background builder. 
Sexual Harassment Compliance Training
By: Jackie Van Nice
Synopsis: Centered around a single character, Arlo, who isn't a bad guy, but does run into compliance issues. Learners are presented with "gray-area" scenarios and must determine if Arlo has violated policies (not obvious).
eLearningArt assets used: Business characters, office objects, hands, photo backgrounds
Interactive Compliance Training
By: Yukon Learning
Synopsis: This scenario uses 3 short, realistic stories and with decision points and feedback sprinkled throughout.
eLearningArt assets used: Business characters, photo backgrounds
By: Jackie Van Nice
Synopsis: This course rolls up many different lessons through short scenarios that are representative of employee's actual work day. Many opportunities for practice and feedback.
eLearningArt assets used: Business characters
5: Scenario story example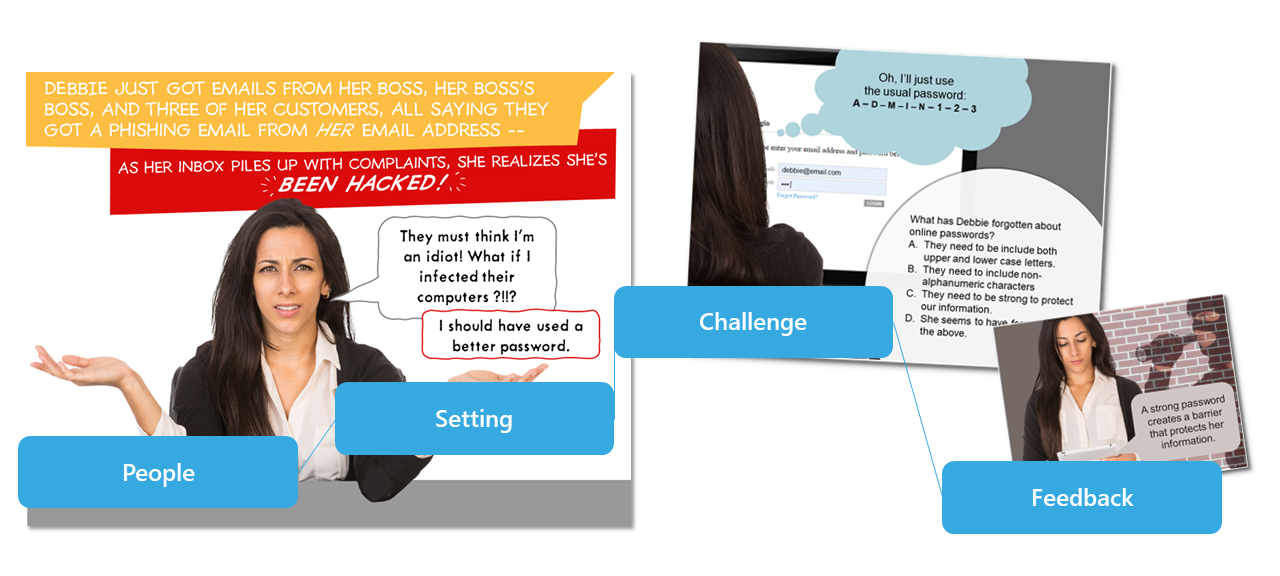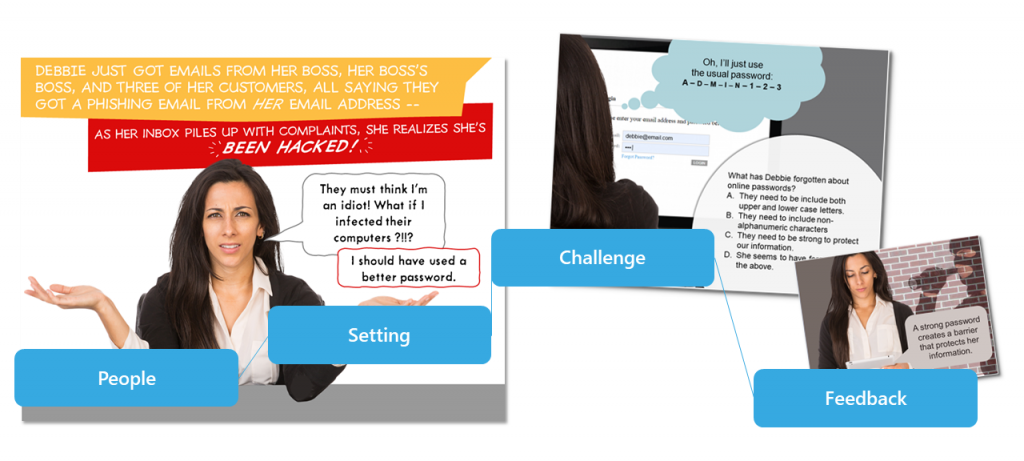 Scenario stories incorporate aspects of traditional storytelling techniques, such a story arc with a 3-act structure to hook the audience and make the experience more memorable. The scenario component adds the ability for choice, action, and feedback. In this example, the inciting action occurs immediately, with Debbie learning her lax security may have infected her colleagues computers, but she has an opportunity to go back in time, correct her mistakes, and change the outcome of the story. 
People: Debbie, her boss, and Debbie's customers. 
Setting: On her work computer. 
Challenge: The conflict arises when she realizes her computer was hacked. But the challenges present themselves as she goes back in time to fix the 5 security mistakes she made that led to the hack. 
Feedback: Debbie fixes five major security threats through exercises in each section. Feedback on each individual threat is provided immediately. Upon successful completion of all five sections, the outcome of the story also changes to a happy ending. 
Graphics featured: eLearningArt business photo characters (Debbie), costume characters (Robber), isolated objects (computer), textures (brick). 
6: Show me, try me scenario example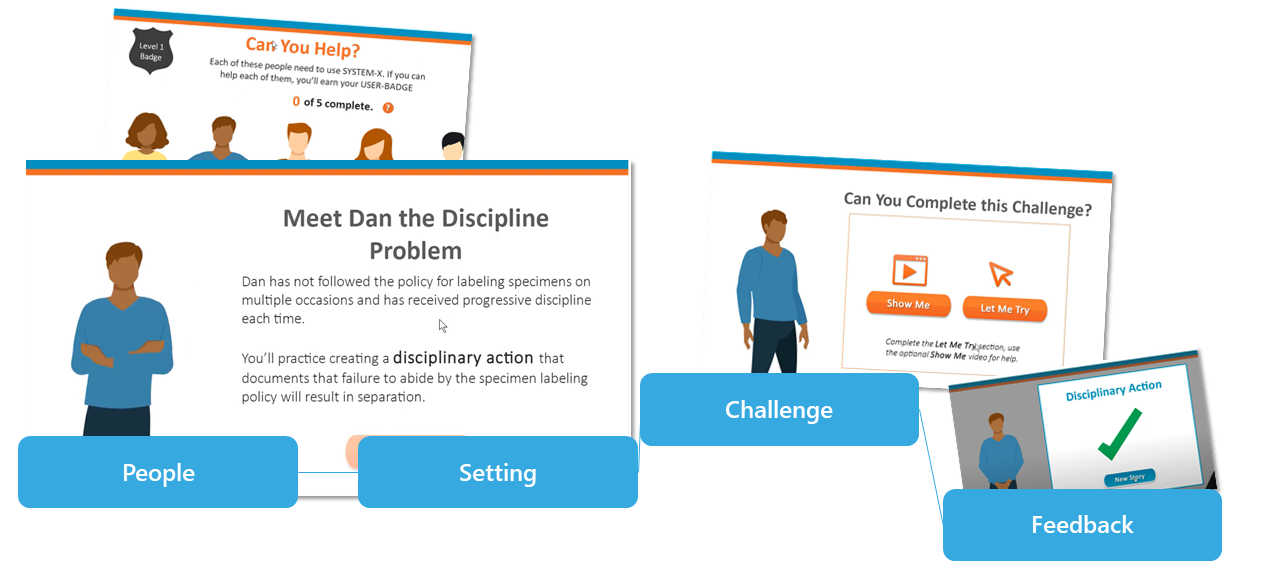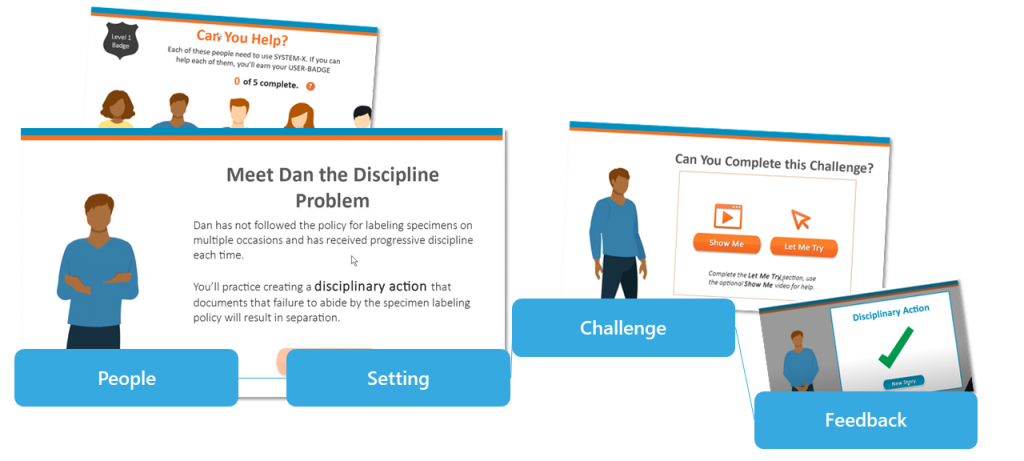 One of the classic models for software training, the "show me, try me" scenario gives the learner the option to jump into the scenario challenge right away, or watch a lesson on how to perform the task first. In this example, the learner is presented with five different show me, try me challenges. Unlike traditional software that focuses on features and menus, this scenario-based approach flips it around to perform tasks based on real-world human requests.  
People: The learner, the the role of an HR employee, and five separate characters with HR requests. 
Setting: Using the company's HR software. 
Challenge: Five employees have HR requests that require the learner to navigate the software to complete certain tasks. 
Feedback: Feedback is available both at the point of challenge via the "show me" video, as well as after the task if they don't pferform it properly. 
Graphics featured: eLearningArt designer fluid illustrated characters. 
7: Investigate and decide scenario example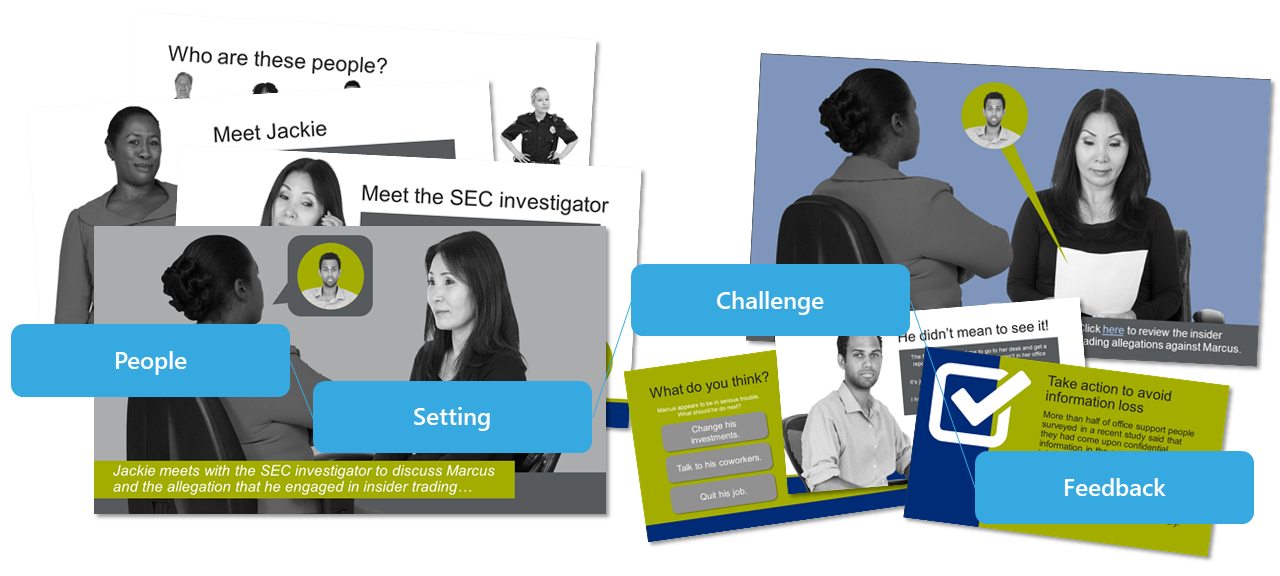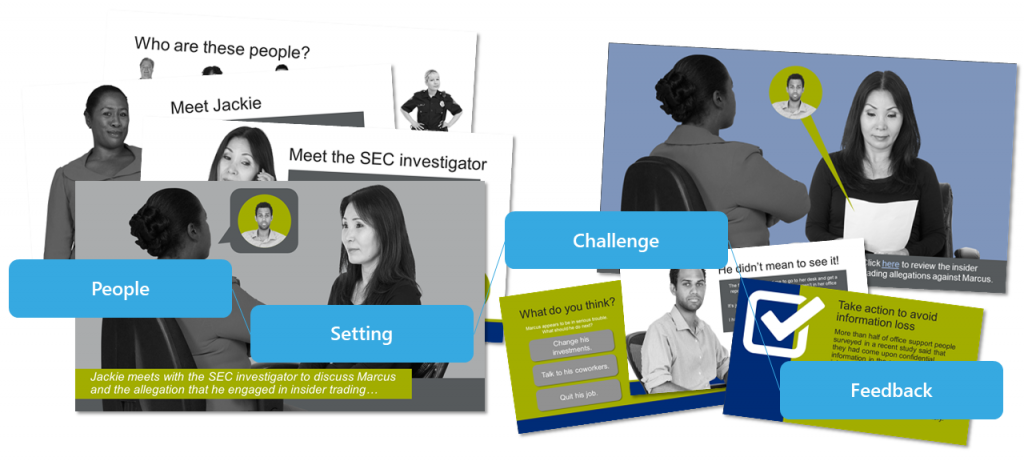 Investigate and decide scenarios allow the learner to gather information within the scenario (e.g. looking up a file or report, talking to characters in the story, etc) before making decisions in the story. In this example, Jackie is trying to determine if one her direct reports, Marcus, committed insider trading. Jackie will look at the reports from the SEC, speak with Marcus, and interview several colleagues before making her decision. 
People: Jackie (protagonist) the VP of Finance, Marcus the admin, an SEC investigator, and several other colleagues at Jackie's company. 
Setting: Marcus is accused of insider trading during the IPO process of their company.
Challenge: The allegations rely on nuanced information. Jackie must gather information about the case through interactions with the SEC investigator, Marcus, and colleagues.  
Feedback: After Jackie gathers the information she makes a decision. Then she receives feedback in the form of a lesson at the end. The act of facing this scenario as a challenge (desirable difficulties) makes the lesson much more memorable than just teaching through a traditional course and "absorbing" the information. 
Graphics featured: eLearningArt business photo characters (Margie, Jackie, Marcus) and specialty characters (Amada Police Officer). 
Customer Service Interaction
By: Christy Tucker
Synopsis: Scenario showing how both primary and secondary goals can be achieved in a soft-skills managerial course. 
eLearningArt assets used: Business characters
8: Branching scenario example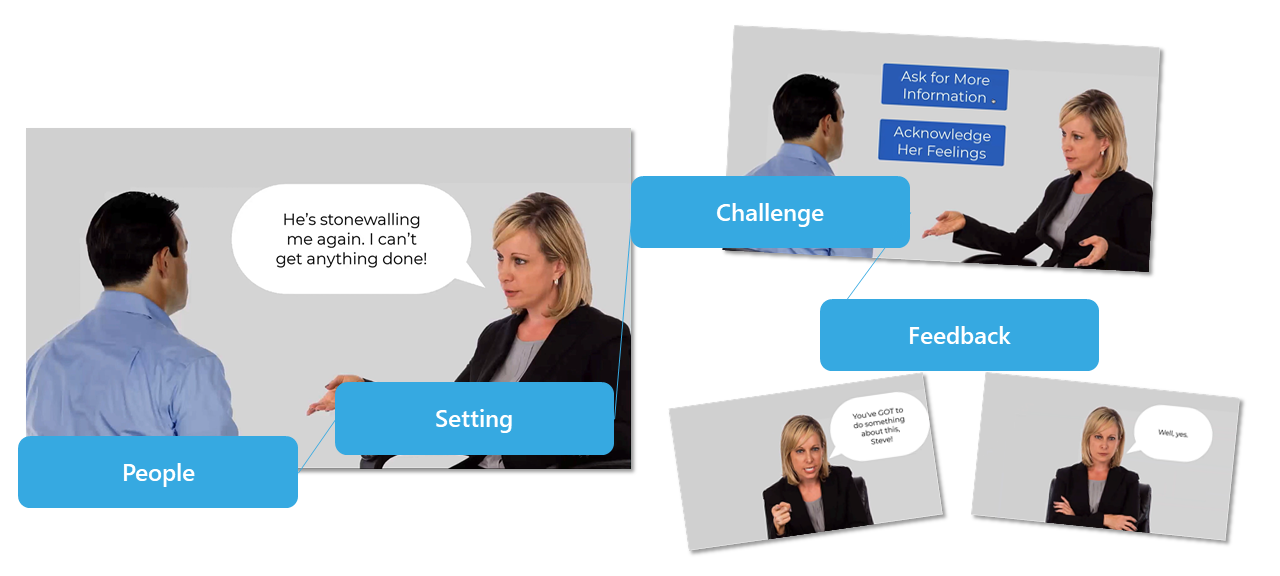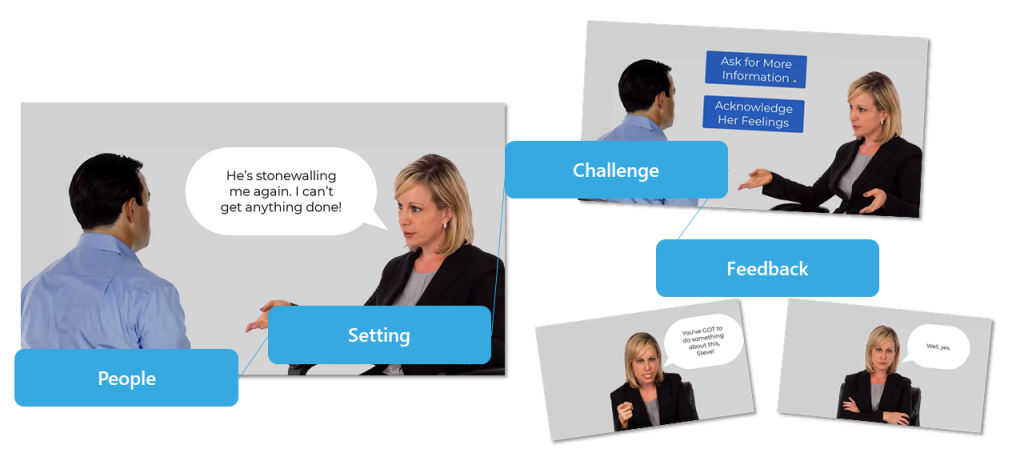 Branching scenarios (a.k.a interactive stories) are an interesting and effecting training approach. Like a choose-your-own adventure story, the learner makes choices that branch to different outcomes that the learner gets to experience. The biggest challenge of developing branching scenarios is to manage complexity so that the branching and outcomes don't grow exponentially. In this example of Workplace Warzone, by Kimberly Goh, each decision point has 2 branches with different outcomes experienced, but the learner has the option to go back and redo each section to get it correct before moving on.  
People: Steve, a business manager (protagonist), and his direct report, Rebecca, who is a Sales Manager.  
Setting: A two-person meeting about their colleague Jason (Marketing Manager), who Rebecca is having a conflict with.
Challenge: Steve must make decisions on how to respond to Rebecca as they discuss her project with Jason. 
Feedback: Each 2-choice interaction results in an experienced outcome that's on a different path. 
Graphics featured: eLearningArt business photo characters (Gary business casual, Trina suit).  
9: Gamified scenario example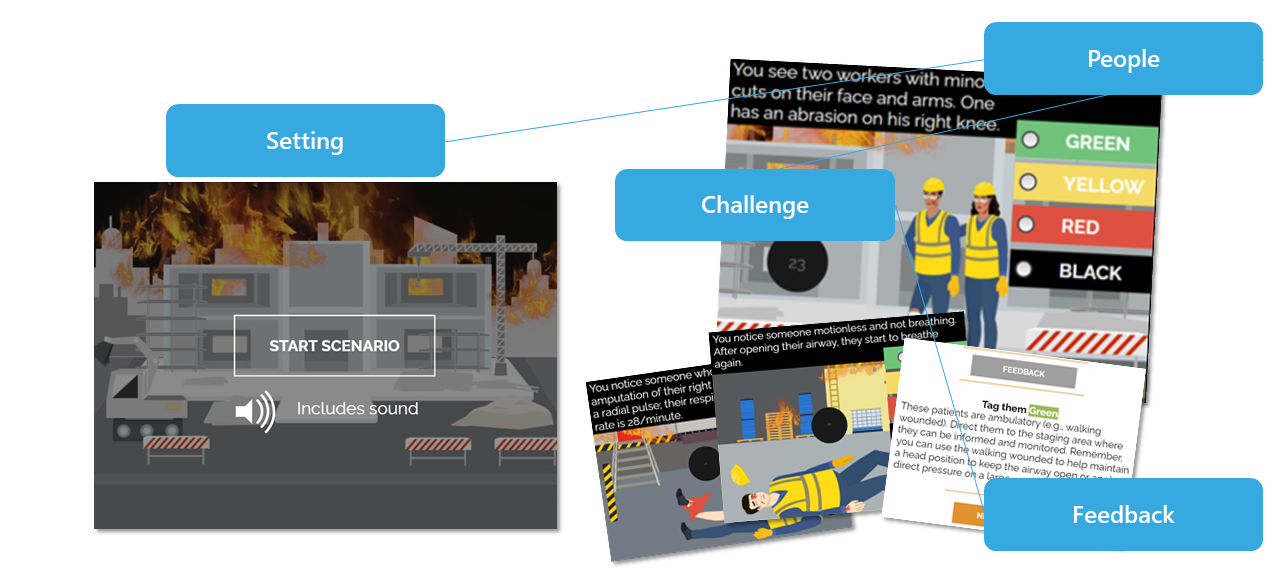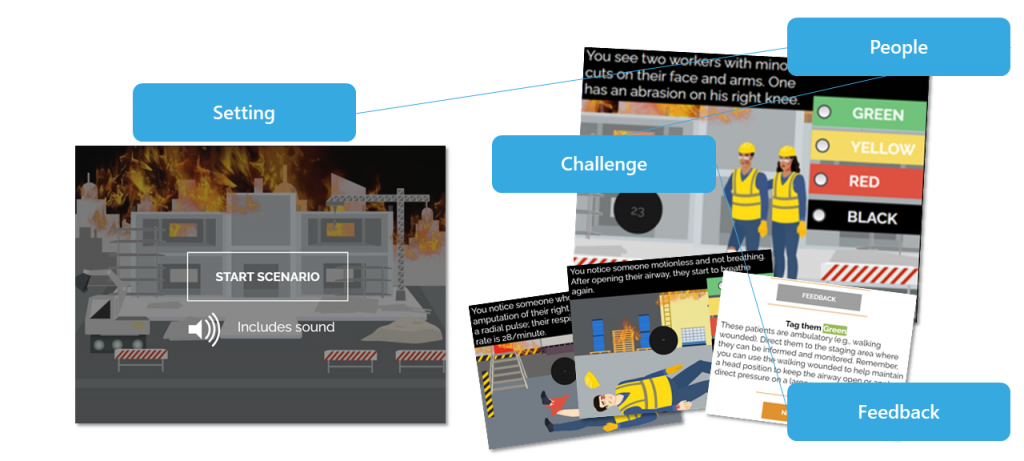 Gamification doesn't have to be extremely complicated. You can use elements of "content gamification" such as story, character and challenge without any fancy tools. And your authoring tools or LMS probably have some "structural gamification" elements built in, such as timers and scoring. In this "Mass Casualty Incident" scenario, Richard Watson uses the build it timers and scoring in Articulate Storyline, along with characters and challenges, to create a gamified experience. 
People: Teo and Luz (protagonists) and several injured workers. 
Setting: A facility that is on fire after an explosion. 
Challenge: Teo and Luz encounter four separate triage incidents that the learner must quickly evaluate and categorize within 30 seconds each.
Feedback: Immediate feedback is given after each challenge in the form of the correct answer and the reasoning behind it. 
Graphics featured include: eLearningArt Designer Realistic illustrated characters in SVG, Rei, Ivy, Teo, and Luz (sorry about those injuries, guys!), Designer Backgrounds in SVG (construction site, 78096 and loading dock, 78107), and various transparent fire textures (for example, 3389 and 3395).
Gamification Example – The Flu Facts
By: Tracy Carroll
Informal learning game teaching flu facts to adults and children. Learn more about this project on Tracy's site.
eLearningArt assets used: Medical characters
Scenario-based eLearning FAQ
Write, build, and create better scenarios with these 13 pro tips
So, you know scenarios are important…but how do you actually create good ones?
Rather than waste 20 years learning, I'm going to save you some time …
I asked the world's most respected eLearning scenario authors, professors, bloggers, and speakers a single question:
            What's your #1 tip for creating effective eLearning scenarios?
Guess what? 60 of them agreed that these are the 13 most important elements:
Read on, and start building better scenarios! 🙂
3. Follow a structured approach
4. Plan and analyze before you build
5. Keep the learning objectives and outcomes in mind
7. Provide accurate context
8. Find nuance in the scenario
9. Consider scenario choices carefully
10. Collaborate with your subject matter experts
11. Collaborate with your actual learners
Make it real! Too often, training scenarios are very basic or just plain unrealistic. This can happen when L&D pros, who don't do the job every day, create the scenario on their own, or rely too heavily on subject matter experts, who also don't tend to be on the frontlines. Before building a scenario, speak with the people who typically encounter similar situations. Gather context and nuance from their real-world stories. This will help you create a more realistic and impactful challenge.
Workshop scenarios with everyone the workflow touches at all steps, from go to whoa—that's where the gold is. Find out all the actions taken in current workflows, or brainstorm anticipated actions in new workflows, and prioritize them in order of "most likely to occur." Build as many of them as you can into the learning, incorporating immediate feedback. Then get all those people—and some new, green people—back into testing and feedback loops until there are no gaps left.
Involve a subject matter enthusiast in the design and development of the scenario. Enthusiasts are individuals in an organization who are excited to share their experiences and knowledge but are not as far removed from the daily reality, or as challenged for time, as a Subject Matter Expert. It's only by partnering with representative users that designers are able to craft great eLearning scenarios that are representative of real-world challenges, provide realistic consequences, and are set in a meaningful context. So, get some enthusiasts involved early in the design and keep them involved through development.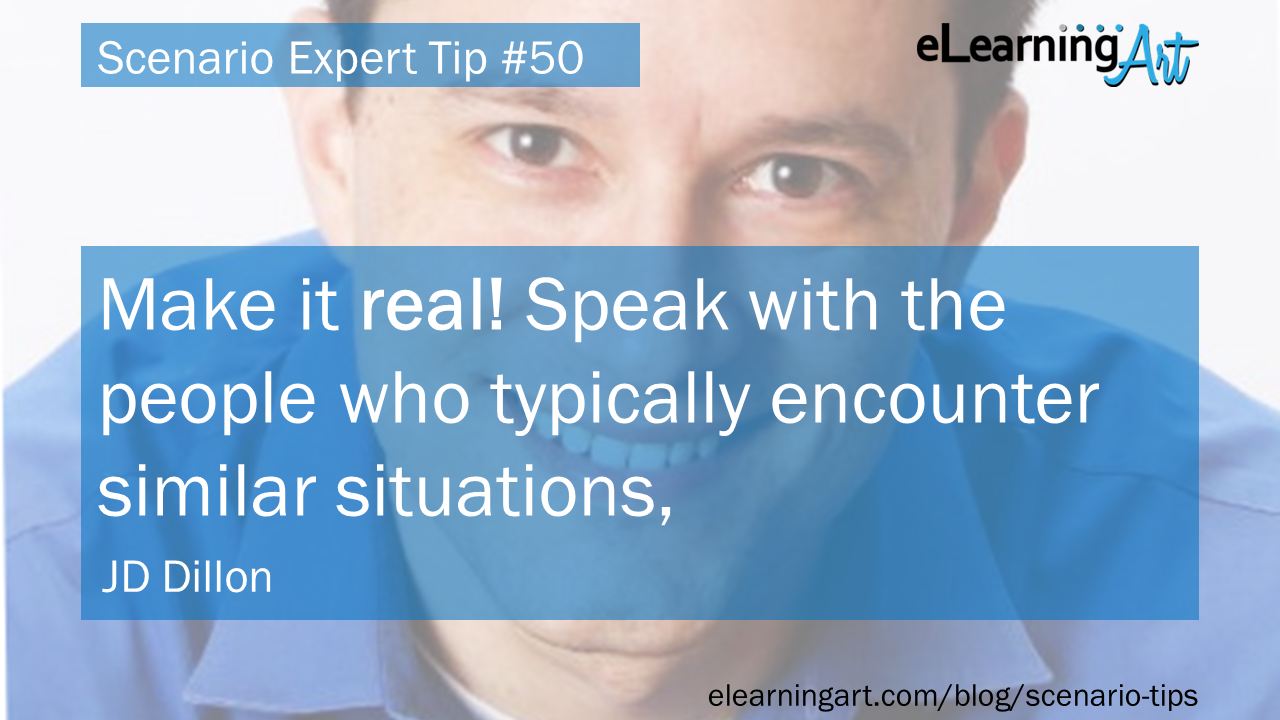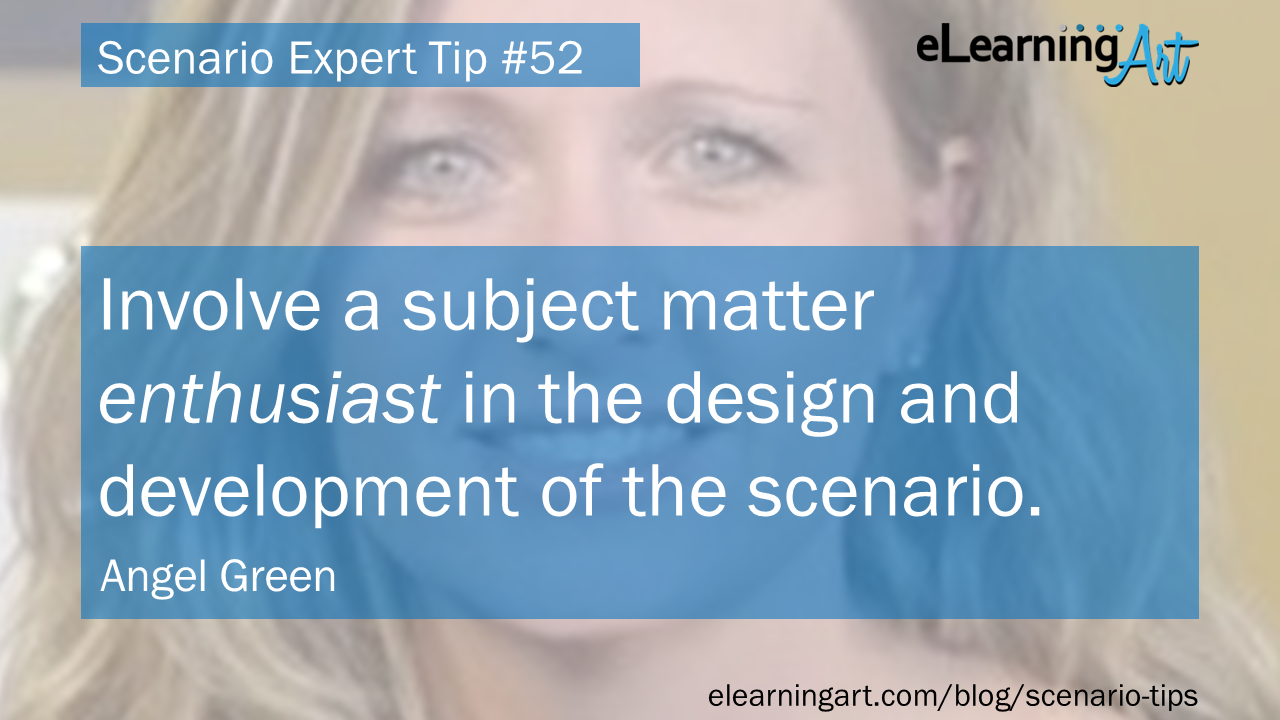 12. Challenge your learners
13. Let learners experience consequences